Plum Creek Winery
by
Kathy Sullivan
Summary: Plum Creek Winery is one of the oldest existing wineries in Colorado. Doug and Sue Phillips, owners of Plum Creek Winery, have the 10th license for a winery in the state. All wines produced by the winery are from 100 percent Colorado vineyards.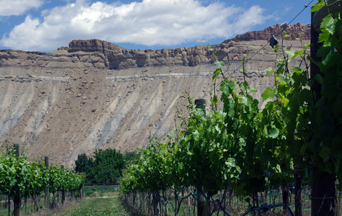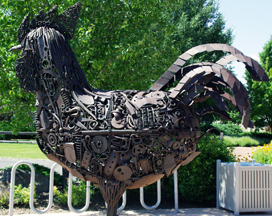 Plum Creek Winery provides a dramatic view of Book Cliffs. Rock formations appear to be just a short distance from the vineyards and gives the impression that one may just be able to walk to the cliffs. Just outside of the tasting room doors at the winery, are several large sculptures by Lyle Nichols a local artist. One is of a 7-½ foot tall rooster known as the "Chardonnay Chicken." Nearby is a large sculpture of a horse.
The wine grapes used to produce wine at Plum Creek are from two areas in Colorado. The area at the winery in the Grand Valley AVA is at an elevation of 4,700 to 4,900 feet above sea level. Other vineyards in the West Elks AVA are at an elevation of 5,600 to 5,800 feet.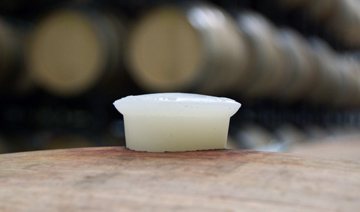 Our group went to the barrel room where a table had been set up with wine glasses, water and information packets. Jenne Baldwin-Eaton, winemaker, presented us with a brief history of Plum Creek. She indicated that she is always striving to increase the quality of her wines. "I'm a chemist at heart. I'm never satisfied. I'm always trying new things." Take note of the wine labels. Artist Buffalo Kaplinski created the images.
The winery produces three lines of wines including Aspen Leaf, Grand Mesa Series and dessert wines. The Aspen Leaf series is fruit forward and available sooner while the Grand Mesa Series is the reserve line. The dessert series usually have a residual sugar of 16 percent and are produced for late harvest Merlot or a cryo-extracted Riesling.

The top selling wine for Plum Creek is the non-vintage Palisades Red with an alcohol level of 14.7 percent. Merlot is the primary grape from 2004 and 2005. The blend also has Cabernet Franc, Cabernet Sauvignon and Sangiovese. The result was a fruit nose and taste with a crisp finish. There was a bit of spice on the finish.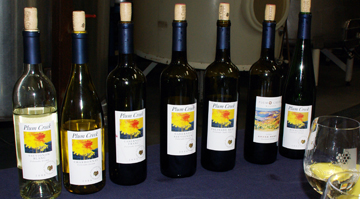 At the table, we tasted several wines including the Sauvignon Blanc 2006. The harvest of the Sauvignon Blanc grapes was in two batches and fermentation was done separately for each. Jenne harvests 1/3 of the grapes early and 2/3 later. The nose was vegetative, the taste citrus and it was very crisp. The Chardonnay 2006 had a caramel and oak nose with an apple and citrus tastes. There was oak on the finish. The Cabernet Franc 2003 had a dark fruit nose and fruity taste. The aftertaste was cherry. There were some tannins and a smooth finish. The Cabernet Sauvignon 2006 had a fruit nose and blackberry taste. The mouth feel was smooth and there was fruit on the aftertaste. Grand Mesa Meritage 2003 was a blend of 38 percent Cabernet Sauvignon, 33 percent Cabernet Franc, 29 percent Merlot with 15.6 percent alcohol. This is a reserve wine. It had a fruity nose, a blackberry and cherry taste with smooth tannins and a crisp finish. Riesling 2007 had a floral nose with a peach taste. There was a perceived sweetness and the wine dries on the finish with a good acid.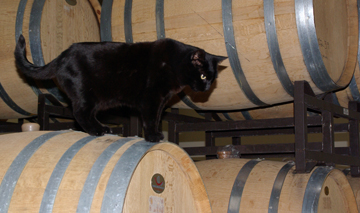 According to Jenne, during the past year, more people are visiting the winery and asking for a Cabernet Franc. In addition, more people are calling and asking for Colorado wines. One of the stars of the barrel room was the winery cat. The cat guarded the wine barrels, however could be easily swayed to be held in your arms.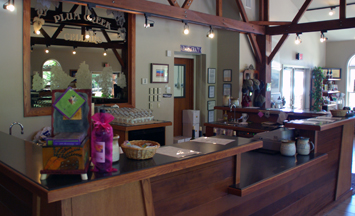 For visitors who are interested in potential gifts to purchase, be sure to browse the entire tasting room where you will discover unique handmade wood wine boxes, Colorado cookbooks, wood wine racks, ceramic coasters, local pottery, glass topped wine bottle stoppers, aprons with logos or quotes and more.
With the wine tastings, gifts to browse and a fireplace, this is a lovely tasting room to visit and relax in. Enjoy visiting Plum Creek Cellars where all wine is produced from grapes grown in Colorado. Remember to save time to browse the available gifts.
Plum Creek Winery
3708 G Road
Palisade, Colorado 81526
---
Visit this Colorado lodging facility that partners with Wine Trail Traveler.
| | | | |
| --- | --- | --- | --- |
| | | | |
| | Spero Winery | Wine Country Inn | |
| | | | |