George Barisashvili Wine Cellar
by
Terry & Kathy Sullivan

Summary: A small boutique winery in the town of Mtskheta offers an intimate wine tasting experience of a qvevri-made wine. Experience tasting a wine in a tasi rather than a wine glass.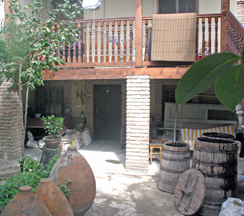 After visiting Svetitskhoveli Cathedral in Mtskheta we walked a short distance to a quiet neighborhood and the house of George Barisashvili. Outside there were several qvevri of differing sizes standing upside down. Many of these qvevri will be buried in the ground as George increases his wine production.
Currently George has different sizes of qvevri and in 2014 plans to purchase a large qvevri. He became interested in wine because his family including his grandparents made wine. Eventually he studied oenology and now is a consultant for other wineries. He began making wine with a friend and now makes wine on his own. Currently he produces 1,000 bottles of wine but does not sell it. George plans to sell wine in the future.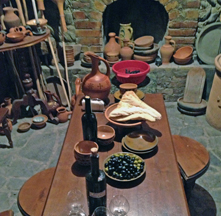 Tasting Area
We tasted his wine in a small room filled with museum-like artifacts. A long rectangular table was set with terrea cotta bowls, olives and bread. We sat on stools around the table to share a wine and talk. On the walls surrounding the table, there were ceramic pictures and bowls, some glazed. There were several ceramic drinking vessels of differing sizes. George poured his wine into a ceramic bowl called a tasi. We were surprised that we were still able to see the color of the wine. The bowl made the wine tasting experience special.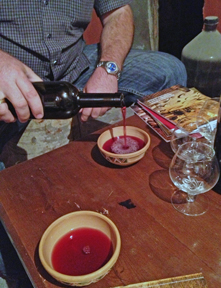 Wine and Chacha
We tasted Aladasturi 2012, an organic red wine made in qvevri with natural yeasts. The grapes were harvested with the first snowfall. The aroma offered spice notes of pepper and cloves. The taste also had spice notes of pepper and cloves with a hint of cherry. The finish was crisp and spicy with very mild tannins.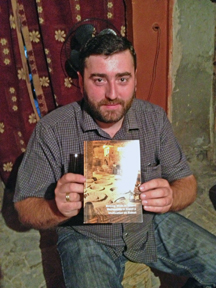 George also produces Chacha, a grappa-like drink made from the grape skins, stems and seeds left after making wine. The Chacha made from Rkatsiteli grapes was aged in oak for 10 years. We tasted the Chacha in glasses. The color of the Chacha was dark amber. The taste had alcohol and the finish was hot then replaced by dried fruit. There was a long aftertaste (several minutes) of dried fruits.
In addition to making wine in qvevri, George is an author. He wrote Making Wine in Kvevri Weinausbau in Kvevri's, Vinification en Kvevri. The book is written in English, German and French. The book has several chapters that would be of interest to wine enthusiasts as well as winemakers who may wish to make a qvevri wine themselves.
George is very knowledgeable about qvevri, including making qvevri and wine production in them. A visit to his home is friendly and comfortable.
George Barisashvili Wine Cellar
Mtskheta, Kartli, Georgia