Besini
by
Kathy & Terry Sullivan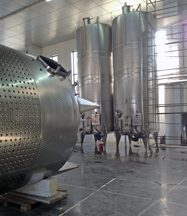 Besini, in the Georgian town of Tsinandali, is a modern Georgian winery that began as a vineyard nursery. In the future, Besini will produce 3,000,000 bottles. When completed the winery will have onsite lodging. The winery will open to tourists in 2014 and lodging will be available in two years.
The Besini company was established in 2004 and construction of the winery began in 2006. Tall stainless steel tanks stand awaiting the juice from the 2013 harvest. Other tanks lay on their sides waiting to be set in place. We visited Besini in Tsinandali, Georgia on a busy harvest day. Some workers were working setting up tanks while others were making wine. This winery began as a vineyard nursery. The owners followed with their own vineyards and eventually began producing wine. Currently they are producing 500,000 bottles and with the Russian embargo lifted, they plan to increase production to three million bottles.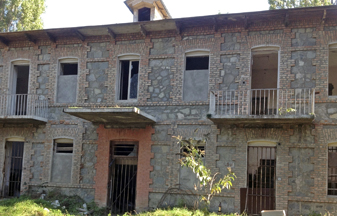 While Besini is producing Georgian wine, builders are putting on the finishing touches to the winery. Next they will be renovating five old buildings (pictured) on the seven-acre winery site for use as a hotel. A tasting room with offices is also planned. When completed in a few years, Besini will be an agritourism destination. The lodging in the restored buildings will be available in 2015. Besini has a bright future ahead for wine tourism.
Why the Name Besini
The word "Besini" is from an old Georgian language. According to the Besini website, "Besini in the old Georgian language means the wine used to be donated to God."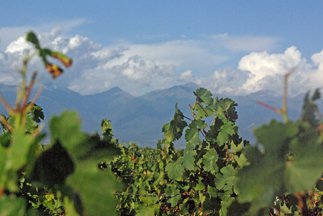 Vineyards
Besini vineyards are vast with hectares of grapes stretching out towards the Caucasus Mountains. The vineyards of 200 hectares (494 acres) have several varieties including Rkatsiteli, Saperavi, Kisi, Chardonnay, Sauvignon Blanc, Pinot Grigio, Merlot and Cabernet Sauvignon. The Caucasus Mountains provide a beautiful background for the Cabernet Sauvignon vines that we saw. The grapes from those vines were sweet and the seeds were turning brown. Harvest is not far off from our September visit.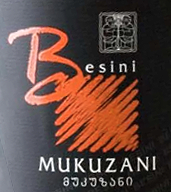 Besini Wines
We tasted two of Besini wines outside on a picnic table. Tsinandali 2011 Appellation Controlled was a blend of 80 percent Rkatsiteli and 20 percent Mtsvane. The light yellow wine offered aroma notes of apple and the taste offered pear, apple and some peach nuances. The finish was crisp and fruity. Pairing suggestions included salads, grilled fish, poultry and cheese.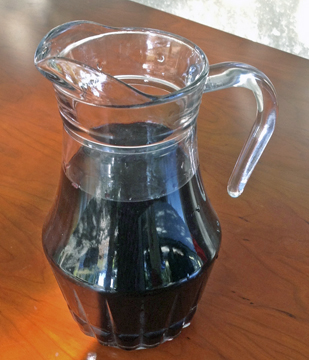 Mukazane 2011 Appellation Controlled Saperavi was a dark ruby to purple color. The aroma was of dark fruits and chocolate. The taste had cherry and chocolate notes while the finish was fruity with tannins. Besides enjoying as a glass of wine, people may want to add it to a batch of chocolate cookies or brownies. Food pairing suggestions included stews, game, grilled meat and cheese.
Wine enthusiasts should look forward to visiting Besini when it opens to wine travelers. We saw the plans for the tasting room. It looks like it will be warm and inviting with plenty of light.
Besini
Tsinandali, Kekheti, Georgia