Nunu Kardenakhishvili
by
Kathy Sullivan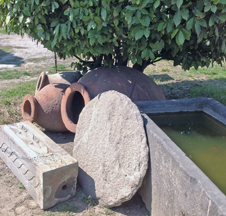 Summary: Nunu Kardenakhishvili offers a fascinating look into the centuries old winemaking traditions of Georgian winemaking. In addition, visitors can taste Rkatsiteli and Saperavi wines with light Georgian-style refreshments.
Nunu Kardenakhishvili is located in the village of Velistsikhe in Georgia's Kakheti region. We met Misha Giorgadze at Nunu Kardenakhishvili where we viewed an amazing combination of winery, museum and a soon to be finished restaurant. Misha is passionate about Georgia's history of winemaking.
Museum
Misha Giorgadze, in a long red dress, happily guided us past a 300-year-old house on wheels to a museum housed in a 16th century wine cellar that was created after the finding of buried artifacts in the onsite field. The museum is filled with an eclectic mix of aged winemaking equipment and qvevris.
For years rumors had been heard throughout the village that an old wine cellar was buried beneath a piece of land owned by Misha. Eventually the 16th century wine cellar was unearthed over the past 15 years (first photo below). Today the 16th century wine cellar houses many wine related artifacts including an 8th century stone press called ore. Visitors can also view a 6,000-year-old clay vessel, similar to a qvevri, used as a burial chamber. Misha explained how the body is buried in the vessel in a sitting position (middle photo.) Nearby is a large, smooth gray rock with the imprint of a hand. Handprints were used to mark someone's property (third photo).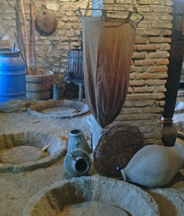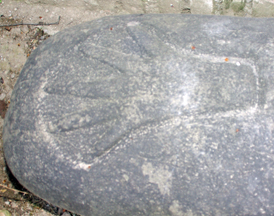 Visitors to Nunu Kardenakhishvili will also see a 16th century qvevri and a three-legged 4,500-year-old drinking vessel (first photo below). Adjacent to the museum wine cellar, another large room is under renovation. Upon completion this room will serve as a restaurant and wine tasting room. At the end of the room there is a large fireplace and still (middle photo). Upon completion, this area will house many of the artifacts found on the property (third photo).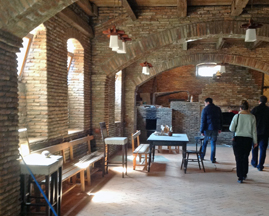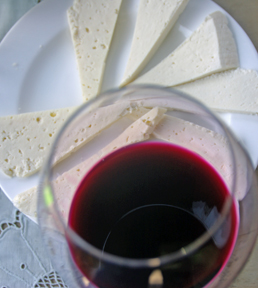 Wines
Today Nunu Kardenakhishvili is producing 100 tons of Rkatsiteli and 30 tons of Saperavi wines. The vineyard consists of nine hectares of Rkatsiteli and three hectares of Saperavi. The vineyard is located in a specific microclimate zone.
After our tour of the old wine cellar, we enjoyed our wine tasting outdoors on a small rustic deck speckled with sunshine and with a light wind blowing. In addition to the tasty Georgian wines, we enjoyed Georgian cheese and bread. The Rkatsiteli 2012 was a dark gold to amber color. The aroma and taste were floral. The finish offered bold tannins with floral notes. This wine was produced leaving it on chacha for six to eight months. Saperavi 2012 was dark purple with a red tint color. The aroma and taste reminded one of dark fruits. The finish had a hint of sweetness and mild tannins. Misha wanted us to taste a reserve-like Saperavi 2012 that was produced in qvevri. It was a very dark ruby with a red tint. The aroma and taste offered black fruit notes including blackberries and plums. The finish was very fruity with bold kissing tannins. This wine was 13.5 percent alcohol.
Nunu Kardenakhishvili offers a great opportunity for history enthusiasts and wine lovers to discover seldom seen artifacts of Georgia's history as well as tasting two wine varieties well known throughout Georgia. If you have the opportunity, visit Nunu Kardenakhishvili and be sure to have a camera with you.
Nunu Kardenakhishvili
Velistsikhe, Kakheti, Georgia

Article Written April, 2014