Gaioz Sopromadze's Wine Cellar
by
Kathy Sullivan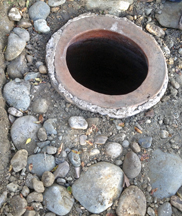 Summary: Gaioz Sopromadze's Wine Cellar is a small Georgian winery located in Baghdati, Imereti. Despite the small production, Gaioz Sopromadze wines are exported.
Gaioz Sopromadze Wine Cellar is a small family winery located in the small town of Baghdati in the Imereti viticulture region. The vineyards are close to his home. We enjoyed the rustic ambiance and the wines at Gaioz Sopromadze's Wine Cellar. Qvevri are buried in the ground outside a building used to make and age wine.
History
Gaioz Sopromadze's family has made wine for generations. However, it was not until recently that he began selling wines. Gaioz is the fourth generation of winemakers. He noted that wine is life for him; he has had a life-long interest in wine. Gaioz did not start bottling wine until 2009.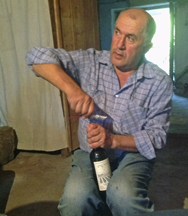 From Home Winemaker to Selling Wine
Gaioz proudly, but with humility, tells the story how and why he began to produce wines to sell. When he met George Barisashvili, he said to George that he wanted to make a Chkhaveri wine. George is a qvevri winemaker in Mtskheta and author of Making Wine in Kvevri. George suggested that Gaioz check his wine frequently. He also asked for a couple of bottles of the wine. Eventually George planned a trip to Italy and asked for 20 bottles of Gaioz's wine. Gaioz thought it was a joke but gave George 20 bottles of wine to take to Italy. Gaioz was astounded when George returned and gave him 300 Euros. This was the first time Gaioz made money selling wine. Today Gaioz exports wines to Japan, Italy, France and the United Kingdom.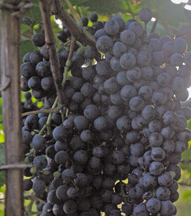 Vineyards
Gaioz has an onsite vineyard with 1,000 grapevines. His grape varieties include Tsolikouri and Chkhaveri (pictured). His future plans include tripling the size of the vineyard.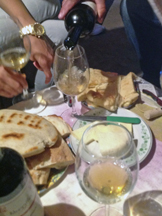 Tasting Room
The tasting area is in a cellar. While small, it offers a quaint and rustic style. Around a small table (a large diameter wood stump with a tablecloth) we sat on stools of simple tree stumps about 18 inches high. Wines were paired with Georgian cheese and Georgian bread.
Wines
The 2012 Tsolikouri was a light gold color. The wine had floral notes on the aroma and taste. Tannins accompanied a floral finish with hints of dried fruits.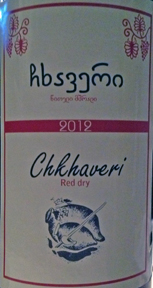 Gaioz noted that he was the first Georgian winery to produce a wine with the Chkhaveri grape variety. The Chkhaveri 2012 was a light red/ruby color. The aroma and taste offered notes of red fruits and spice. The finish had mild tannins. This is a "red wine pretending to be white." Dzelshavi 2012 was a varietal wine that is unique and one of the oldest grape varieties in Georgia. For Gaioz, this was an experimental wine that no one else makes. The light ruby wine was made in a carboy with chacha and stems. It was then racked to a second carboy after fermentation. The result was a wine that was fruity and floral. The taste offered reminders of blueberries and cherries. The finish had bold tannins with hints of fruit.
We also tasted a wine that a friend of Gaioz made in a qvevri. The 2012 Otskhanuri Sapere had very bold tannins tending to pucker the lips, the wine reminded one of a kissing wine - a wine with bold tannins that causes one to pucker up as if about to kiss. The wine was a dark purple to black color with fruit notes particularly cherries.
When preparing plans to visit Gaioz Sopromadze's Wine Cellar be sure to contact Gaioz in advance.
Gaioz Sopromadze's Wine Cellar
8 Rustaveli St. III
Baghdati, Imereti, Georgia
Phone: +995 595 78 61 31