Vino Underground
by
Terry Sullivan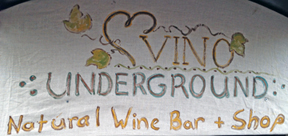 Summary: In Georgia, just like other wine countries around the world, there are different opinions and philosophies among wine growers and winemakers. Vino Underground, a wine bar in Tbilisi, was established by eight winemakers who share the same passion and philosophy about raising wine.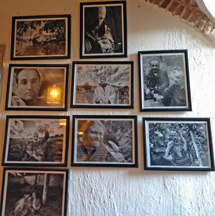 Vino Underground, in Tbilisi, is a wine bar; however, it resembles a tasting room. Visitors can taste natural wines created by winemakers who share the same passion and beliefs about raising wine. The eight founders of Vino Underground philosophically do not believe in making wine. Rather they see wine as being raised, similar to raising children. The wine starts in the vineyards. Organic and biodynamic practices are followed in their vineyards. Their aim is to create a healthy environment in the vineyard so the vines will produce grapes with healthy yeast populations.
In their wineries, these winemakers raise natural wines. A natural wine is a wine that allows the grapes to express themselves without adding things during fermentation and aging. Last autumn when we made our Cabernet Sauvignon at Tin Lizzie Wineworks, in Clarksville, Maryland, we followed standard red winemaking protoco.l We added potassium metabisulfite, yeast, yeast nutrients, Lallemand Booster Rouge, Lallzyme EX-V™ an enzyme, and Scott'tan FT Rouge. In contrast, natural winemakers in Georgia do not add yeasts, indigenous yeast inhibitors, yeast nutrition, color enhancers and phenolic enhancers. Since their wine is fermented in qvevri the wine does not pick up any influences of plastic, cement or oak. The resulting wine reflects the varietal character of the grape. It is a natural wine.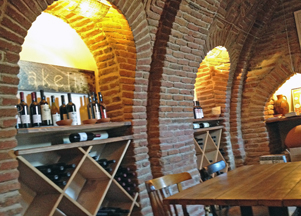 Vino Underground is located on G. Tabidze Street where there are many restaurants. As a result there is considerable foot traffic. You walk down a short stairway into the entrance of Vino Underground. On the wall to your right there are black and white photos of several of the winemakers who have their wines at the wine bar. There are several tables and chairs where you can sit and enjoy a wine tasting. The brick walls and arches give the room a cellar feel. Alcoves in the walls, tastefully display wines. In addition to purchasing wines in a flight, glass or bottle, you can buy a small food plate. At the time of our visit, the plates featured Tsago cheese, Tushetian cheese, Insalata Rustica and Antipasti.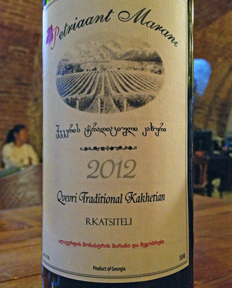 We decided to have a flight of three white wines. The 2012 Tsolikouri by Gaioz Sopromadze's Wine Cellar was a light gold color. The wine had floral notes on the aroma and taste. Tannins accompanied a floral finish with hints of dried fruits. A 2012 Kavliti from Archil Guniava Wine Cellar was a blend of Tsolikouri, Krakhuna and Tsitska. The wine was a dark gold color. The aroma was of floral and yellow fruit. Tannins accompanied a fruity finish. The 2012 Rkatsiteli from Petriaant Marani was a dark gold color. The wine was floral and had notes of dried fruit on the taste. Bold tannins accompanied the floral and dried fruit finish.
Vino Underground
G. Tabidze Str. 15
0105 Tbilisi, Georgia