Schuchmann Wines
by
Kathy and Terry Sullivan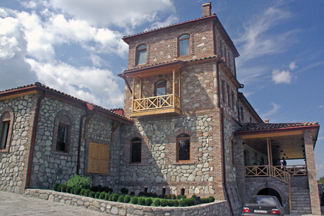 Summary: Schuchmann winery is a large Georgian winery in the Kakheti region, owned by Burkhard Schuchmann who resides in Germany. The winery produces qvevri and European–style wines.
While Schuchmann winery is located in eastern Georgia, the owner Burkhard Schuchmann lives in Germany. Schuchmann purchased the property in 2006 and added the winery facility.
Today Schuchmann winery has 120 hectares (297 acres) of vineyards and bottles 400,000 bottles of wine. Of these 150,000 bottles are qvevri-made wines.
The winemaker at Schuchmann is Georgi Dakishvili who learned his winemaking skills from his father and grandfather; he also studied oenology at a Ukraine university. Georgi's wife is also a winemaker. His son is the owner and winemaker at Teleda.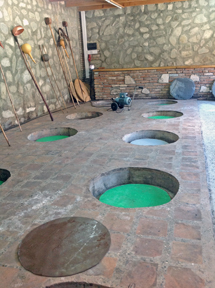 Qvevri Wines
One room has several qvevri buried under a stone floor. There is another qvevri room under part of the restaurant. Floor windows provide a glimpse into the room below where circles mark the ancient winemaking vessels. We learned that beeswax applied to the inside wall of qvevri prevents the wine from getting a clay taste. The beeswax also inhibits bacteria that might destroy the wine. At Schuchmann, qvevri wines spend six months in qvevri and then six to twelve months in French oak barrels.
Qvevri wines made at Schuchmann winery are produced by destemming the grapes. The grapes and chacha (pomace) are placed in a qvevri where fermentation takes place with the natural yeast that is present on the grapes. After fermentation, the wine is racked to another qvevri for aging and clarifying.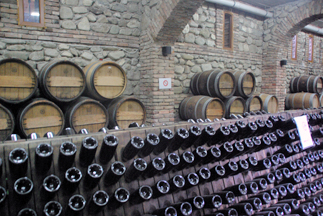 European Wines
The bulk of the wines made at Schuchmann winery are European-style. These wines are made in stainless steel tanks and oak barrels. A limited number of sparkling wines is made using the traditional method. Riddling is done by hand. The wine cellar is made of stone walls with several arches made of thin bricks.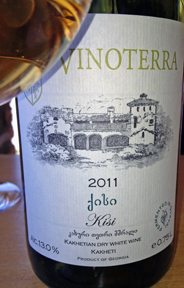 Wines
Tsinandali 2008 Appellation Controlled was a blend of Rkatsiteli and Mtsvane grape varieties. The wine was a light yellow color. The very fruity aroma offered tropical fruit notes. The taste was of peach and pineapple. Kisi 2011 was a qvevri-made wine. It was in qvevri for six months and than racked into a second qveri for six additional months. This wine was a gold color with an aroma of floral and dried fruits. The taste had dried yellow fruit notes. Tannins were observable.
Saperavi 2009, a qvevri-made wine, was fermented in qvevri and aged in French oak for 12 months. The dark ruby wine offered aroma notes of dark fruit. The taste was very fruity. Saperavi 2011 (European-style) was barrel aged for two years. The dark ruby wine offered an aroma and taste of dark fruit and spice. The taste also had hints of leather. Bold tannins were on the finish.
The m1 Cuvée 2008 was named after Schuchmann's wife. This was also the first year it was produced. This wine was a blend of Saperavi, Cabernet Sauvignon and Merlot. The wine was fermented in qvevri for 20 days and aged in oak barrels for two years. The result was a ruby color wine with an aroma of dark fruits and cherry. The taste also had dark fruits, cherry and also leather. The finish had bold tannins. In the cellar the Cuvée wines are hand riddled.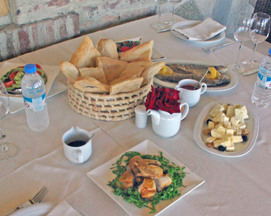 Schuchmann also has a restaurant onsite. We toured the winery and then had lunch at the restaurant while tasting Schuchmann wines. We had several traditional Georgian foods including bread, salati, pkhali, tolma, chicken and whole fish. The foods paired nicely with the wines.
Visit Schuchmann Wines for a taste of the European-style wines as well as Georgian traditional-style wines made in qvevri. The restaurant is a nice respite for a day of wine travel.
Schuchmann Wines

Tsinandali, Kakheti, Georgia