Bagrationi 1882
by
Kathy Sullivan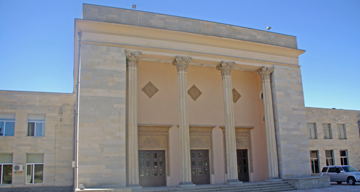 Summary: Bagrationi 1882, a large Georgian winery located in Tbilisi, Georgia dates back to the 1930s. The winery changed hands in 1997 and was purchased by the current owners in 2006. In addition to producing sparkling wine, Bagrationi 1882 is involved in producing historic Georgian costumes and an assortment of jewelry. Bagrationi 1882 sparkling wines are available in several countries including the United States.
Bagrationi 1882 is a wonderful winery to experience especially for anyone who enjoys sparkling wines and Champagnes as this winery focuses on producing sparkling wines.
Upon arrival, visitors will discover that Bagrationi 1882 has a gate that needs to be opened. Visitors should make an appointment before arriving at the gate. After securing permission, a large solid gate rolls back to allow entrance to the parking area.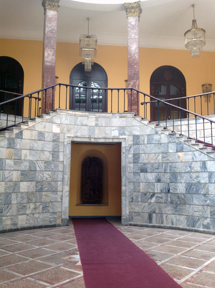 The winery's large entryway is dramatic with curved stairways on both sides carpeted in red. It reminds one of a palace. The building was a replica of a German sparkling wine facility. In 1997 an American company privatized Bagrationi 1882. In 2006 it was purchased from the America owners.
The Name
Bagrationi 1882 was founded in 1937. The name "Bagrationi" is connected to a Georgian King descendant, Ivan Bagrationi. In 1878 a large winery was built on the family estate in Mukhrani. Ivan began producing sparkling wine using the French method. In 1882 his sparkling wine won the Grand Prix in the St. Petersburg wine competition.
Currently Bagrationi 1882 produces 2,000,000 bottles. They sell 50 percent in Georgia.Bagrationi 1882 is currently exporting their sparkling wines to the United States, Ukraine, Lithuania, Latvia, Estonia, Germany, South Korea, China and Turkey.
The winery has 300 hectares (741 acres) of vineyards. The vineyards are in two microclimate areas Imereti and Kartli. Grape varieties include Chinuri, Tavkveri, Tsitska, and Goruli Mtsvane.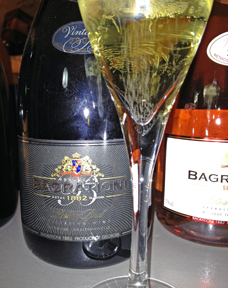 Sparkling Wines
After touring the bottling line, sparkling winemaking room and the tank room we tasted six sparkling wines in a smaller room linked with yellow cubicles filled with wine bottles.
Bagrationi Finest Brut 2008 was produced with the traditional method using the Chinuri grape variety. The sparkling wine offered floral notes. Reserve Brut 2007 was made with Chinuri, Goruli Mtsvane, and Tsitska using the traditional method. This yellow wine had floral notes and taste and was noticeably dry.
Bagrationi Brut made with the Charmat method was a straw color. This wine was produced with four grape varieties including Rkatsiteli. The straw colored wine offered a floral aroma and taste. The finish offered fresh notes. Bagrationi Semi Dry was made with the Charmat method. The sparkling wine was a straw color. The wine had floral and white peach nuances. The slightly sweet taste cuts the floral and makes the fruit more pronounced. The Bagrationi Semi Sweet sparkling wine was made with all red varieties. The dark ruby wine had an aroma of cherries and a taste of floral and cherry nuances. The finish was crisp and slightly sweet.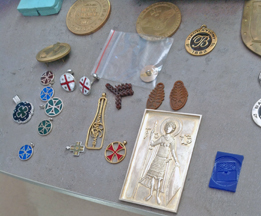 Jewelry and Clothing
Bagrationi 1882 has become involved in honoring Georgia and Georgian traditions. On the winery's large property, rooms have been provided for this purpose. One area has jewelry and ornament making representing Georgia.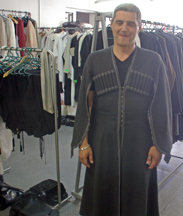 A second area is devoted to sewing traditional historic Georgian clothing. Traditional clothing is occasionally worn at weddings while the tamadas of a Supra may also wear a traditional costume. At the time of our visit, several men were trying on clothing for an upcoming wedding.
Bagrationi 1882 is easy to visit located in Georgia's capital city of Tbilisi. Anyone who enjoys sparkling wines will want to tour Bagrationi 1882 winery. Discover Bagrationi 1882 available in numerous countries including the United States.
Bagrationi 1882
12, D. Sarajishvili Ave.
0153 Tbilisi, Georgia