Remi Kbilashvili, a Qvevri Maker
by
Terry Sullivan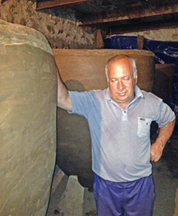 We visited the shop of Remi Kbilashvili in Vardisubani, Kakheti. Remi is a fourth generation qvevri maker and his son will continue the tradition. At the time of our September 2013 visit, Remi was working on eight large qvevris that was a special order. He noted that only three people are making qvevri in Georgia today.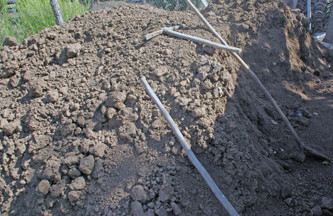 Remi took us around the property noting the different buildings he uses for qvevri making. We noticed a pile of red clay several meters long and about a meter high. The red clay earth is used to mold the qvevris. Next to the clay was a home-made travois, proving the adage "necessity is the mother of every invention." Once built, qvevris need to be transported a short distance to the firing building. A tire in the center of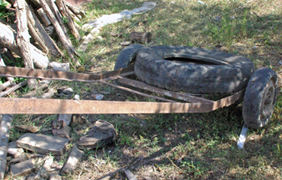 the travois cushions the qvevri and makes it easy to transport the vessel a short distance.
In his workshop, Remi had eight 2,000 liter qvevris in the process of drying for two to three days before he could add additional coils. Remi said it takes three months to make a large capacity qvevri. Smaller capacity qvevris need less time to create. He can make several qvevris at the same time. Remi needed to add about two more meters onto each of the eight qvevris in his workshop. It is a tight fit. Remi admitted that when he works on the top of the qvevri he occasionally hits his head on the ceiling.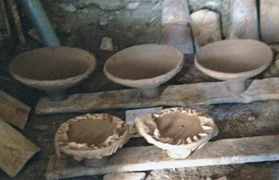 In another room, Remi showed us several small beginnings of qvevris. These will be used to make large qvevris.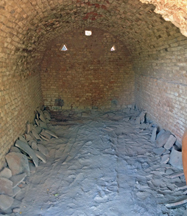 We then proceeded onto the building used for firing qvevris. The oven can fire eight qvevris at the same time. Remi explained that after the qvevris are placed in the oven, he seals the opening with stone, brick and mortar. A small opening at the bottom is used to make the fire that will heat the oven. During the course of a week, the temperature of the fire is increased.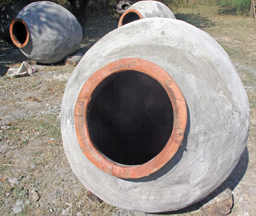 Remi showed us several qvevris that have had cement added to the outside of the qvevri. The cement protects the qvevri from earthquakes and tree roots. We examined the inside of a qvevri. Remi said for the size qvevri we were looking at, he uses 1.5 kilograms of melted beeswax to coat the inside of the qvevri. The beeswax acts as a sealer and helps prevent leakage. The beeswax also has antibacterial prperties. Beeswax has been used to coat the inside of qvevris for thousands of years.
In a nearby garden, colorful flowers are planted in clay pots and small decorative qvevris are displayed throughout. Remi is a potter of many talents and enjoys making qvevris and other clay items.
Article written March 2014