Dunham Cellars
by
Kathy Sullivan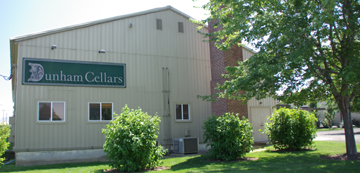 Summary: Dunham Cellars is a family owned and operated winery in Walla Walla, Washington. The tasting room and event room are located in a World War II airplane hangar. Eric Dunham is the winemaker and creates red and white wines to pair with food.
Dunham Cellars is located in Walla Walla, Washington near the regional airport. The original building was a World War II hangar. A delightful green oasis is located between the winery and tasting room buildings. The green grass is vibrant and gold-color umbrellas create a cheerful atmosphere. Tables and chairs provide a place where visitors can enjoy a glass of Dunham Cellars wine. A small waterfall and stream add to the ambiance. Carefully maintained colorful flowers are eye-catching.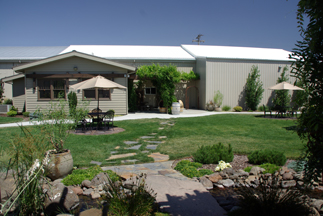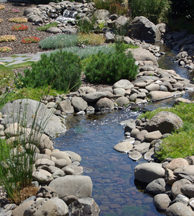 Inside the tasting room, the tasting counter has a top of wide, thick granite. Wine bottles and glasses offer a contrast to the dark multi colored granite. Throughout the tasting room, wine accessories are available. Adjacent to the tasting room is the Hangar Lounge, a large rustic type room with tables and chairs for events. This area with a high ceiling is more reminiscent of a large barn than an airport hanger. Colorful decorations are displayed hanging from the high ceiling. Art, created by the winemaker Eric Dunham, are displayed on the walls. Events at the winery include Harvest Winemaker Dinner and the Lunch series. The Hangar Lounge is also available for private party rentals.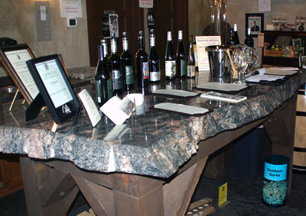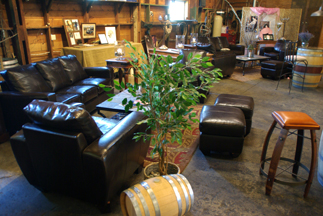 The first vintage for Dunham Cellars was 1995. Today Eric is enthusiastic about producing quality wines. Eric worked at L'Ecole No. 41 winery as an assistant winemaker before producing wines for Dunham Cellars.
Dunham Cellar's focus is on the vineyards and then the winery. Currently Dunham Cellars owns 35 acres at the Kenny Hill Estate Vineyard. These vineyards are on dry land and no irrigation is used. The grapes growing in this vineyard are Malbec, Cabernet Sauvignon, Cabernet Franc and Syrah. The winery also sources grapes from Walla Walla Valley AVA and Columbia Valley AVA.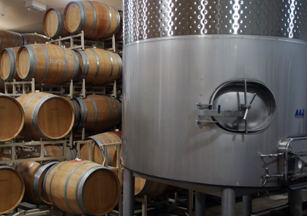 Dunham Cellars has a large bottling machine and a temperature controlled barrel room. They produce 15,000 to 18,000 cases annually. Wines are crafted to go with food.
White Wines
Shirley Mays Chardonnay 2007 was a light yellow. The aroma and taste of the wine included pear and apple with caramel nuances. The finish was fruity with caramel notes. This wine is produced each year in honor of Eric's grandmother, Shirley Mays. A portion of the sales goes to the Susan G. Komen Breast Cancer Foundation. Four-legged White – Riesling 2007 had an aroma of apricot with mineral notes. There was also a faint hint of petro on the aroma. The taste had apricot notes while the finish was fruity and crisp. Lewis Vineyard Riesling 2008 offered a floral aroma. The taste had peach and citrus nuances with honeysuckle notes. The taste was sweet and velvety. The finish was crisp.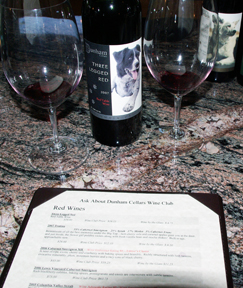 Red Wines
Three Legged Red 2007 was named for the Winemaker's dog that lost his leg. This wine offered black fruit nuances. The fruity finish had mild tannins. Trutina 2007 was a blend of Cabernet Sauvignon, Syrah, Merlot and Cabernet Franc. The aroma and taste offered nuances of cherry and floral especially violets. The crisp finish was fruity with mild tannins. Cabernet Sauvignon 2006 had nuances of blackberries and spice. The finish was crisp with tannins and fruity. Lewis Vineyard Merlot 2006 was a ruby color. This wine had red cherry and spice notes. The fruity finish had bold tannins. Columbia Valley Syrah 2005 had smoke and black cherry notes on the aroma with black cherry hints on the taste. The finish was fruity with tannins.
Enjoy a visit to Dunham Cellars, a family owned winery, where you can purchase a glass of wine to enjoy outside in the delightful green oasis they have created. Watch the Dunham Cellars website for updated winery events.
Dunham Cellars
150 E. Boeing
Walla Walla, Washington 99362
GPS: N46º 05.343' W118º 16.740'
---
Please support this establishment that advertises with Wine Trail Traveler.