Marshal's Winery
by K. L. Sullivan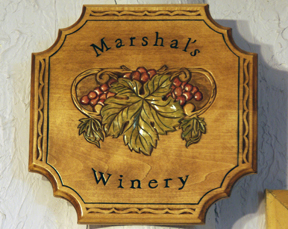 Summary: Marshal's Winery is a small, boutique winery located in the Columbia Valley AVA. As visitors stopped by it was apparent that they enjoyed the wine and the atmosphere. Marshal's Winery is an example of hard work, dedication and a passion for wine.
After years of producing wine at a winery in Oregon City, Ron Johnson, owner of Marshal's Winery decided to began producing and selling his own wine. Marshal's Winery produces 4000 cases of wine. Barbera, Syrah, Merlot, Cabernet Franc and Cabernet Sauvignon grapes are planted on 29 acres of vineyards that are now over twenty years old. Labels on the bottles show scenes from local landmarks and an old lantern that is on display in the winery tasting room. The lantern design is also used on signage for the winery. The lantern theme is seen on several bottles with the phrase, "Put a little light in your life, have a glass of Marshals Wine."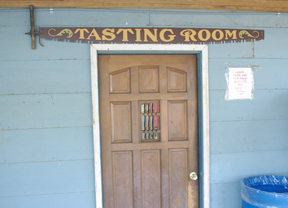 Ron has been growing grapes since 1983 and sold grapes to other wineries. He made his own wine, approximately 100 gallons. People liked it and suggested he start his own winery. In 1998 he began the winery. Family is important to Ron. The winery is named after his son. Ron and Lilia, do everything. Lilia was labeling bottles and running the tasting room at the winery while Ron ran another tasting room on Route 14. Bottling and labeling is done by hand. The two run the entire operation as a vertical operation. From vineyard to winemaking to retail, Lilia and Ron are involved in all aspects. They do hire workers to help in the vineyard during pruning and harvest.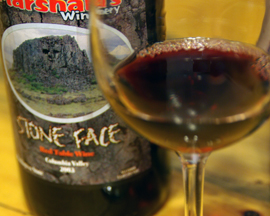 As you taste Marshal's wines notice the interesting designs on the labels. Among the several wines tasted was Barbera 2005 that had a red fruit licorice aroma and taste. It finished with red cherries. Syrah 2005 was a deep purple. It was smooth with a vegetative and fruit taste. It had soft tannins on the finish. Stone Face was a blend of Cabernet Sauvignon, Merlot and Cabernet Franc. It had a peppery and vegetative nose with a red fruit taste and good tannins on the finish. Merlot had a dark cherry nose and taste with soft tannins on the finish. The Cabernet Sauvignon had a red cherry nose and fruit taste with some earthiness. There was a crisp finish followed by soft tannins. We only tasted reds on the day of our visit. Marshal's Winery also produces two white wines, a late harvest Riesling and a Gewurztraminer.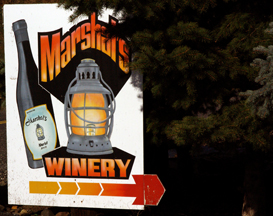 The tasting bar can accommodate several visitors. Tables are set up in the tasting room. This is a nice touch after spending time standing at other tasting rooms. A steady flow of visitors tasted wines as we were visiting. Some were return visitors who brought others with them. Marshal's Winery holds events throughout the year. Popular events are the pig roasts held on Memorial Day and Labor Day. A visit to Marshal's Winery is relaxing and the atmosphere is friendly.

Marshal's Winery
150 Oak Creek Road
Dallesport, Washington
GPS N 45°66.486' W 121° 12.346'
---
Please support this establishment that advertises with Wine Trail Traveler.