Maryhill Winery
by K. L. Sullivan
Summary: With a production of 60,000 cases, Maryhill Winery located in the Columbia Valley AVA is a destination site in Washington. This winery offers live music on weekends May through October and visitors are invited to stay for the day. Tours are available if scheduled in advance.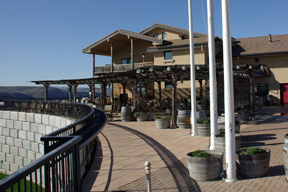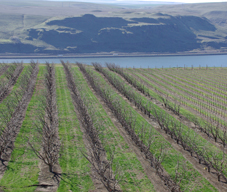 Approaching the tasting room, we noticed a large, furry and very friendly white dog. Potter is a Great Pyrenees dog and is in the well-known winery dog book. Potter was enjoying a morning nap on the brick patio. We paused to look at the views before proceeding into the tasting room. The views are spectacular. The mountains in Oregon give way to hills down to the Columbia River. In another direction you can view the barren mountains in Washington. On a clear day, Mount Hood is visible in the distance. The patio has chairs and tables and is the perfect spot to relax with a glass of Maryhill wine and enjoy the outstanding views of the Columbia River area or a summertime concert.
An area used below the parking area is an outdoor amphitheatre. It plays host to nationally known music artists as well as local musicians. Soon a permanent amphitheatre will be in place.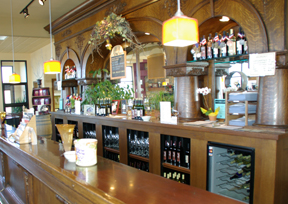 Inside the tasting room wines, wine accessories and gifts are available for purchase. Notice the Raku Pottery by local artist Scott Gray. Immediately to your right, you will see a large tasting bar. The section behind the tasting bar was built out of quarter sawn tiger oak in the early 1900's. Ask about the travels of this piece including around the Cape and all the way to Juneau, Alaska. It is a fine piece of furniture with ornate carvings and a large mirror enhances the wood.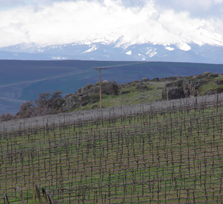 Craig and Vicki Leuthold built the winery in 2000 after spending many years in the wine industry in Spokane, Washington. Craig emphasized the unique weather and climate conditions of the land in the area. The climate is moderate and summers are long with an average rainfall of eight inches. Irrigation is from wells and the Columbia River. Soil levels vary from six to ten feet deep to rocky soil where grapevines are planted in rocks. Maryhill has contracts with twelve different vineyards for the grapes they use totaling about 250 acres. Grapes include Cabernet Sauvignon, Zinfandel, Merlot, Cabernet Franc, Malbec and Grenache. Maryhill concentrates on creating reserves and classics. Today the winery produces 60,000 cases and distributes 75 percent.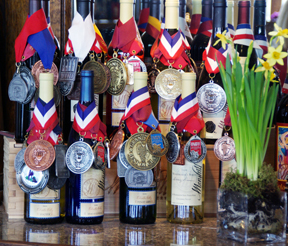 After spending an enjoyable time with Craig, we went to the tasting counter where Theresa Burke guided us through tasting several wines. The best selling white wine is Viognier 2006 made with 100 percent Viognier. This semisweet wine had a floral and fruit nose with an apricot and peach taste. Pinot Gris 2006 had a fruit nose with a fruit salad taste (pineapple, apple, and pears.) Rose of Sangiovese 2006 was a light red color with a light fruit taste of red berries. Cabernet Sauvignon 2004 had an earthiness on the nose and red fruit taste. This wine was crisp with soft tannins on the finish and a long aftertaste. Syrah 2005 had dark stone fruit and earthiness on the nose. The taste was of fruit with a hint of smoke and a crisp finish. Sangiovese Classic 2004 featured a red cherry nose and taste. Zinfandel 2005 had pepper and spices on the nose. The taste was pepper and fruit. This wine was fruit forward on the aftertaste. Proprietor's Reserve Grenache 2005 had a dark red fruit nose with spices. There was a dark red cherry fruit taste with a crisp finish.
With delightful views, music and wine, Maryhill Winery is definitely a winery to visit. Tourists are encouraged to bring picnic lunches. If you will need lodging, consider staying in the Dalles.
Maryhill Winery
9774 Hwy 14
Goldendale, WA 98620
GPS N 45°67.213 W 120° 88.098
---
Please support this establishment that advertises with Wine Trail Traveler.