Snoqualmie
by
Kathy Sullivan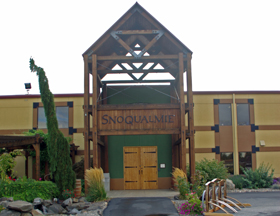 Summary: Snoqualmie is one of Washington's largest wineries. The state's largest winery, Chateau St. Michelle, bought Snoqualmie. This is a large working winery facility that has a tasting room where visitors can sample some of the Snoqualmie portfolio of wines. Some of the wines produced are in the naked wine series, they are made with organically grown grapes.
Standing large and alone, set back from the road, Snoqualmie is easy to discover. With a large paved parking area, parking is easy. For anyone traveling by bicycle be sure to check out the unique bicycle stand made from an oak barrel. It is unusual and a perfect addition to a winery site. A good size shaded patio set amongst a delightfully landscaped area provides a wonderful spot to enjoy a glass of Snoqualmie wine. Landscaping includes waterfalls.
Snoqualmie located in Prosser, Washington joined Chateau Ste. Michelle Wine Estates in 1991. At that time Joy Anderson was appointed the winemaker. The original Snoqualmie Winery was near Snogualmie Falls in Snoqualmie, Washington.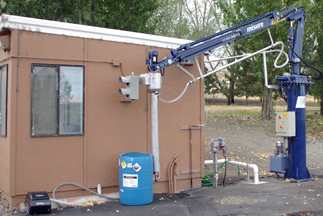 In 2011, the Snoqualmie facility is producing about 150,000 cases of wine. The Columbia Valley vineyards normally receive about 7 inches of rain each year; therefore vineyards have drip irrigation. Snoqualmie vineyards are located in the Wahluke Slope AVA, Horse Heaven Hills AVA and Yakima Valley AVA. Nearly four hundred acres of grapes are maintained as organic vineyards and are used in the naked wine series.
While many winemakers check the brix level of grapes, Snoqualmie winery has an unusual but efficient way to measure the brix, pH and TA. As the large truck loads of grapes are brought in to the winery, they stop at the entrance where a probe is placed into the center of the load and the brix, ph and TA are quickly measured. According to Meryl Rickey, enologist, since the weight of the grapes has already crushed some of the grapes, this measurement tool is more accurate than checking this data for a few grapes.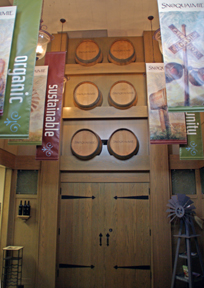 Tasting Room
The tasting offers both a unique sophistication with a high ceiling and barrel heads towering overhead as well as a homeyness felt by the tasting counter made of large ceramic tiles. The wine display shelves are made of heavy finished wood and bolted together. A number of wine related items are available to browse including kitchen towels.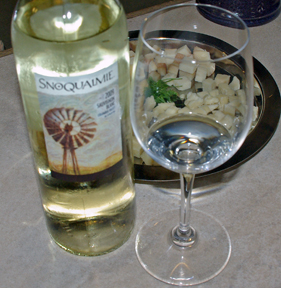 White Wines
Naked Chardonnay 2009 Horse Heaven Hills was yellow with nuances of green apple and citrus. The finish was crisp, fruity and chewy. This Chardonnay saw no oak. Winemaker's Select Riesling 2010 is a huge seller. The wine was a light yellow and produced with Riesling grapes from each vineyard. The result was a wine with floral aroma notes especially roses. Peach nuances were on the taste. The finish was sweet and fruity with peach notes. Sauvignon Blanc 2009 was crisp with fruit notes notably melon. Suggested pairings included chicken or scallops. The back of the label noted, "Wind is a fact of life in the wide open landscape of eastern Washington." Naked Riesling 2009 Columbia Valley was a golden yellow. The wine was aromatic with fruit. The taste was delicious and sweet. Gewürztraminer 2010 Columbia Valley was aromatic with a dry taste. Spices were noted and the taste was smooth.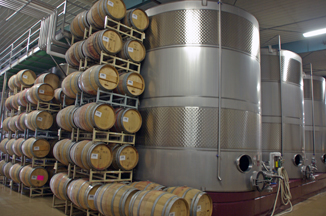 Red Wines
Cabernet Sauvignon 2006 Columbia Valley was a dark purple to black with a ruby rim. The aroma offered black fruit with a herbal hint. Black fruit notes were on the taste. The finish had tannins and black fruit nuances. Whistle Stop Red was a Cabernet Sauvignon and Merlot blend. The result was a very dark opaque purple wine. The aroma was earthy and sweet. The taste was dry with dark berry notes. The finish with tannins was long. Consider pairing this wine with steak. Syrah 2007 Columbia Valley offered an aroma of dark and red berries. The taste was smooth and full bodied.
Tourists to Prosser wineries will want to a visit Snoqualmie Vineyards, one of Washington's largest wineries. Snoqualmie is conveniently located within minutes of Exit 82 on Interstate 82.
Snoqualmie
660 Frontier Rd.
Prosser, Washington 99350
GPS: N46º 12.666' W119º 44.811'
---
Please support this establishment that advertises with Wine Trail Traveler.