Willow Crest Winery
by
Terry Sullivan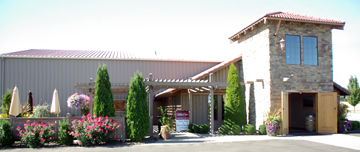 Summary: Willow Crest produces 8,000 cases of red and white wines. They are conveniently located off Interstate 82 Exit 80 in Vintner's Village. Visit a Tuscan-style tasting room and enjoy a lunch on the patio.
Willow Crest grapes are from their own vineyards located on their Roza farm about seven miles north of their tasting room in Prosser, Washington. The vineyards are in the Yakima Valley. Grapes were first planted in 1982. Additional plantings were done over the years through 2002. With 215 acres of vineyards, the land is planted at an elevation of 1,300 feet with Pinot Gris, Chardonnay, Gewürztraminer, Riesling, and Viognier for whites and, Cabernet Franc, Cabernet Sauvignon, Grenache, Merlot, Mourvedre, Sangiovese and Syrah for the reds. Fruit from the vineyard is sold to other wineries.
David Minick, who liked wine, decided to use some of the grapes he grew to make wine. Willow Crest Winery began in 1995 and David crafts about 8,000 cases of wine. David has been a winegrower for 26 years and a winemaker for 16 years.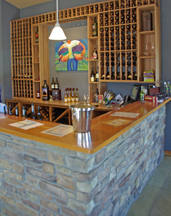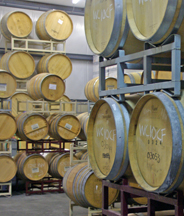 In the tasting room, the emphasis, for David, is to have fun. For those who are new to wine, the staff is happy to teach them how to taste wines and take some of the mystery out of wine. The L-shaped tasting counter is made of stone with a honey-colored wood top. Several people can stand at the tasting counter and sample wines.
A doorway near the tasting counter allows views of the barrel room through window panes. Visitors can view barrels of different sizes many of which are stacked. A patio off the tasting room offers a cozy setting with umbrellas over tables and chairs. The patio is like a private little oasis for enjoying a glass of wine and food.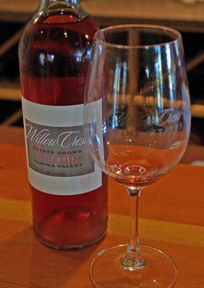 Wines
Pinot Gris Yakima Valley 2010 was a pale yellow. The aroma was aromatic with fruit notes. The taste was dry with citrus, peach and apple notes. This is a food friendly wine and also good as a 3P wine - good for patio, pool or picnic.
Rosé 2010 was made with Lemberger. The color was a dark pink. Ripe red berries were on the aroma and taste.
Grenache Yakima Valley 2009 was red with notes of dark fruit and spice. The finish offered mild tannins with fruit yielding to a spicy aftertaste. Mourvedre 2009 had an aroma of spices. The taste was spicy with a hint of tart cherries. The finish was crisp and spicy, especially pepper, with mild tannins. Malbec 2008 was a ruby color with notes of dark fruit and cedar. The wine had mild tannins.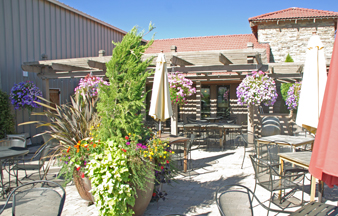 While in Vintner's Village, stop by Willow Crest Winery and sample some of the wines in their portfolio. Spend some time on their beautiful patio. This is a great place to enjoy a glass of wine and have lunch.
Willow Crest Winery
590 Merlot Drive
Prosser, Washington 99350
GPS: N46º 13.194' W119º 47.332'
---
Please support this establishment that advertises with Wine Trail Traveler.