DeLille Cellars
Carriage House Tasting Room
by
Kathy Sullivan

Summary: The DeLille Cellars Carriage House Tasting Room is located in Woodinville, Washington. This boutique-size tasting room has tables made of oak barrels topped with a circular glass top. Corks add an extra dimension between the glass and barrelhead. A patio is available where visitors can enjoy a glass of wine.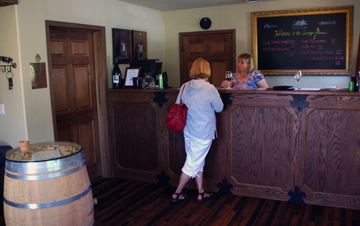 DeLille Cellars is a family owned and operated winery. The winery was started in 1992 by Chris Upchurch. Chris is the owner and winemaker. It is important for Chris to design and craft the best possible wines. His focus is to create old world style wines. In addition to being a winemaker, Chris considers himself a craftsman, chef and musician. He enjoys making things. The winery focuses on Doyenne style red wine and Boredeaux style wines. Doyenne is Rhone/Provincial wine. Chris prefers using minimal winemaking techniques. Grapes are harvested by hand. The red wines at DeLille Cellars are not filtered. Grapes are sourced from the Red Mountain AVA, a sub appellation of the Columbia Valley AVA.
Wines
Two brands of wines are available for tasting. The Doyenne label reflects wines made in a style found in Provence and the Rhone Valley of France. The DeLille label reflects a Bordeaux style of winemaking.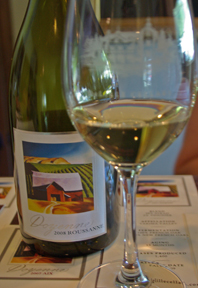 Doyenne Roussanne 2008 was yellow with a floral aroma. The taste was of floral with pepper hints. The finish was crisp with a fruity finish. Doyenne Aix 2007 was a blend of Syrah, Cabernet Sauvignon and Mourvédre. The aroma and taste were of black fruit especially black cherry. The finish was fruity with tannins. Doyenne Signature Syrah 2007 was a dark purple with an aroma of dark fruit and a floral hint. The taste had dark fruit with raspberry nuances. There were mild tannins on the fruity finish. Doyenne Syrah Grand Ciel Vineyard 2006 was a dark purple color. The aroma and taste offered nuances of black fruit. The fruity finish had tannins.
DeLille Chaleur Estate Blanc 2008 was produced with oak sur lie. The color was a straw yellow. The wine offered an aroma with nuances of citrus, tropical fruit and oak. The taste was smooth with tropical and caramel notes. The finish was fruity yielding to caramel. DeLille Harrison Hill 2007 was a blend of Cabernet Sauvignon, Merlot, Cabernet Franc and Petite Verdot. The result was a dark ruby wine with aroma notes of blackberry, black cherries and white pepper. There were blackberry nuances on the taste. The finish was fruity with tannins.
The DeLille Cellars winery is located less than a mile from the Woodinville tasting room. The facility is available for rental for business meetings and private events.
The Carriage House Tasting Room is located on Woodinville-Redmond Rd NE in Woodinville, Washington.
DeLille Cellars: The Carriage House Tasting Room
14421 Woodinville-Redmond Rd NE
Woodinville, Washington 98072

GPS: N47º 43.904' W122º 08.478'
---
Please support this establishment that advertises with Wine Trail Traveler.