Three Rivers Winery
by
Kathy Sullivan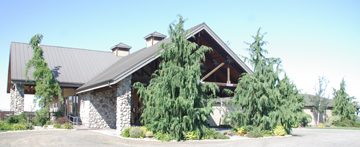 Summary: Three Rivers Winery is a destination winery in Walla Walla, Washington. Visitors will discover wines that can be aged, a no pay to play three-hole golf course, concerts and a friendly welcome.
Approaching Three Rivers Winery, vineyards line both sides of the long curved driveway. A lone wind machine stands quietly in the middle of the vineyard, a silent reminder that these vineyards are susceptible to occasional frosts and severe winter temperatures.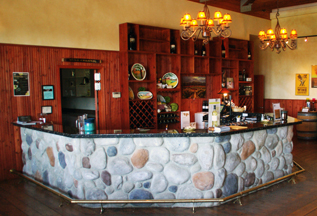 Inside, we met Andy Slusarenko, the assistant winemaker. The tasting room has a high ceiling with wood beams adding atmosphere. A fireplace and wood floor add to the ambiance of the room. The tasting counter has a stone base with a quartz top. Quality stemware is used for tastings.
We quickly learned that Three Rivers Winery is a destination site. A large deck overlooks a three-hole golf course. There are no fees for playing golf here. People frequently play golf here and it is easy to start since golf clubs are available on the deck. During our visit we noticed a mother teaching golf to her two young children. Concerts take place at the winery.
A long catwalk is available for visitors interested in viewing the winemaking areas of the winery. This provides an excellent viewpoint of the winemaking process and the opportunity to take photos. The self-guided tour leads people to an outside deck with plenty of tables and chairs. It is difficult to resist the wine barrel with golf clubs and the well kept greens just feet away.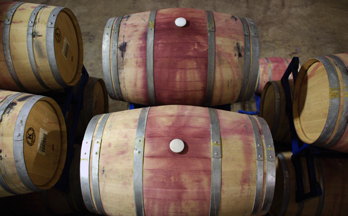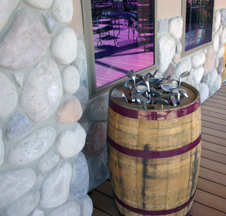 Three Rivers Winery established by three couples in 1999 was the 14th Walla Walla winery. The name Three Rivers refers to the three major rivers in the region: Snake River, Columbia River and Walla Walla River. Bill Foley purchased the winery in 2008.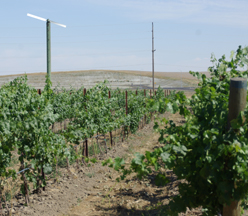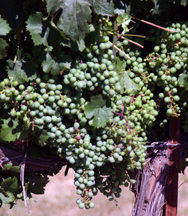 There is an eight acre estate demonstration vineyard on the winery property. Grapes include Cabernet Sauvignon and Cabernet Franc. Growing grapes on this property offer challenges since cold air settles in the vineyard. A wind machine can help at times throughout the year.
Grapes for the winery are also purchased from 22 vineyards throughout Walla Walla Valley AVA and Columbia Valley AVA. Currently, in 2010, the winery produces 15,000 cases annually. A mobile bottling line is used for bottling the wines. In the winery Holly Turner, the winemaker, prefers using French oak and Hungarian oak barrels. In the barrel room, oak barrels are stacked six high.
Geoff Tate of Queensryche and Three Rivers Winery are in collaboration on the Insania wine project. The winery produces 400 cases of Insania White and 200 cases of Insania Red wines with Geoff Tate's label.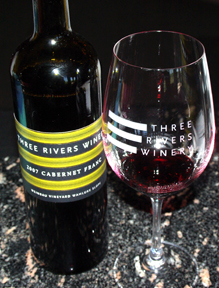 White Wine
Sauvignon Blanc 2008 Columbia Valley was a light yellow. The wine was barrel aged sur lie. The result was a wine with caramel and tropical fruit on the aroma and taste. The crisp finish was fruity.

Red Wines
Malbec 2007 Columbia Valley was a dark ruby color. The aroma provided dark fruit notes while the taste had dark fruit and spice nuances. The finish had tannins. Syrah 2006 Boushey Vineyards was a dark ruby with an aroma of dark fruit nuances. The smooth taste had dark fruity notes especially blackberries and black cherry. The finish was crisp with mild tannins. Cabernet Franc 2007 Weinbau Vineyard on the Wahluke Slope offered nuances of dark fruit with pepper on the aroma. The taste had black cherry, plum and spice notes. The crisp, fruity finish had mild tannins. Cabernet Sauvignon 2006 Champoux Vineyard was a dark purple with a ruby rim. The aroma and taste had blackberries and spice nuances. The fruity finish had bold tannins. Svelte 2006 Columbia Valley was a dark red-purple. This was a blend of Petit Verdot, Cabernet Sauvignon, Tempranillo and Malbec. There were red and black fruit salad nuances on the aroma and taste. The finish was fruity with bold tannins.
Events
In addition to the summer concerts taking place at the winery, a Spring Wine Release takes place each May. During the first week of December there is a Holiday Barrel Tasting event. Enjoy attending winemakers' dinners. Currently the winery is procuring a license for having onsite weddings. These should be available in 2011. A hospitality room that holds 75 people is available for rental for small group events.
Enjoy a visit to Three Rivers Winery. When planning a visit save enough time to browse the delightful giftware, enjoy a glass of wine and play a little golf.
Three Rivers Winery
5641 Old Highway 12
Walla Walla, WA 99362
GPS: N46º 03.028' W118º 27.426'
---
Please support this establishment that advertises with Wine Trail Traveler.