Dusted Valley Vintners
by
Kathy Sullivan

Summary: Dusted Valley is owned and operated by two couples originally from Wisconsin. Wine Press Northwest named the winery Washington Winery of the Year. Visit the tasting room in Walla Walla or in Woodinville, Washington.
Dusted Valley, located in Walla Walla, Washington is owned and operated by the Braunel and Johnson families originally from Wisconsin. Chad Johnson and Corey Braunel, owners and winemakers, married sisters, Cindy and Janet.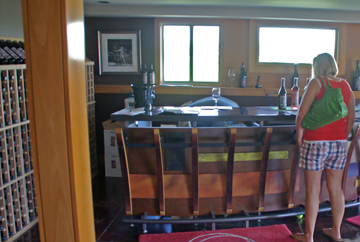 The tasting room, a dedicated space, is in the lower level of a home, adjacent to the parking area. Just outside the tasting room, a few steps lead up to a delightful area that is available for visitors to enjoy a glass of wine. We met Corey in the tasting room.
The owners were interested in producing vinifera wines. They liked the Northwest area of the country and in 2003 they transitioned to Walla Walla. In 2006 they purchased estate vineyards and today they own 30 acres, lease 35 acres and manage 30 acres of vines. Four vineyards are in the Walla Walla AVA and Dusted Valley also sources grapes from the Columbia Valley AVA. Grape varieties include Cabernet Sauvignon, Merlot, Syrah, Cabernet Franc, Malbec, Grenache, Mourvedre and Viognier.
Dusted Valley produces 4,000 cases annually. In 2010, Wine Press Northwest named Dusted Valley as Winery of the Year. Wine bottles have an image of Ceres on the front label. The back label explains, " 'Fit For Ceres' The Romans used this phrase to describe something that was divine and glorious in nature. Ceres, the ancient goddess of agriculture and harvest is our Muse."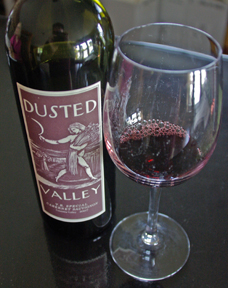 Wines
We tasted several Dusted Valley wines beginning with the 2009 Viognier. The aroma was floral and the taste offered peach with mineral nuances. The finish was crisp and peachy. BFM 2007 was a blend of Merlot, Cabernet Sauvignon and Cabernet Franc. They weren't able to decide what to call this wine so chose to use a little humor. According to Corey, BFM stands for "Blow Your Freakin' Mind." The BFM wine was dark purple with sienna hues. The aroma had notes of black fruit. There was an explosion of fruit on the taste. Tannins were on the fruity finish. VR Special 2007 was in honor of Chad's grandfather. VR is for Vernon Rhodes. This wine was a dark purple with nuances of blackberries. With tannins on the finish, blackberry notes yielded to spice. Syrah 2007 was a dark purple to black color. The aroma offered notes of olives and black fruit. The taste also had black fruit especially plum and black cherry with hints of olive. Reserve Syrah 2007 was a dark purple to black with an aroma and taste of black fruit nuances. The fruity finish had tannins.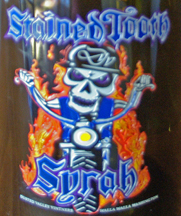 Wine Club
Dusted Valley has a unique name for the Wine Club. The name chosen was Stained Teeth Society. According to Corey, the name for the wine club is catching on quickly. The Stained Teeth Wine Club is also unusual and consumer friendly. Wine shipments occur two times a year. With advance notice, Wine Club members can choose six wines of their choice to be sent.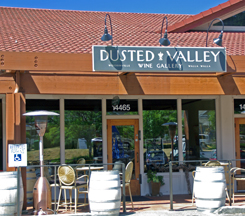 If you find that you cannot travel to Walla Walla to visit Dusted Valley, a tasting room is located in the Woodinville area of Washington. Woodinville is located about twenty-five minutes outside of Seattle.
Dusted Valley Vintners
1248 Old Milton Hwy
Walla Walla, Washington 99362
GPS: N46º 01.443' W118º 21.044'
Dusted Valley Wine Gallery
14465 Woodinville Redmond Rd. NE
Woodinville, Washington 98072
Woodinville location GPS: N47º 43.901' W122º 08.508'

---
Please support this establishment that advertises with Wine Trail Traveler.