Eight Bells Winery
by
Kathy Sullivan

Summary: Eight Bells Winery, located in a residential/small business area of Seattle, Washington is scheduled to open its doors to the public in late August 2010. The owners want to produce the best wines with the best grapes and have fun doing it. Visitors will want to note the unusual glass closures the winemakers have chosen to use to seal the wine bottles.

Eight Bells Winery, located in Seattle, Washington, wants to produce artisan wines and be a neighborhood winery. The owners foresee that some wines will be available at affordable prices for daily dinners and some will be high-end wines. With the first release of wine in late August of 2010, the official opening of the winery is expected to be in August 2010.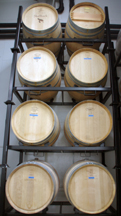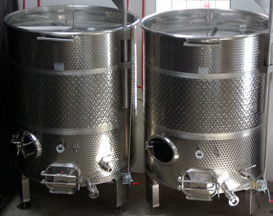 We discovered Eight Bells Winery in a Seattle neighborhood comprised of small businesses and nearby homes. A narrow passageway between two businesses leads to the winery's door. The current building had originally been a woodworkers shop and in the summer of 2009 Tim Bates, Frank Michiels and and Andy Shepherd, partners, transformed the old shop into a two floor winery with white walls. They created a cooling area for oak barrels, a stainless steel tank and stacked Flextanks. Stainless steel tanks sit on the bottom floor outside the cooling area. The second level is used to hand sort grapes and feed the stemmer crusher below. It also has a wine lab and storage area. Tim and Andy had been making wine in their garages since the 1980's and felt it was time to start their own commercial winery.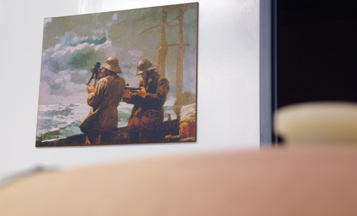 Eight Bells Nautical Theme for Winery
Oceanographers in their day jobs, they searched for a nautical theme for the winery and chose Eight Bells. Bells are used on ships to mark times. Eight bells would mark the change of watch. This is where the phrase, "Eight bells and all is well" originates. On one wall of the winery is a Winslow Homer print of two sailors appearing to search their way in a storm. This painting is called "Eight Bells."
Another term used at the Eight Bells Winery is Shellback. Shellback refers to a sailor who sails by ship across the equator. Actually, if one researches the term "shellback" it is more rigorous than a simple crossing.
Grapes Sourced From In State and Out of State
The winery sources grapes from specific vineyards in Yakima Valley AVA and Red Mountain AVA in Washington and Eola-Amity Hills, AVA in Oregon. Specific vineyards include Red Willow Vineyard, French Creek Vineyard, La Coye Vineyard, Hedges Vineyard in Washington. In Oregon, grapes are obtained from Metheven Family Vineyards located in the Eola-Amity Hills AVA.
In the fall of 2009, they crushed 17 tons of grapes which will produce 1,000 cases of wine. In 2010, they expect to reach capacity and produce 2,000 cases of wine.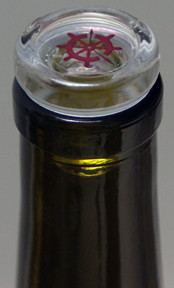 Wines
Wine bottles are sealed by hand with glass closures. The glass closure is attractive, easy to remove by hand and recyclable. This elegant looking closure resembles a decorative decanter stopper. It can be reused so consumers do not need a wine bottle stopper.
Pinot Gris 2009 was a light yellow with the faintest hint of orange for the color. The aroma had notes of pear while the taste offered nuances of pear, apple and citrus. The finish was crisp with a bit of green apple on the aftertaste. Red Willow Sirah 2009 was a dark purple with a ruby rim. The aroma had plum and dark fruit notes. The taste offered plum, dark fruit and earthy nuances. The finish was crisp with a fruit finish that yielded to spice. This will be blended with other Sirah currently aging in barrels. Merlot 2009 had an earthy with black fruit aroma. The taste was of black fruit while the finish had tannins. The wine was crisp and fruity.
Watch for the opening of Eight Bells Winery in late August 2010. Enjoy a visit to a boutique winery with an emphasis on friendliness and quality wines.
Eight Bells Winery
6213B Roosevelt Way NE
Seattle, Washington 98115
GPS: N47º 40.380' W122º 19.046'
---
Please support this establishment that advertises with Wine Trail Traveler.