Thurston Wolfe Winery
by
Terry Sullivan


Summary: Just off Interstate 82, Exit 80 Vintner's Village offers travelers and the local community a great wine tasting experience at several wineries. A must stop is Thurston Wolfe where wine enthusiasts can sample several of the wines. Many are produced from varietal grapes in addition to the classic varieties.
The family winery is owned by Dr. Wade Wolfe and Becky Yeaman. Wade attended school at UC Davis where he became interested in the wine program. Between 1976 and 1978 he was a Research Viticulturist and Enologist at the University of Arizona. In 1978 he spent time working at Chateau Ste. Michelle and Hogue wineries. He met Becky in 1985 and they were married in 1987 a year that also marks their first vintage. The first location for the winery was in the historic Old City Hall in Yakima. Thurston Wolfe was moved to Prosser in 1996 and the present facility was completed in 2006. Today they produce about 6,000 cases of wine. A third of that production is their popular PGV, a blend of Pinot Gris and Viognier. Grapes are sourced from the Columbia Valley with over half coming from Zephyr Ridge Vineyard in the Horse Heaven Hills AVA. Wade and Becky would like to increase production as they break into new markets.
When Thurston Wolfe moved to Prosser in 1996, they established a small estate vineyard near Paterson. The vineyard has plantings of Pinot Gris, Viognier, Petite Syrah, Syrah and Zinfandel. In 1999 plantings of Orange Muscat and Touriga National were planted near Benton City.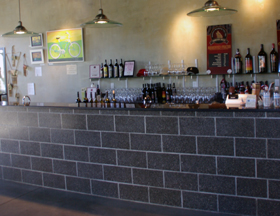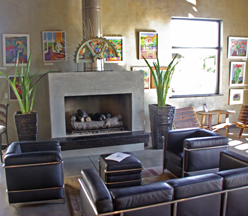 Tasting Room
The modern building, with ample parking, includes a large tasting room area, production area and aging space. The tasting room is rectangular and has a long tasting bar with a black stone-like counter. A comfortable seating area including leather sofa and chairs face a fireplace, a perfect spot to enjoy wine during the colder months. Artwork adorns the walls. Another comfortable space is the patio adjacent to the tasting room. Wrought iron tables and chairs with umbrellas make this an inviting location during warmer weather.
Stainless steel and oak barrels are stacked up to four high in the winery section of the facility. At the time of our late September visit, a fermentation bin had red grapes slowly fermenting.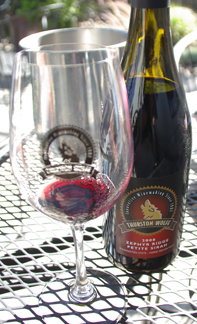 Wines
Wine enthusiasts can sample a diverse portfolio of wines including the classic Bordeaux varieties and also Rhone varieties and Spanish varieties.
The 2010 PGV was a straw colored blend of Pinot Gris and Viognier. It had a lively aroma of grapefruit and tropical fruits with grapefruit predominant on the taste. The finish was crisp and citrusy.
The 2009 Spaniard with its red color was a blend of Grenache, Tempranillo and Syrah. This soft fruity wine with mild tannins made this an easy drinking red wine. The 2008 Petite Sirah from Zephyr Ridge Vineyard was a red color. The wine offered red cherry and dark fruit aromas and tastes. The finish was fruity with tannins. Also made with grapes from Zephyr Ridge Vineyard, the 2009 Howling Wolfe Zinfandel was red. There were plum and raspberry notes on the aroma with perfume nuances. The finish offered tannins with fruits and spices.
The 2008 JTW Port was a red colored blend of Touriga National, Souzao, Petite Sirah and Cabernet Sauvignon. This was a fruity, lighter bodied port that had black cherry, black pepper and chocolate notes. Although 20% alcohol, there was no alcohol burn on the finish.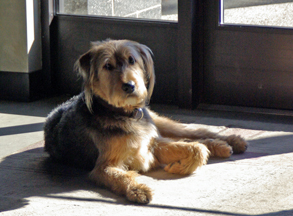 Make sure a stop at wineries in Vintner's Village includes a visit to Thurston Wolfe. The tasting room and patio offer a wonderful spot to have lunch and an opportunity to sample several wines made with a variety of grapes. As you travel to wineries, you may have noticed the book about Winery Dogs. Thurston Wolfe has the friendliest winery dog.
Thurston Wolfe Winery
588 Cabernet Court
Prosser, Washington 99352
GPS: 46º 13.147' W119º 46.574'
---
Please support this establishment that advertises with Wine Trail Traveler.