Cougar Crest Estate Winery
by
Kathy Sullivan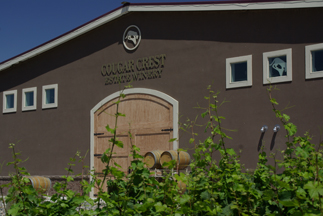 Summary: Cougar Crest Estate Winery in Walla Walla, Washington produces estate grown and bottled wines. The owners, Dave and Debbie Hansen, enjoy the creating aspect of winemaking. This is a family owned and operated winery. The elegant style tasting room provides a comfortable opportunity to taste wines. Reserve wines are also available for tasting.
Cougar Crest Estate Winery is one of the few Walla Walla wineries that use only estate grown fruit. The vineyard began with 10 acres of grapes and has grown to 60 acres. A demonstration vineyard of Riesling is located near the tasting room.
Both Debbie and Dave Hansen, owners, are from professional careers and have chemistry backgrounds. Debbie was a pharmacist and Dave was a veterinarian. Their chemistry backgrounds helped with the understanding of winemaking. The Hansens enjoy the challenges of the vineyard and winery.
Vineyards
Dave and Debbie established Cougar Crest Estate Winery in 2001. The Hansen's had apple orchards and continue to have orchards for commercial use. They replanted 10 acres of apple trees with grapes, expanded to 60 acres of vineyards, and provided grapes for other wineries. Cougar Hill Vineyard is the name of the vineyard. Eventually they decided to develop their own winery. Debbie is the winemaker and Dave is the vineyard and winery manager. The vineyards consist of Viognier, Cabernet Sauvignon, Merlot, Cabernet Franc, Syrah, Grenache, Tempranillo and Malbec.
Tasting Room and Winery
Inside the tasting room, visitors will discover a fireplace and leather seating in the center of the large room. Tall bistro tables with seating are also available. The comfortable seating also extends to the tasting counter where padded tall chairs provide a welcome relief to standing. Wines are displayed in a wood showcase behind the tasting counter. Reserve wines are available for tasting, made possible by the installation of an argon machine that keeps an opened bottle of wine fresh for two to three weeks. Throughout the tasting room, glass artwork by Karen Ehart is displayed and for sale.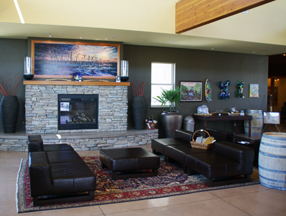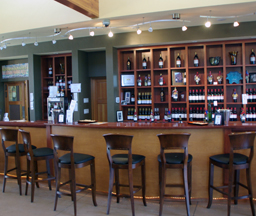 Their first vintage was 900 cases and today they are under 10,000 cases annually. The Hansens are comfortable with this level of production, believing that it allows for control of production and quality. In 2011 the winery will begin using eco-glass produced in Washington. Eco-glass bottles are lighter and will help to reduce the carbon footprint.
The winery production areas have no pressure treated lumber in the construction. The only wood in this area is in the roof. The walls were built with rastra, a combination concrete and styrofoam. Rastra is considered environmentally friendly. There are many benefits to using these building blocks. The blocks are waterproof, fireproof and provide insulation with an R-value of 38.
Wines
At the tasting counter we tasted several wines beginning with the Viognier 2007. This light yellow wine offered tropical fruit nuances and a crisp finish. Grenache Rosé 2008 had light strawberry nuances on the taste. The crisp finish was fruity with strawberry notes.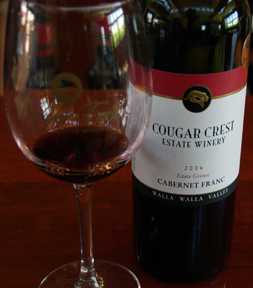 Red Wines
Dedication Four 2007 was a blend of Syrah, Merlot, Cabernet Franc and Cabernet Sauvignon. The aroma offered nuances of fruit with hints of plum. The crisp finish was fruity with mild tannins. A portion of sales from this wine is donated to the Doernbecher Hospital in Portland, Oregon.
Cabernet Franc 2006 offered an aroma and taste of black cherry, plum and spice nuances. The finish was crisp with mild tannins. Merlot 2006, a dark ruby wine, had black cherry nuances and taste. The crisp finish had mild tannins. Anniversary Cuvee 2006 was a blend of Cabernet Sauvignon, Merlot, Petit Verdot and Malbec. There were black fruit nuances on the aroma and taste. The finish was crisp with mild tannins. Syrah 2005 was co-fermented with three percent Viognier. The aroma was very fruity with notes of blackberries and plum. The taste offered nuances of black cherries and plum. There were tannins on the finish. Petit Verdot 2007 was a dark purple to black. There were black fruit notes and bold tannins.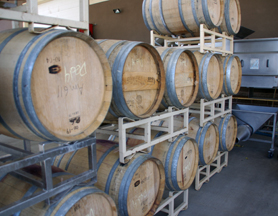 Enjoy a visit to Cougar Crest Winery, an estate grown and bottled winery in Walla Walla. The owners strive to create wines that provide every day value. They want consumers to select Cougar Crest wines when taking a bottle of wine to a friend's house for dinner.
Cougar Crest Winery
50 Frenchtown Rd
Walla Walla, Washington 99362
GPS: N46º 02.810' W118º 29.407'
---
Please support this establishment that advertises with Wine Trail Traveler.