Gamache Vintners
by
Kathy Sullivan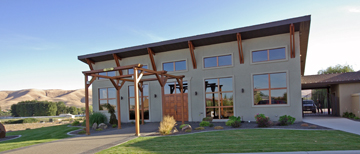 Summary: Gamache Vintners tasting room and winery in Prosser, Washington is in Vintner's Village. The tasting room is open year round. Gamache Vintners are serious about producing wines that showcase the vineyards. The wines produced by the winemaker emphasize the quality of the grapes in the vineyards.
Bob and Roger Gamache, brothers and owners, are the fourth generation of the Gamache family in agriculture. In 1982 their family was growing hops. However, they saw a future in wine grapes. Today the vineyards have 185 acres of wine grapes and there are also 30 acres of peaches and nectarines.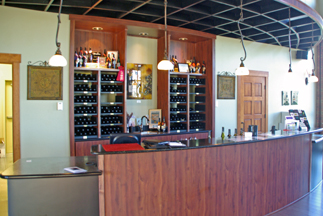 Tasting Room
The tasting room is open daily throughout the year. It is located in Vintner's Village, just off Exit 80 on Interstate 82 in Prosser. Visitors will notice a modern large tasting room with plenty of room to browse the displays. The curved tasting counter is at one end of the room highlighted by dark wood and a black granite-like counter top.
Vineyards
The vineyards are located northeast of Prosser in the Columbia Valley AVA. Wine grapes in the vineyards include Cabernet Sauvignon, Cabernet Franc, Merlot, Malbec, Chardonnay, Riesling, Pinot Grigio, Sauvignon Blanc, Syrah, Viognier and Roussane. The owners note that in the vineyards, cold is a problem. "It's a challenge every year." However they also commented that their vineyards have more heat days than Napa Valley vineyards.
Originally the winery was in Washington's Tri Cities area and in 2009 they moved to Vintner's Village. Gamache Vintners continues to be a family owned and operated business that includes Bob, Cris, Roger and Paula. Roger and Bob refer to themselves as winegrowers and viticulturists. "We truly make the wine in the vineyard." They want the wines produced to showcase the vineyard and what Mother Nature provides. Bob and Roger searched and found a winemaker who would make wines allowing the grapes to express themselves.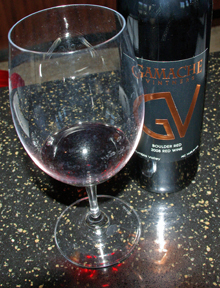 Red Wines
Estate Boulder Red 2008 was a blend of Cabernet Sauvignon, Merlot, Cabernet Franc, Syrah and Malbec. The wine offered blueberry and blackberry notes. The finish was fruity with tannins. Estate Cabernet Franc 2008 was ruby and had an aroma of spices. The taste had plum and pepper notes. The finish with tannins began with fruit and yielded to spice. Estate Merlot 2007 offered cedar nuances and dark fruit notes. The fruity finish with tannins was chewy. The 2007 Malbec was a dark purple. The aroma and taste had cedar and plum notes. The crisp finish with tannins had cedar that yielded to fruit.
White Wines
Gamache Vintners produces two white wines. Estate Velida Viognier 2010 was barrel fermented. There were fruit notes particularly apple and pear. Velida is the name of mother and grandmother. This is a food friendly wine. Estate Riesling 2009 had 1.7 percent residual sugar. The fruity wine was sweet with citrus notes.
Enjoy a visit to the Gamache Vintners tasting room in Vintner's Village where you will discover wines produced with an emphasis on the grapes in the vineyards.
Gamache Vintners
505 Cabernet Ct.
Prosser, Washington 99350
---
Please support this establishment that advertises with Wine Trail Traveler.