Desert Wind
by
Kathy Sullivan


Summary: Desert Wind is a Washington destination site. Desert Wind Winery is a comprehensive winery including vineyards, winery, tasting room, lodging and a restaurant. Conveniently located off Exit 82 on Interstate 82 in Prosser, Desert Wind is a perfect base for wine enthusiasts exploring the wine country.
From the circular driveway to the building-style to the artistic well thought out tasting room, Desert Wind provides a lovely ambience for visitors to enjoy.
Background
Desert Wind was started by Doug and Joanne Fries. They chose Desert Wind as the name due to the area's climate of wind and dust. Doug had been farming in California before moving to Washington. Greg, their son, attended UC Davis and was interested in grapes. Eventually Greg moved to Oregon and Washington. Greg was the winemaker and now he oversees the vineyards. Lisa Jenkins, Greg's sister oversees the Desert Wind tasting room. Even with the involvement of Greg and Lisa and their families, the original owners, Doug and Joanne are still involved in the winery.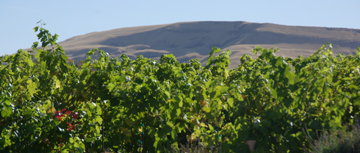 Desert Wind Vineyards
The vineyards were planted beginning in1993 and through 1997. The vineyards with 550 acres have numerous grape varieties including Cabernet Sauvignon, Cabernet Franc, Merlot, Petit Verdot, Malbec, Barbera, Sangiovese, Tempranillo, Chardonnay, Sauvignon Blanc, Semillon, Viognier, Riesling and Gewürztraminer. Fifty percent of the grapes grown are sold to other wineries. Grapes are mechanically harvested.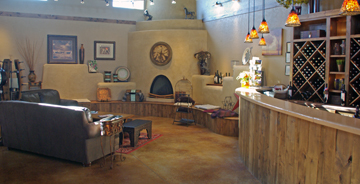 Tasting Room and Winery
The outside of the tasting room reminds one of a sand castle. Inside the spacious tasting room offers gift items to browse and wines to taste. The tasting counter top was created from recycled glass.The tasting room has been tastefully decorated with a Southwestern accent. It also offers a sitting area enhanced with leather seating and a fireplace.
The winery produces 25,000 to 30,000 cases of wine. With the exception of Ruah, wines are produced as single varietals. Ruah is the name for "Breath of God." Labels are unusually unique. One label has the ragged edge showing the Columbia River. Anyone who enjoys collecting wine bottle labels is sure to enjoy this one.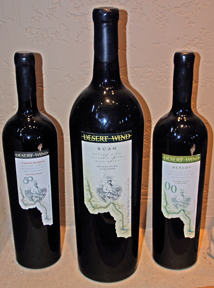 White Wines
Chardonnay 2009 was a straw color. The wine offered an aroma of apples with a touch of citrus. Apple and baking spice notes were tasted. The finish was crisp with apple nuances yielding to baking spice notes. Sauvignon Blanc 2009, almost clear, was dry and smooth with pear nuances. Acid notes were on the finish. Riesling 2009 was very aromatic with many fruit notes. The finish was very pleasant. Suggested pairings included pork dishes and hors d'oeuvres
Red Wines
The dark ruby Merlot 2009 had an aroma of black cherry with plum notes. Plum nuances were noted on the taste. The finish was fruity with tannins. Ruah 2009, the flagship wine, was a blend of Cabernet Sauvignon, Cabernet Franc and Merlot. This dark ruby wine had cherry nuances. The wine finished with bold tannins and fruit nuances. Syrah 2006, a dark purple wine, offered an earthy aroma with a dry, smooth taste. The finish was long with notes of blackberries and raspberries. This wine included a note, "Enjoy now or cellar until 2016."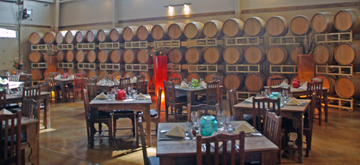 Mojave at Desert Wind: A Winery Restaurant
Mojave at Desert Wind, the onsite restaurant, is open Thursday thru Saturday for lunch and dinner.The dining area is enhanced with the stacking of oak wine barrels on one long side.
Desert Wind Events
A variety of events are offered at Desert Wind Winery. Watch the Desert Wine Winery website for details about Friday Night Supper Clubs, Wine Education Classes, Cooking Classes and special holiday events. Private events can also be scheduled at the winery.
Lodging
Anyone looking for a quick getaway, may want to consider staying in one of the four lodging units available onsite. Rooms include gas kiva fireplaces, flat panel plasma televisions, private balconies and a breakfast basket. Be sure to call in advance for reservations.

Desert Wind Winery is conveniently located off Exit 82 on Interstate 82. It is only three hours from Portland and Seattle, so consider a weekend trip to Desert Wine Winery in Prosser, Washington to relax and rejuvenate.
Desert Wind
2258 Wine Country Road
Prosser, Washington 99350
GPS: N46º 12.937' W119º 44.813'
---
Please support this establishment that advertises with Wine Trail Traveler.