Champoux Vineyards
by
Terry Sullivan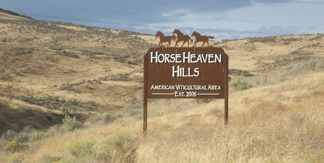 Summary: Not far from Washington Rt. 14 the Horse Heaven Hills AVA has colors of golden yellow wheat fields yielding to green vineyards. The contrast in colors is picturesque. Along Alderdale Road lies the Champoux Vineyards. More vineyard designated wines come from this vineyard than other vineyard designated wines in Washington State.
Travelers have discovered the beauty of driving along Washington's Route 14 that borders the Columbia River. Turn north on Alderdale Road and within a few miles a brown sign announces the Horse Heaven Hills AVA established in 2005. A short distance away wine travelers will sight vineyards sprawled across the gentle sloping hills. Along the road, another sign announces Champoux Vineyards.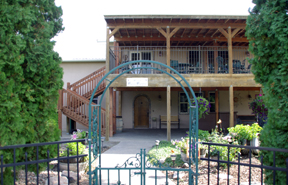 Champoux Vineyards grows ultra-premium grapes and sells their grapes to wineries. They do not make wine, however they do have a tasting room, Chateau Champoux where wine enthusiasts can taste some wines made from their grapes. The chateau is a little hidden, vineyard-surrounded oasis set back from Alderdale Road. Shrubbery encloses the area giving it a courtyard effect. Tables and chairs are spread around a grassy area adorned with colorful flowers. The chateau is a two-story building that also serves as an event area.
Paul Champoux, owner, grew up in the Yakima Valley. Early on he worked in the hop industry. Paul has worked in the wine industry for 32 years. Paul wants to "focus on the best grapes possible." In 1979 Paul ventured into the wine business and worked with Chateau Ste. Michelle planting vineyards. In 1986 he leased the present vineyard from the Mercer family and bought the vineyard in 1996. Paul's grapes are sourced to wineries producing high end wines. If you look at a wine bottle, you'll occasionally see a vineyard's name on the bottle. Champoux Vineyards has its name on more Washington wines than any other vineyard designated wines in the state. Much of the work in the vineyards and the event center is shared by Paul and his wife, Judy.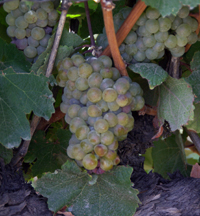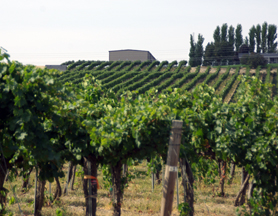 Vineyards
The rolling hills are covered with 180 acres of vineyards. Varietal grapes planted include: Chardonnay, Muscat Canelli, Riesling, Cabernet Franc, Cabernet Sauvignon, Lemberger, Malbec, Marquette, Merlot, Petit Verdot, and Syrah. Of these varieties the Cabernet Sauvignon accounts for 100 acres of the vineyards. Paul planted the first Marquette grapevines in Washington. He knows his vines and concentrates on the nutrients needed by each individual varietal grape planted. For each season he develops a package of nutrients.
Paul has established a partnership between the vineyards and the wineries to which he supplies grapes. The wineries have their own rows within the Champoux Vineyards. Currently Paul has 25 winemakers using his grapes and he has 40 more winemakers on a waiting list. Grapes are harvested at about three tons to an acre.
Wines
Champoux Vineyards does not make their own wines. They sell their grapes to other wineries. These wineries place the name Champoux Vineyards on the label. We tasted a Cabernet Sauvignon from Champoux Vineyards while visiting Januik Winery in Woodinville, Washington. The Januik 2007 Cabernet Sauvignon from Champoux Vineyards in the Horse Heaven Hills AVA was dark red with a ruby rim. The aroma offered nuances of blackberries and spice. The taste had blackberry and spice notes. The fruity finish had bold tannins.
Although not always open, look for opportunities to visit Chateau Champoux on the Champoux Vineyards' site. They are open for special events. While shopping for wines, look for the Champoux Vineyards name on the wine bottle label.
Champoux Vineyards
524 Alderdale Road                        
Prosser, Wa  99350
GPS: N45º 54.030' W119º 54.074'
---
Please support this establishment that advertises with Wine Trail Traveler.