Chinook Wines
by
Kathy Sullivan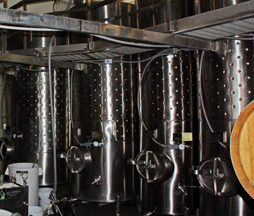 Summary: Chinook Wines is a small, boutique winery that offers a friendly visit with the wineries owners. Enjoy a visit to Chinook Wines in Prosser, Washington. Discover delicious wines while talking with the owners.
Clay Makey and Kay Simon, successful husband and wife owners of Chinook Wines, are a friendly couple to talk with about their involvement in the wine industry. It is obvious from talking with them that they enjoy what they do. Clay's interest in wine is in the viticulture while Kay is the winemaker. At the time of our visit Kay was working with wine in a large stainless steel tank. Kay graduated from UC Davis and has made wines in the San Joaquin Valley and at Chateau Ste. Michelle. Clay helped his father plant vineyards in the 1970s and also worked for Chateau Ste. Michelle as a vineyard manager.
For the owners, they want the wines to distinguish themselves through the character of the fruit. They make an effort not to cover up the fruit character and use light oak in their wines. Much planning goes into the processing of the fruit into wine.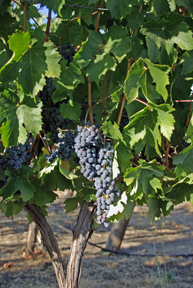 Winery and Vineyards
Currently Chinook Wines is producing 3,000 cases with their own grapes and grapes from the Yakima Valley AVA. More than 60 percent of the wine sales are to restaurants. Clay and Kay have established long term relationships with some of the growers going back to the early 1980s. One wine grower has a vineyard of Semillon with five different clones. The first vintage was 1983. Chinook Wines has 1.5 acres of Cabernet Franc vines planted around the tasting room and winery. This estate vineyard was planted in 1990 in soil composed of silt loam with a gravel subsoil. The vineyard is at an elevation of 750 feet. At the time of our late September visit, the Cabernet Franc was approaching harvest, a few weeks away.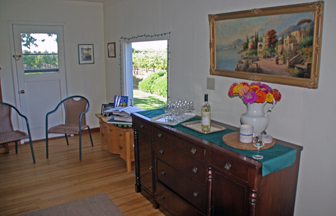 Tasting Room
The Chinook tasting room is located near the winery in a house built in 1927. The tasting area resembles a living room and has a tasting area. Wine tastings are more personal and homey. The labels chosen for the wine bottles reminds one of down home and kitchen and makes the wine more approachable. The labels are reminiscent of wallpaper that some may use in a kitchen or dining room area. Visitors will note that the tasting room has a ReCork box, for recycling your natural corks.
The Chinook Name
When searching for a winery name, Clay and Kay wanted to pick a name that had a relationship with the region. According to this enthusiastic couple, a Chinook wind is one that warms as it moves down a hill. The word Chinook has several other meanings in this part of the country. Klahowya is a Chinook word meaning, "How are you?" Chinook is a jargon from French, English, and Native American. Visitors and residents of Washington may be familiar with the Chinook Pass. Then there is the variety of salmon, called Chinook salmon. Choosing the name Chinook was Clay and Kay's way to make a statement about being in this area of Washington.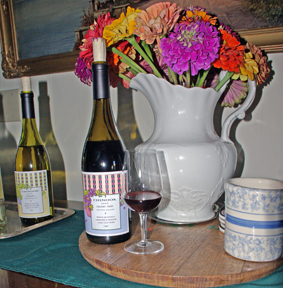 White Wines
Sauvignon Blanc 2010 offered an aroma and taste of grapefruit and tropical notes. The finish was crisp and citrusy with tropical hints and lemon grass. Chardonnay 2009, a dark straw color, had apple aroma notes with a smooth apple taste and touch of citrus. The finish was crisp and fruity.
Red Wines
Cabernet Franc 2008 was a ruby color with an aroma that offered spice notes. The taste had spice and plum notes. The finish had tannins and was spicy with plum overtones. There was a long aftertaste.
Enjoy a visit to Chinook Wines where you will discover a couple eager to share their winery and vineyard experiences.
Chinook Wines
220 Wittkopf Loop
Prosser, Washington 99350
GPS: N46º 12.921' W119º 44.232'
---
Please support this establishment that advertises with Wine Trail Traveler.