MatchBook
by
Kathy and Terry Sullivan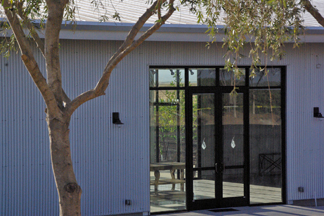 Summary: The Matchbook winery tasting room is set to open in October 2014. The winery tasting room is on the way to northern Napa Valley and Lake County and easy to find just off Interstate 5 about a half hour west of Sacramento. The story behind the name is interesting and simply explained by, "That's the way boys are." The Matchbook wines are delightful alone or with food.
Matchbook winery in the Dunnigan Hills AVA consists of 1,200 acres of grapevines primarily Chardonnay but also planted with other grape varieties. The Crew Wine Company is the parent company of the brands Matchbook, Mossback, Chasing Venus and Sawbuck. The brand was named Matchbook in reference to the fascination that John Giguiere and his brother, Karl, had with fires when they were very young.
History
John and Lane have known each other since high school. John's family has been farmers for five generations. They started a 10-acre vineyard and sold the fruit; then they became more involved in the vineyard. The original farm of traditional crops began to be replaced with more vineyards. John's father purchased property in this area of California in 1948. His ancestors have been involved in farming in the area since coming to California from Quebec in the mid-1800s.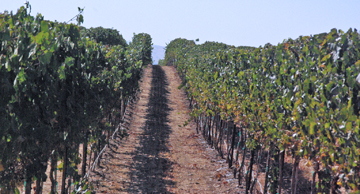 Vineyards
We met Lane Giguiere outside of the almost ready to open tasting room in Zamora. Despite the fact that Lane and John are the owners of a vineyard with more than a thousand acres of vines and many acres of olive trees, the couple is down to earth and easy to talk with. Our visit included a wonderful tour of the massive vineyards and olive tree groves. Some of the grape varieties include Chardonnay, Tempranillo, Syrah, Malbec (pictured) and Graciano. While the family sells their grapes to other wineries and groups such as Constellation, they also keep some of the vineyard blocks for their own use in producing Matchbook wines.
John likes experimenting with different clones and different grape varieties. Currently he has six different clones for Chardonnay. Lane noted, " There is a demand for it and we are good at it." John and Karl also like using different trellising systems in the vineyard including a "hanging curtain" trellis system.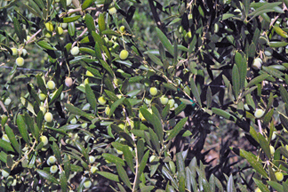 Olive Trees
Currently John and Lane have 270 acres of olive trees. The olives are harvested by machine and taken to the California Olive Ranch for processing. Arbequina is the major variety of olive trees planted. The trees were not tall. John showed us how he uses a harvest machine that can harvest grapes and olives.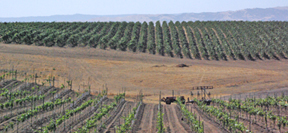 Tasting Room
The tasting room has an unusual inside wall and ceiling that helps to dissipate the noise that is common in a usual tasting room. Some furniture has already been purchased for the tasting room. Although not completed by the time of our visit, we noted a wall of windows and glass doors overlooking acres of vineyards (pictured) painting an idyllic setting for enjoying wine.
Wines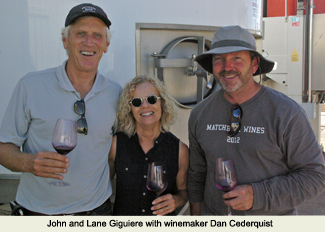 As we toured with John and Lane we met winemaker Dan Cederquist. We tasted several wines from the barrels and tanks. The 2014 Verdelho was a yellow color that offered tropical and mineral notes. The wine had medium acidity and offered a medium-full body. John noted, "I've never seen a wine clear so quickly." The 2014 Chardonnay was a dark yellow and had recently been racked into new French oak barrels. The wine was very oaky at this stage and offered notes of caramel and tropical fruits. Both of these wines were remarkable right now and show much promise for the 2014 vintage.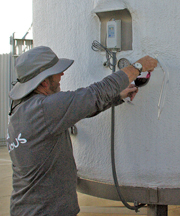 The wines from the tanks were in various stages of fermentation from a few hours to several days. Some were sweet and low alcohol at the time of our tasting.
Dan said, "Barrels to winemakers are like spices to chefs." He treats winemaking as an artist, seeing the grapes as a blank canvas. He likes to see where the grapes are when they arrive at the winery and take the grapes to where they want to go. Although California has consistency from year to year, Dan noted that there are differences and he wants the wines to reflect the terroir for a particular year.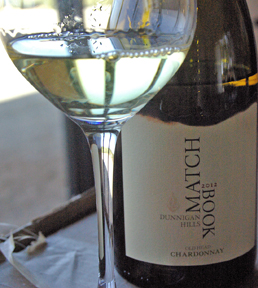 At the end of our visit we were invited to sit down and taste Matchbook wines with John and Lane. The 2012 Matchbook Chardonnay Dunnigan Hills AVA is their number one seller. The wine had 13.9% alcohol. The light gold color wine was produced in neutral oak. The full-bodied wine offered notes of tropical fruit, pear and caramel. The retail price is $15.
The 2011 Tempranillo Dunnigan Hills AVA was 13.9% alcohol. The dark ruby color wine was opaque with notes of dark fruit, spice and a hint of smoke. The wine had bold tannins, was full-bodied and had medium acidity. The retail price is $15. Tinto Rey 2010 was a blend of Tempranillo, Syrah, Graciano, Cabernet Sauvignon and Tannat. The wine was an opaque dark ruby with a dark berry, fruit salad aroma and taste. The wine had bold tannins, was full-bodied with medium-acidity. This wine retails for $17.
Prior to our visit to Matchbook winery, we received a sample bottle of the Matchbook Arsonist Chardonnay 2012. The aromas and flavors reminded one of caramel, pears, apples, butter and a hint of slate. The reserve wine is made from the best barrels of wine with Dunnigan Hills AVA fruit. The 14.3% alcohol wine was full-bodied with medium-high acidity. The dry wine is perfect to pair with food especially risotto. The wine can also hold its own as an aperitif especially served chilled on a hot summer day. The wines retails for $21.99.The one wraparound label shows a line drawing of a man (Prometheus) with fire in his hand. Next to the government information there are the words:
Fire stealing Prometheus 
stole a Spark of the sun 
to be placed in Human hands, 
and changed our Destiny.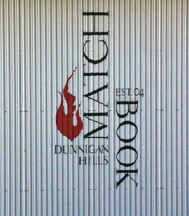 Be sure to stop by Matchbook winery when traveling in California wine country. Sacramento International Airport is a quick and easy to navigate airport for those wine travelers wishing to visit Napa, Sonoma and Lake Counties. Matchbook is just a 30-minute drive from the airport and well worth the stop.
Matchbook
12300 County Road 92B
Zamora, California 95698
GPS: N38º 45.659' W121º 55.458'
Article written September 2014
---
Visit these California organizations and wineries that partner with Wine Trail Traveler.