Michael David Winery
by
Terry Sullivan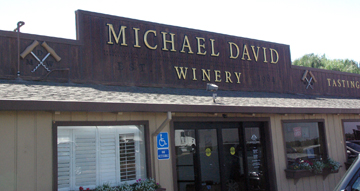 Summary: Known world-wide for their wine 7-Deadly Zins, Michael David Winery is a wonderful stop for wine travelers. Taste a wide-selection of wines many from the Lodi AVA and learn of the Phillips family involvement in wine grape growing for over a century.
Established as a winery in 1984, the Michael David Winery's involvement in the wine industry spans a longer time frame. The Phillips family owns the property and has farmed the land for six generations starting in 1850s. The facility that houses the tasting room was built in the early 1970s as a roadside fruit stand. Grapes were sold to other wineries.
Don Phillips' two sons Michael and David decided to establish a bonded winery in 1984. Michael started making the wine and his brother joined later. Prior to this, in 1975, Michael returned to the farm from college. He wanted to experiment to see if he could make quality wine from the family's vineyards. He started off as a home winemaker fermenting juice in plastic bins. Michael also planted different varietal grapes in the vineyard to see how they would do in the Lodi environment. In the 1970s there was not much data on wine grape varieties well suited for the environment.
From 1984 to 2000 they crafted small lots of wines from different varietal grapes. The bonded winery in 1984 was in a hay barn with dirt floors. They had just enough equipment to make wine: a tank, a few barrels and a crusher. The brothers started to sell their wine at the roadside fruit stand and later at farmer's markets. Over this 16 year span much of the land for fruits and vegetables had been converted to wine grapes. By 2000 they stopped selling fruit and vegetables as most land was now vineyards.
In 2000 the idea came to create 7 Deadly Zins, a blend of Zinfandel from seven vineyards. Today, Michael David Winery produces 350,000 cases of just this one wine that is widely distributed.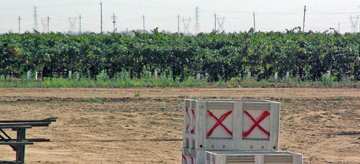 Vineyard
The vineyard is over 800 acres. The estate vineyard has plantings of Zinfandel, Cabernet Sauvignon, Syrah, Tannat, Chardonnay and Viognier. The vineyard is green certified and sustainably farmed. Some of the sustainable practices involve pest management, beneficial insects and natural mined sulfur for mildew control. All grapes are hand-picked and placed in micro-bins. The vineyards are irrigated from the Mokelumne River that flows from the Sierra Nevada Mountains.
Today the winery produces 550,000 cases. In addition to grapes from the estate vineyard, the winery sources grapes from 60 growers. All growers' vineyards are green certified and the growers follow sustainable practices.
Tasting Room
The tasting room still has the roadside fruit stand atmosphere. An L-shaped tasting counter is at one end, while tables and chairs are at the other end. Between the ends, customers have a wide selection of food to browse. There are packaged meats and cheeses all of which pair with Michael David Winery wines. There is a wide selection of fresh local vegetables and fruits for sale. Freshly baked pies by the baker who has been at the road side stand for decades continues to delight visitors.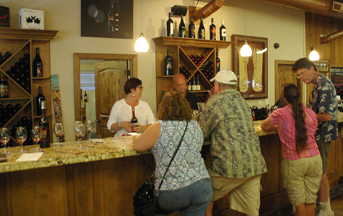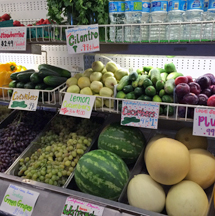 Wines
The 2013 Chardonnay Lodi AVA was a light yellow color and had 14.5% alcohol. This wine made with estate fruit offered apple, pear and caramel aromas and tastes. The full-bodied wine was crisp and retails for $16.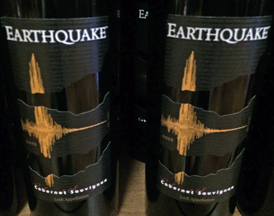 There is a line of wine named Earthquake. The Earthquake Zin is made with Zinfandel grapes from a century old block that was planted in 1906, the year of the San Francisco Earthquake. The 2012 Earthquake Zin Lodi AVA is an opaque ruby color with 15.5% alcohol. The wine offered notes of black raspberries and had bold tannins. The full-bodied wine was crisp and retails for $26. Also in the Earthquake line was a 2012 Earthquake Cabernet Sauvignon Lodi AVA. The wine was a translucent dark ruby color with 15.0% alcohol. It had black fruit on the aroma and taste notably blackberries, black raspberries and black cherries. The full-bodied wine had bold tannins and retails for $26. The 2012 Earthquake Petite Sirah Lodi AVA was an opaque, dark ruby color and had 15.0% alcohol. The full-bodied wine offered dark fruits and bold tannins. The wine retails for $26.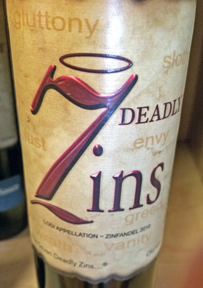 The flagship wine is the 7-Deadly Zins. The 2011 7-Deadly Zins Lodi AVA was a translucent red color with 15.0% alcohol. The wine had dark fruit notes, medium tannins, a medium/full body and was crisp. It retails for $16. A more expensive Zinfandel is Lust. The 2011 Lust Lodi AVA was an opaque, ruby color with 16.9% alcohol. Black fruit notes including blackberries, black raspberries and black cherries were on the aroma and taste. The wine had bold tannins and a crisp, fruity finish. It retails for $59.
Another line of wines is the Inkblot series. The 2012 Inkblot Cabernet Franc Lodi AVA was a dark ruby color with 14.9% alcohol. The wine had blackberry, blueberry and spices on the aroma and taste. The full-bodied wine had bold tannins and was crisp. It retails for $35.
Although most of the wines showcase the Lodi AVA, the winery wanted to also place emphasis on other areas of California. The 2012 Rage Zinfandel Dry Creek, Sonoma County was a translucent, dark ruby color with 15.5% alcohol. The aroma and taste were reminiscent of blueberries, blackberries and spice. The full-bodied wine had bold tannins and retails for $59.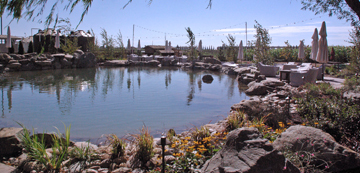 Event Space
Outside the tasting room there is a shaded area with tables and chairs. Further along a path a pond is surrounded by tables and chairs on different levels. Water cascades over rocks flowing into the pond.
Be sure to stop by the Michael David Winery "roadside" marketplace offering a unique experience and a wide range of wine tastings.
Michael David Winery
4580 W. Highway 12
Lodi, California
GPS: N38º 06.952' W121º 22.312'
Article written September 2014
---
Visit these California organizations and wineries that partner with Wine Trail Traveler.