Matošević
by
Kathy Sullivan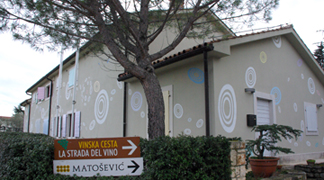 Summary: Matošević in Istria is a newer Croatian winery. It reflects new technology and the owner/winemaker's interest in what the region has to offer.
Visitors to Matošević winery will undoubtedly be talking about the circles on the outside of the winery as well as the colorful shutters. Pastel colors of white, lavender, blue and pink decorate the wall.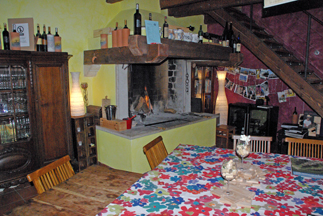 Inside the tasting room a fire was burning in the large fireplace on a cool, damp March day. The tasting room offers a small, intimate tasting experience. An array of different objects provides a feast for the eyes. Be sure to check out the wood puzzle-like pieces that were originally designed to serve wine. One almost wants to pick them up and complete a puzzle.
We met Ivica Matošević who gave us a tour of the winery and tasted wines with us. Matošević Winery began in 1996 with an idea of experimenting with the wine market. Matošević saw the wine market move to "fresh" wines as opposed to aged wines. In recent years there has been more of a movement in Croatia to fresh wines. Today Matošević produces fresh wines and aged wines.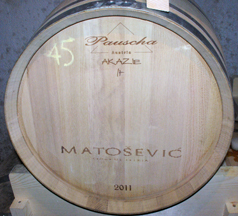 Ivica wanted to craft wines connected to the territory. For example Malvazija, with its floral notes, is aging in acacia barrels. The winery is also crafting wines that express a single vineyard, Grimalda. Matošević tries to capture "What is special about an area and put it in a bottle."
In the winery there are acacia barrels from Croatia, Italy and Austria. Ivica noted that many Istrian producers are looking for a niche to produce Istrian Malvazija.
Matošević's logo of circles is artistic. It has a certain hypnotic affect and becomes very noticeable. Matošević wine label colors are associated with the type of wine production. Black and white labels are associated with stainless steel production, orange labels indicate the wine was aged in oak while green labels represent wines aged in acacia.
It should be noted that while Matošević is serious about producing quality wines he also has a sense of humor. A good example is an image on the wall in the tasting room portraying a wine enthusiast with an empty glass chasing someone who is sprinting away with a bottle of wine.
Vineyards
At the Matošević winery site, there are 10 hectares (about 25 acres) of vineyards. They also have vineyards in other areas of Istria totaling 15 hectares (37 acres).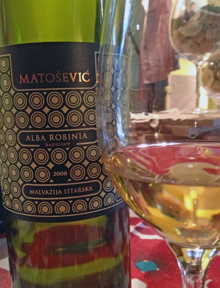 Wines
Aura Chardonnay 2012 was produced in stainless steel. This light yellow wine offered an aroma of apples. The taste had apple and pear notes. The finish was crisp and fruity. Alba 2011 was made with Malvazija grapes. This yellow wine had an aroma of citrus and a slight floral hint. The crisp finish had fruit yielding to floral notes. Alba Barrique 2009, a Malvazija, was fermented and aged in oak for one year. The wine had a dark yellow color with floral notes on the aroma. Floral notes along with yellow stone fruits and minerals were noticed on the taste. The chewey finish was fruity. Alba Robinia 2008 was produced with Malvazija aged in acacia. The Latin name Robinia was taken to connect the floral notes found in aging wines in acacia barrels. The result was a dark yellow wine with a floral aroma. The taste was floral with yellow stone fruit and mineral nuances. Grimalda 2009 N45º 18' 59 E13º 58.51' (the GPS coordinates of the vineyards) was a blend of Chardonnay, Sauvignon Blanc and Istrian Malvazija. Floral notes were predominant. The wine had a nice finish.
Grimalda 2010 was a blend of Merlot and Teran. This was a dark ruby wine with dark fruit notes especially plum. The wine finish had tannins and fruit. This wine was a reflection of the place and very quaffable.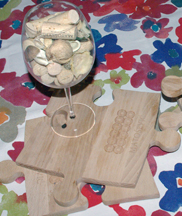 Enjoy a visit to Matošević winery where visitors will enjoy a warm welcome and learn about Matošević's efforts in producing quality wines. Drop in visits are acceptable but visitors are encouraged to make appointments.
Matošević Winery
Krunčići 2
52448 Sv. Lovrec, Croatia
GPS: N45º 08.834' E13º 44.145'
Article written March 2013
---
Visit these tour operators tha partner with Wine Trail Traveler.
SmoothRed
London, England, United Kingdom