Franc Arman
by
Kathy Sullivan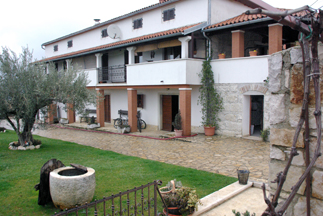 Summary: Franc Arman is a welcoming winery. This is a family winery that has been in the family for generations. In addition to several other wines, they produce two Malvazijas.
Franc Arman is an old winery and vineyard in Istria, Croatia. The logo for the winery is a vineyard under the sun. The owners, Franc and his son Oliver are now sixth generation winemakers. It was Oliver's great grandfather Giacomo who started the winery in 1850. While we tasted wines with Oliver he provided us with delicious homemade sausage that his mother had made.
Oliver wants people to know the atmosphere of western Istria winemaking. He believes, "Its not wine; it's a lifestyle."

Vineyards
Set on the Narduči Estate, the vineyards spread over rolling hills in western Istria. Vineyards were planted as early as 1850. Today the oldest vines are 82 years old. The Franc Arman vineyards consist of 18 hectares (44 plus acres) that include Malvazija Istarska, Teran, Chardonnay, Merlot, Pinot Grigio, Sauvignon Blanc and Cabernet Franc.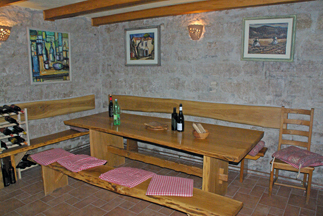 Tasting Room
The tasting room, while small, is quaint and offers a warm ambiance. Stone walls and a small window with a red gingham curtain, and solid light wood tables all add to the wine tasting experience. The degustation includes homemade sausage, cheese and several wines. Another room with a fireplace can also serve as a tasting area.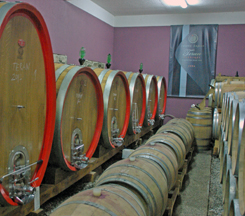 Winery
While above ground, the area harkens back to the old days; the winery itself is located five meters underground. Visitors who have the opportunity to tour the winery will see modern stainless steel tanks, large oak barrels and barriques where Franc Arman wines are ageing.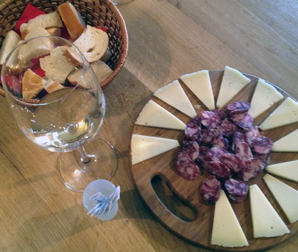 Wines
The white label wines are fresh wines made in stainless steel while the black labels are wines made in large wood barrels and barriques. The winery produces on average 80,000 bottles (more than 6,500 cases) with a maximum of 100,000 bottles. They produce two Malvazijas. One is a fresh Malvazija and the other is a classic Malvazija. The classic is aged for nine months on lees in wood barrels. The Malvazija then goes into large wood barrels.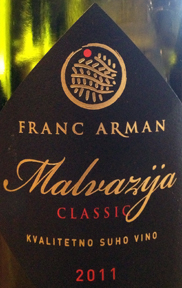 Malvazija 2012 was a dark yellow. The aroma offered floral notes. The taste also had floral notes with hints of yellow stone fruit. The wine was soft in the mouth. The finish was crisp with citrus. This wine can be good as an aperitif. At a degustation it pairs with sausage. Malvazija Classic 2011 was fermented in large 23 hectoliter wood barrels. This wine was yellow with floral nuances. The taste was floral with some oak influences and slight caramel/vanilla hints. The finish was crisp.
Teran 2009 was produced in large barrels. This dark ruby wine had dark fruit notes especially plum. The taste also had plum and dark fruit notes with tobacco hints. The finish had fruit yielding to oak influences and tannins. Teran Barrique 2008 was a dark ruby purple color aged with a mix of French and Croatian oak. The aroma had plum nuances and the taste had plum with a touch of tobacco. The finish offered bold tannins.
When planning a visit to Franc Arman Vineyard and Winery call ahead for an appointment. Enjoy a wine tasting paired with cheese and homemade sausage while visiting Franc Arman.
Franc Arman
Narduči 5
52447, Vižinada, Croatia
GPS: N45º 20.382' E13º 44.083'
Article written March 2013
---
Visit these tour operators tha partner with Wine Trail Traveler.
SmoothRed
London, England, United Kingdom