Ciban
by
Kathy Sullivan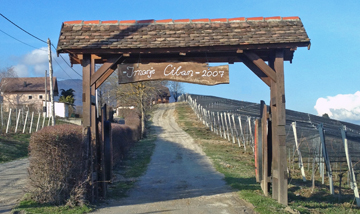 Summary: Ciban located 30 minutes from Zagreb is a delightful 1800s country house restored as a winery and bed and breakfast with wineyards. When visiting, you will be treated as family.
Our visit to Ciban was delightful beginning even before we arrived as we traveled through a small village on narrow roads and spotted numerous small wineyards dotting the rolling hills. The owners arrived within five minutes of our stop at the house. They were very welcoming and we quickly began to feel like family.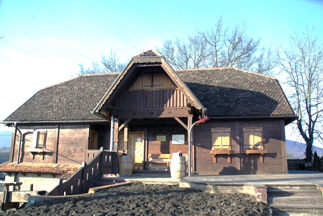 The current owners, Dragutin and Irena Ciban, purchased this old 1885 house and property in 2006 and renovated it. They turned the house into a winery, tasting room and rooms to rent. The first floor has a large kitchen where breakfasts and dinners are prepared. The second floor has six small but quaint guest rooms. The winery production area is in the cellar. Stainless steel tanks and other equipment are housed here sheltered by thick stonewalls.
Folklore
The house built in the 1800s had a mysterious past. According to folklore, the local residents have related stories of mysterious activities. "Mothers and grandmothers frightened their disobedient children with the damned Black Count (Satan) who had his seat in the vineyard cottage and in the twilight he used to roam in his dark clothes through surrounding paths watching for an astray girl or a naughty child." Today the remodeled house is decorated with a variety of small, enchanting good witches.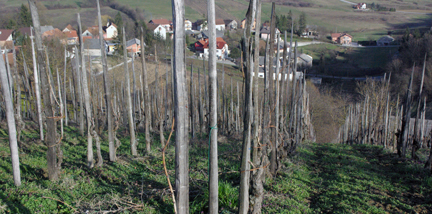 Vineyards
The soils in the vineyards vary a lot. According to Dragutin the soils include black, gray, white and brown. They can vary within 500 meters. The vineyard has 2000 vitis vinifera vines. Close to the house there is an old wineyard with 38 different grape varieties, some not yet identified. Some of the grapevines date back to 1898. These grapevines are individually staked rather than using a trellis system. This is a show vineyard but Dragutin does make a table wine from the grapes.
Closeby, the Cibans have eight hectares (about 20 acres) of wineyards that include Pinot Blanc, Rajnski Rizling (Riesling), Pinot Grigio, Cabernet Sauvignon, Pinot Noir and Portugizac.
Dragutin noted that the single varietals wines are not as good as he would like but that when used as blends the wines produced are wonderful.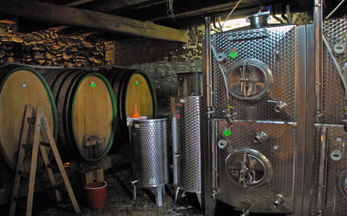 The Winery
The winery is located in the lower level of the house. There is an old meets new in the cellar. Stainless steel tanks shine even in the subdued light. Wood tanks are used for aging the wines without the influence of wood that barriques provide. The stone walls help keep the room cool and also give an old-world attraction to the wine production room.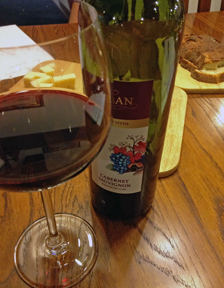 Ciban's Wines
While visiting with the Cibans, we tasted four wines. The first was a Cabernet Sauvignon 2010 that had a dark ruby color. The wine offered notes of black fruits including plum, blackberry, and black raspberries. The wine had milder tannins and a very fruity finish. Cabernet Sauvignon 2008 was a black color with a ruby rim. The notes included black fruits especially plum. The finish had bolder tannins than the 2010 and was fruity.
Pinot Blanc was a light yellow color. This wine had floral notes on the aroma and taste. The taste also had a touch of the tropics and minerals. The finish was crisp and fruity with floral aspects. Portugizac was a ruby color with earthy and herbal notes. The wine reminded us of a forest floor after a spring rain.
A Personal Note
We stayed the evening at Ciban in one of their guest rooms. Kathy discovered that she was in need of a small battery. Dragutin drove us to the village pointing out his vineyards. We stopped at the local pharmacy but they did not have the battery we needed. Dragutin then drove to the watchmaker. He was gone for the day, it being 19:00 in the evening. Dragutin called the watchmaker who said he would be at his shop in five minutes. It took less time than that. The watchmaker examined the battery and those he had. None matched. The watchmaker called his son. In five minutes his son showed up with a battery. Upon returning back to the winery and lodging, Irena had made us dinner, a meal similar to what she makes for the vineyard workers. It was a delcious tomato soup and deer stew over polenta. The Cibans outpouring of welcome, family and friendliness is something we will always cherish.
Importance of Croatian Wine
According to Dragutin, 50 years ago Croatia was a big wine house. After World War II it lost many of its wineyards. Prior to WWII Croatia had 160,000 hectares of vineyards. Today Croatia has over 33,000 hectares that include many varieties of grapes throughout the wine regions. Croatia has numerous noteworthy indigenous grapes.
When traveling to Zagreb plan to stay at Ciban where you will enjoy Italian cuisine, tasty wines and friendly owners.
Ciban Vineyard Cottage article

Ciban Vineyard
Pavlovčani ulica 12C
10450, Pavlovčani, Croatia
GPS: N45º 41.790' E15º 39.319'
Article written March 2013
---
Visit these tour operators tha partner with Wine Trail Traveler.
SmoothRed
London, England, United Kingdom