San Tommaso Winery
by
Kathy Sullivan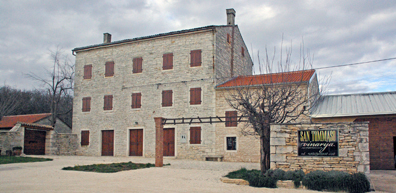 Summary: San Tommaso Winery is located in a small Croatian village near Bale in Istria. The atmosphere in this aged building is delightful and offers a contrast to the modern stainless steel tanks.
San Tommaso Winery located in northern Istria, Croatia is in the small village of Golaš. The village with small roads has an air of history and friendliness. This is a winery where old world meets new world. Housed in a 150-year-old stone building, a visit to San Tommaso Winery is an experience to remember. Great care was taken in restoring the building in keeping with the Croatian authentic style. While the structure is old, inside the gleaming stainless steel tanks are in stark contrast.
For centuries this region has been known for viticulture and wine. Originally, the landowner, who owned the estate made wine.
Janja Debeljuh owner and winemaker, whose parents made wine for use at home and sold some bulk (unbottled) wine to neighbors, studied enology in Istria.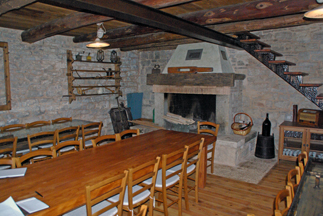 In 2006 the Debeljuh family planted vineyards. In their village they have 1.5 hectares of Chardonnay. Grapes from other vineyards are near the sea and only about 12 kilometers from the winery. Vineyard grape varieties include Malvazija Istarska, Teran, Merlot and Cabernet Sauvignon.
The tasting room has several long tables. Two of these have old doors from the building placed under glass. According to legend, this will provide good fortune. Another sign of good fortune is the seahorse used on wine bottle labels. A second room adjacent to the tasting room has barrels lining one wall and another wall of wine bottles. This room can also be used for events.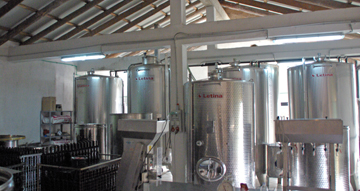 Winery
Currently the winery is producing 700 hectoliters (70,000) liters. Some of the wine is bottled and some is sold in bulk to restaurants. While learning about San Tommaso Winery and the Debeljuh family, we tasted several wines.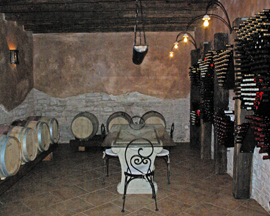 Wines
Malvazija Istarska
2012 was a yellow wine with notes of yellow stone fruit and was floral. The wine finish was crisp. Malvazia Istriana 2011 was a gold color with floral nuances. The acacia barrel-aged wine provided honeysuckle notes and if aerated yellow stone fruit notes.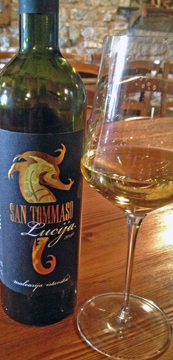 Sweet Malvazija 2011 was produced with indigenous grapes using the passito method where the grapes are dried for three months. This wine had 16 percent alcohol and 15 grams of sugar. The result was a dark gold color. The aroma was of dried fruit especially apricot. The taste was of dried fruit. The wine while crisp had just the right amount of sugar to enhance the wine.
Cabernet Sauvignon 2009 was a dark ruby with blackberry notes. The finish with tannins was fruity. Rosé e Rosa 2012 was a blend of Merlot, Teran and Cabernet Sauvignon. This wine offered nuances of raspberry and other berry fruits. The finish was crisp and fruity. Teran 2011 was aged for 14 months in oak. The dark purple color had a plum aroma. The taste was of plum and black fruit. The finish had bold tannins and was fruity.
Janja was very interested that we made a white Cabernet Sauvignon. She rushed to the winery and returned with a white Cabernet Sauvignon that she was making. It had a light orange color. The aroma and taste reminded me of red berry fruit. The finish was crisp.
The Future
A section of this large historic Croatian building will be opened for lodging when renovations are completed. This will provide travelers with the opportunity to stay overnight in a small Croatian village and enjoy the warm, friendly culture.
Enjoy a visit to San Tommaso Winery where you will be warmly welcomed and be able to taste wines in a 19th century stone building.
San Tommaso Winery
Golaš 13
52211 Bale, Croatia
GPS: N45º 04.810' E13º 46.463'
Article written March 2013
---
Visit these tour operators tha partner with Wine Trail Traveler.
SmoothRed
London, England, United Kingdom