Sinković
by
Kathy Sullivan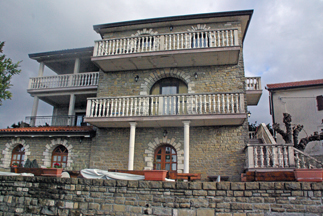 Summary: More than just a winery awaits for your discovery at Sinković Winery. You will experience the farm and the many products produced including wines and distilled spirits. Spend the evening at San Mauro Agroturizam on the same site as the winery. The apartments offer a quiet respite from a day's journey.
Arriving at Sinković in the early evening where we were to spend the night, we discovered 150-year-old buildings with a restaurant, a winery, a distillery and a bed and breakfast. The focus of Sinković is agritourism and producing their own products. They produce 35,000 to 40,000 bottles of wine each year. In contrast they bottle 10,000 bottles of distilled liquors each month.
Sinković has ten acres of wine yards mostly Muškat Momjanski with smaller plantings of Malvazija Istarska, Teran, Cabernet Sauvignon, Merlot and Chardonnay.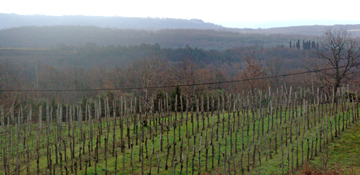 Sinković is a family enterprise. In 1918 Pietro became the first generation to make wine, Libero followed in his father's footsteps. The third generation has increased the vineyards and the products. In 1985, they began bottling the wine. Today Sergej is the general manager and Patrik is the winemaker. They have many creative ideas for products to make, sometimes as many as 50 per year. Sergej talked about the challenges to go from an idea to market.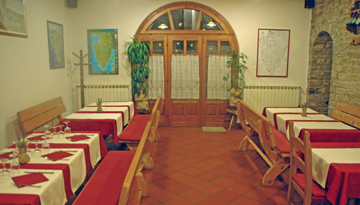 Sinković Restaurant
The Sinkovićs also own and operate a restaurant next to the winery. A small tasting counter is in a separate room in front of the restaurant. We enjoyed a delightful dinner there, where we learned about and tasted an array of Sinković products.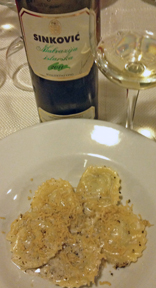 Wines
Our wine tasting was a wine pairing with a several course dinner. We began tasting with the Muškat Momjanski 2011. This wine was a straw color that offered floral notes especially orange blossom. The Malvazija Istarska 2011 was a straw color with floral nuances. The wine was smooth with floral notes and hints of tropical fruits. This wine was paired with ravioli stuffed with cheese and truffles.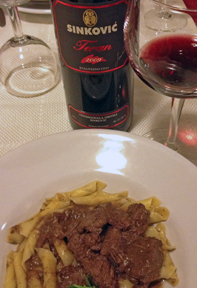 Teran 2009 was a dark ruby. The wine reminded one of an evergreen tree forest with herbs and evergreens. It was crisp with very mild tannins and hints of raspberries. The wine was paired with beef and pasta.
San Mauro Red Cuveé 2011 was a blend of Teran, Merlot and Cabernet Sauvignon. The wine was dark ruby to black color. The aroma had berry fruits including raspberries and blackberries. The wine had very mild tannins. Muškat Ruza 2011 was a reddish orange with red berry fruit notes of raspberry and strawberries. This slightly sweet wine was crisp and fruity. Vino Pryateljstva Muškat Momjanski 2009 had a very floral aroma. It reminded one of what a wedding bouquet would taste like if you tasted it. Notes of honeysuckle and daisies were noticed. To produce this wine the grapes are dried on wood boxes and hay.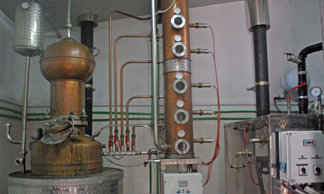 Distillery
The distillery is located on the property just across the road from the Sinković restaurant. Products of the distillery include brandies with many different flavors including walnut brandy and herbal brandies.
Other Products
When visiting the Sinković facility, visitors will discover a wide range of agritourism products. The Sinkovićs are constantly searching for new products to make and sell. One of their more unusual products is Asparagus Marmalade.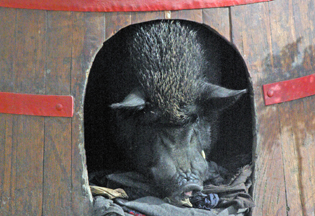 Truffle Hunting
To reach the Sinković lodging we needed to step outside the Sinković restaurant and walk around the corner of the building. On our way to the staircase there is a courtyard where we saw two large pigs used for truffle hunting. It was interesting that the Sinkovićs seemed to treat them more as pets than farm animals. One of the pigs is very good at finding truffles. Sergej told us that he has to quickly distract the pig, or the pig will eat the truffle.
Apartments
Eight apartments are located in the two upper levels of the reconstructed house. Our room was spacious with a sofa, desk and chair, large-sized bed and kitchen area.
The town of Momjan sits atop one of the highest mountains in north-west Istria. From our apartment we could see the Adriatic Sea just a few kilometers away. There are also views of the farm including an olive grove and vineyards. This is a peaceful place. Plan to visit, taste the wines, enjoy the food and spend an evening.
San Mauro Agroturizam article
Sinkovic Winery
San Mauro 157
52462, Momjan, Croatia
Article written March 2013
---
Visit these tour operators tha partner with Wine Trail Traveler.
SmoothRed
London, England, United Kingdom