Villa Matilde
by
Kathy Sullivan

Summary: Villa Matilde in Campania, Italy is a delightful winery to visit. Guided winery and vineyard tours are available. Wine enthusiasts can enjoy wine tastings and dinners at Villa Matilde.
Despite the rainy, windy day and dark clouds overhead, we had a delightful visit to Villa Matilde. A large event room offers a wonderful ambiance. Walls are decorated with framed comic art that is wine related. Large wood tank tops attached to walls and a blazing fireplace all add to the charm of the room.
History
Giorgio Imparato, Villa Matilde's export manager, told the story of Villa Matilde beginning with the history of wine. "We can read about wine going back 3,000 years, noting that this was a long time before grapes were grown in Bordeaux, France." The Falerno wine region is an area dating back to before the ancient Roman era. Any wine made from any grape in this area was called Falerno. Fifty thousand years ago volcanoes produced what is now the soil in the area. Grapes are grown in this area today. More growers are planting varieties that were popular during ancient times.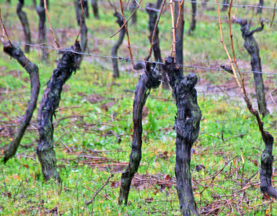 Francesco Paolo Avallone started Villa Matilde in the 1960s. He was a lawyer but his passion was ancient wine. After reading about Falerno, a "legendary" wine, Francesco determined to bring it back. Falnernum was considered the emperor's wine and Plinius had admired the wine. Francesco received help from the University of Naples in finding the remains of the grapevines that had miraculously escaped Phylloxera. After many years of researching, 20 grapevines were found that could be used for producing Falerno. This was the beginning of Villa Matilde.
We enjoyed viewing an introductory video that showed the vineyards with lemon trees adjacent to some of the vineyards. Today Villa Matilde has 60 to 65 acres that include two ancient vineyards. The video showed pruning, growth, harvest, production and the cellar.
Villa Matilde recognizes the importance of protecting the environment. In 2009 they began a project focusing on zero emissions.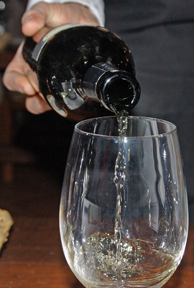 Villa Matilde White Wines
Falanghina Roccamonfina 2010 I.G.T. was a light yellow. The aroma was very fragrant with floral notes that changed to citrus. The taste was fruity with floral accents and yellow stone fruit. The finish was very crispy. This paired well with ham stuffed pasta. Caracci 2007 was aged in oak for six months. The color was a dark yellow. The aroma had yellow stone fruit and pineapple notes. Yellow stone fruit with a touch of caramel was on the taste. The finish was very crisp and long with caramel notes. This wine matched well with a broccoli-sausage stuffed roll.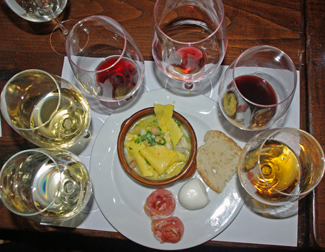 Villa Matilde Red Wines
Falerno Del Massico 2007 DOC was a dark ruby. This was a blend of Aglianico and Piedirosso. Dark fruit nuances were on the aroma. The taste had licorice and dark fruit notes. The finish with spices was crispy, fruity and with tannins. The wine was served with fried rice balls. Camarato 2005, a ruby red, was a blend of Aglianico and Piedirosso. The aroma and taste offered dark fruit with barrel influences of licorice. Bold tannins were on the finish. Camarato 2001 was the same blend as the 2005. The color was an opaque, dark purple to black color. The aroma had dark fruit nuances. The taste was smooth with dark fruit notes. Bold tannins were on the finish. The wine was paired with beef a wrapped roll.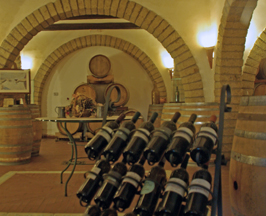 Eleusi 2007 produced with Falanghina was a reddish-orange. The aroma reminds one of orange blossoms. The taste was smooth with orange notes. The finish was very orangey. This would be a great breakfast wine.
Enjoy a visit to Villa Matilde. Make plans to take a tour of the winery and vineyards, enjoy dinner and a wine tasting.
Villa Matilde
Via Domiziana, Cellole, CE 81030, 81030, Italy
February 16, 2012

---
Visit these tour operators that partner with Wine Trail Traveler.
Spain and Portugal

SmoothRed
London, England, United Kingdom