Lungarotti
by
Kathy and Terry Sullivan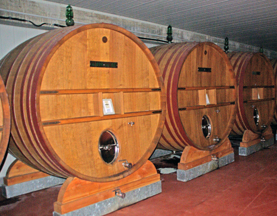 Summary: The Lungarotti is well known in Italy. It is a large producer of wines that has a focus on wine history as seen with the inspired Museo del Vino (Wine Museum) in Torgiano. After the Wine Museum opened, the Olive and Oil Museum was added to Lungarotti's list of accomplishments.
The Lungarotti winery began in the 1960's with Giorgio Lungarotti at the helm. Today Chiara Lungarotti and Teresa Severini run the winery. As sisters they are enthusiastic about the winery and wines being produced by Lungarotti. The family has a strong respect for history, tradition and the land. Giorgio and Maria Lungarotti established a Wine Museum and an Olive and Oil Museum that are located in Torgiano. Both museums attest to the strong family commitment to the area's Umbrian history, traditions and land.
Today the Lungarotti winery has two wineries and vineyards in different regions: Torgianao and Montefalco. Grape varieties grown in vineyards include Sangiovese, Canaiolo, Cabernet Sauvignon, Merlot, Pinot Nero, Colorino, Syrah, Trebbiano, Grechetto, Vermentino, Chardonnay, Pinot Grigio, and Sagrantino.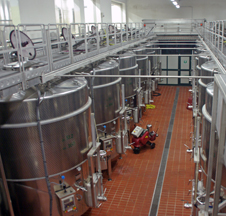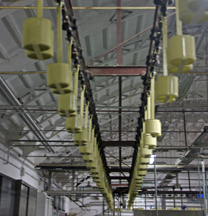 Torgiano Winery
Teresa gave our group a tour of the winery facility. The winery has grown over the years as the vineyards increased around it. Amongst the gleaming stainless steel tanks and oak barrels, visitors will notice older wood casks. A labeling line traverses up in the air through several rooms, past a glass door in a temperature controlled vault, where the library wines rest, collecting dust. The oldest wines date from 1962. Many of the winery employees are descendents of the employees that worked at the winery in the 1960's. Wine travelers are encouraged to tour the winery facility and then taste the wines in the tasting room just a few steps away.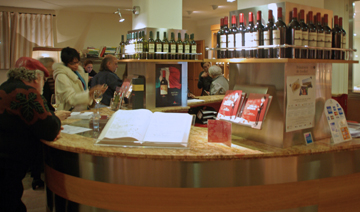 Tasting Room
The tasting room at Lungarotti in Torgiano is bright and friendly. Gleaming bottles of wine on light wood shelving are begging to be purchased, taken home and enjoyed. A fireplace in the tasting room adds ambiance to the already friendly tasting room atmosphere. In addition to wine, visitors will discover extra virgin olive oil produced from Frantoio, Leccino and Moraiolo olive varieties.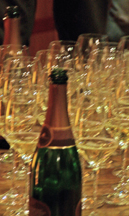 Our wine tasting began with the Lungarotti Brut SQ. This sparkling wine was produced with Chardonnay and Penot Nero (Pinot Noir). The result was a wine with a straw color. The aroma reminds one of apple and bread dough while the taste offered nuances of apple. The finish was crisp and cleansing.
From the tasting room we were led to a large room behind the tasting room. This room can serve for many activities such as wine classes and in our case, an evening of a multi-course dinner paired with Lungarotti wines. Torre Di Giant 2010 Blanco Di Torigano was a blend of Trebbiano and Grechetto. The straw color wine had hints of floral and fruit. The crisp finish was fruity with a touch of minerality.
Rubesco 2008, a ruby wine, was produced with the varieties of Sangiovese and Canaola. The aroma had hints of cherries. The taste also had cherry nuances with mineral notes. The wine offered mild tannins with fruit and minerals on the aftertaste. Rubesco a ruby wine had cherries and minerality nuances. It was suggested that this wine is good with traditional food from Umbria.
Dulcis was produced with Trebbiano and other traditional varieties. The wine was aged in barrels for two years. The result was a 16 percent alcohol wine with a burnt amber color. The aroma was of dried fruit notes. The taste was smooth and creamy with dried fruit notes. The finish was fruity.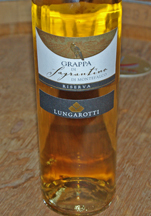 We finished the evening with grappa. The Grappa di Sagrantino was a golden color. It was aged in wood for 18 months. The aroma and taste had a nutty influence with a hint of chocolate.
Balsamic Vinegar
Lungarotti also produces Balsamic vinegar which has been aged for more than 10 years.
Olive Oils
Lungarotti has 20 hectares of olive groves and a DOP (Denominazione D'Origine Protetta) designation. Olives are hand harvested. Olive varieties include Frantoio, Moraiolo and Leccino. Lungarotti Cantico Olio Extravergine Di Oliva is produced with Frantoio, Leccino and Moraiolo varieties. Lungarotti also produces Lungarotti Olio Extravergine Di Oliva with a DOP (Denominazione D'Origine Protetta) designation.
As you plan your travels through Italy, be sure to look for Lungarotti wines.
Lungarotti
Via Mario Angeloni, 16
06089 Torgiano, Italy
February 15, 2012
---
Visit these tour operators that partner with Wine Trail Traveler.
Spain and Portugal

SmoothRed
London, England, United Kingdom