Enoteca Pontevecchio
by
KL Sullivan
Summary: If you are looking for a chance to try several wines from Italy, Enoteca Pontevecchio is the wine tasting store to visit while in Florence, Italy. The atmosphere is congenial and you will have plenty of time to taste several wines. Be sure to make additional trips to the wine tasting store to do tastings for olive oil and other traditional foods. If you are interested in cooking demonstrations, call the store to find out more.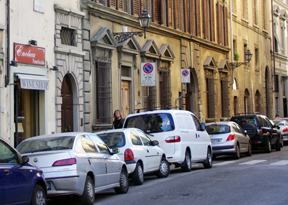 While in Florence, Italy we were inspired to visit and talk with Tony Sasa, owner of Enoteca Pontevecchio. "Eno" means wine and "teca" means library. Recently established, this wine shop features wines from throughout Italy and emphasizes the small wineries with great tasting wines. We were impressed with Tony's desire to feature small wineries that while relatively unknown produce wonderful wines.
Enoteca Pontevecchio is located several blocks from the Duomo. After visiting the ornate style Duomo, we walked to Tony's wine tasting store for our appointment. We were fortunate to be able meet with Tony who spends much of his time visiting small wineries throughout Italy searching for unknown but great wines.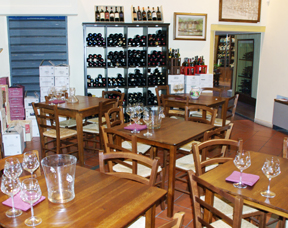 Upon enter the tasting store, we walked through a narrow walkway lined with numerous bottles of wine. The next room was larger and had small wood tables with four chairs at each. Pictures by artists offered for sale, decorate the yellow walls.
The next room offers a small tasting bar. Two bar stools are at the counter. Behind the bar are shelves of various styles of wine glasses. Tony believes the shape of the glass is important when tasting wine.
The tasting store (library) opened in February 2007 under Tony's management. Tony's background includes growing up in a family of farmers who understood what farming is all about and a family that knows how to cook. Tony began cooking when he was 10 years old. He spent several years in Chicago and Florence in the wine and restaurant business.
Perhaps this is why Tony offers so much at Enoteca Pontevecchio. While talking about wine tastings, Tony stated that, "the main and most important part is education." He believes that 90 percent of the visitors to his store do not know much about wine. He will style the wine tasting experience to your interests. Tony wanted us to experience several wines from small producers in Italy that are not imported to the United States. Experiencing different foods with wines creates an atmosphere to explore how wines and foods influence each other. At the wine shop, visitors can taste olive oils as well as traditional Italian foods including cheese and dried meats.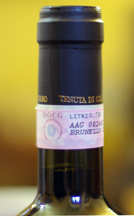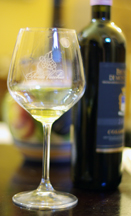 As Tony talked about wine he explained that every wine-growing region in Italy has a main grape variety that it grows, however each area also grows many other grapes. He talked about Italian bottles labeled with DOC, DOCG and IGT. These labels are on bottles of wine that meet certain strict requirements. The labels do not indicate the quality of the wine only that they meet certain requirements demanded by the government to receive the label.
Today 80 percent of the customers at Enoteca Pontevecchio are visitors and 20 percent are locals. As winter approaches, Tony is planning winter events to take place during some evenings at the wine shop.
We tasted three white wines. Tony related how the Greeks brought the Fiano grape to Italy 2000 years ago. The Fianco 2006, IGT has fruit on the nose, is very fruity and the taste is sweet. It is produced by Cantina del Taburno. Another wine we tasted from this producer was the Serra Docile 2005. The wine is referred to as Coda di Volpe which means Foxy Tail. The wine was fruit forward with just a touch of oak on the taste coming from three months of aging in barrels. The fruit and acid were well balanced and this wine would pair nicely with food. Boeri 2005 has been in the barrels for 12 months. It is a dry wine made from the Chardonnay grape from Italy's Piedmont region.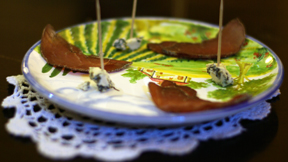 Several red wines were tasted. Boeri 2002 Porlapa is made from Barbera grape and aged for 12 months in oak. Cheese was available to taste with this wine. The combination of cheese and this wine offered a good example of the relationship between food and wine. The Macchie 2004 is made from 100 percent Sangiovese with raisins and black cherries on the aroma. It had a nice balance of fruit and acid. The cheese we tasted with this wine was aged for three months. The cheese was strong but the wine readily supported the cheese. The last two wines tasted were a 2003 and a 2001 Barolo. The wines were made from the Nebbiolo grape. We paired these wines with a very salty, strong-flavored meat. The wines completely cleansed the palate. They were full-bodied and had high levels of acid and tannins. Many Barolos can age for ten or more years.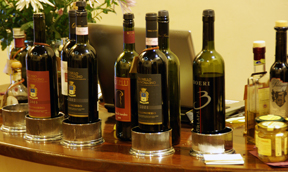 Anyone is welcome to come and taste wines at Enoteca Pontevecchio. They will match the tasting with your interests. This is a great opportunity to experiment and taste different wines from different Italian regions. You can even taste organic wines.
We suggest that if you want to taste a variety of Italian wines, Enoteca Pontevecchio is the place to visit. Here you will find fine wine handpicked by Tony from many of the small wineries in Italy. Whether you are a novice in the world of wine, or an experienced wine enthusiast, there is much to learn at this wine library. The ambience of the tasting room is a wonderful setting for enjoying and tasting wines.
---
Visit these tour operators that partner with Wine Trail Traveler.
Spain and Portugal

SmoothRed
London, England, United Kingdom