Museo del Vino
by
Kathy Sullivan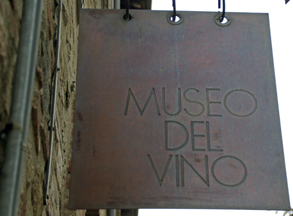 The development of the Wine Museum in Torgiano at the 17th century Palazzo Graziani-Baglioni was the inspiration of Giorgio and Maria Lungarotti in 1974. Today the Lungarotti Foundation oversees the museum. A sign inside the museum notes: "The goal of the museum is to illustrate the multifaceted aspects that have been connected with grapevines and wine for thousands of years. Special attention is paid to traditional grape-growing and winemaking methods, the importance of the vine and of wine in the ancient world and in their revival during the Middle Ages, their religious and secular symbolism, and wine-related iconographies in arts and crafts." The Wine Museum highlights the history of wine and numerous artifacts portray the story of the history of wine. Look for displays that feature winegrowing, winemaking, mythology and much more.
The time periods covered in the museum include Medieval, Renaissance, Baroque and contemporary. Visitors will discover artifacts from the Etruscans, Greeks and Romans.
Entering this boutique Wine Museum one will immediately see large casts of stone through which the wine passed. Several show age from the wearing away of the structure by the wine. The museum is a series of small rooms that highlight the old world ways of producing wine. Visitors can view wine artifacts from as early as the 3rd millennium B.C. including pouring vessels. Among the many items in the Wine Museum, we discovered an array of amphora of all sizes. Many oak barrels and other wood winemaking tools can be viewed. On an upper level, a room has flat files filled with wine related drawings.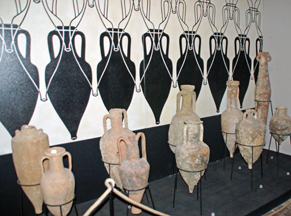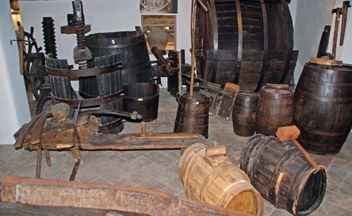 Our familiarization tour had a treasure hunt to discover the numerous rooms. While entertaining, I would have enjoyed spending more time observing displays.
When visiting Italy plan to stop to see the Wine Museum in Torgiano. If wine and history interest you, save plenty of time to visit the Wine Museum.
Museo del Vino
Corso Vittorio Emanuele, 31,06089 Torgiano (PG) – Italia
February 15, 2012
---
Visit these tour operators that partner with Wine Trail Traveler.
Spain and Portugal

SmoothRed
London, England, United Kingdom