Terre Del Principe
by
Kathy Sullivan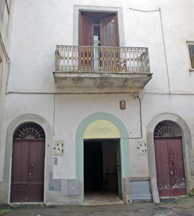 Summary: Visit Terre Del Principe to taste wines or plan to stay at their boutique Bed & Wine and have an Italian romance among the vines. Be sure to visit the historical wine cellars that were recently discovered in Castel Campagnano. If you enjoy tasting unusual varietal wines, stop by Terre Del Principe to taste varieties that have been rediscovered.
Peppe Manicini and Manuela Planastelli established Terre Del Principe ten years ago. Peppe Manicini developed an interest in ancient indigenous grape varieties. He was responsible for discovering and researching three grape varieties: Casavecchia, white Paliagrello and black Paliagrello. Prior to the discovery and research, these grape varieties were not listed in Italy's national catalogue of grapes. During a visit it was noted that there are more than 100 indigenous grapes in Campania.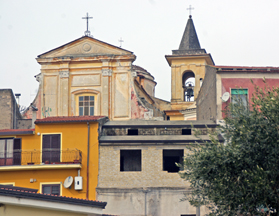 Historical Cellars of Terre Del Principe Add Romance to Wine
Our bus left us off at a street corner and we walked the few blocks through the charming town of Castel Campagnano. Wine enthusiasts traveling to Castel Campagnano will discover that the Terre del Principe wine cellar is located in an old cellar that has parts that date back 1,000 years.
Step down flights of stone stairs to reach the sub-cellar, which is the barrel room for the winery. The barrel bungs are covered with glass jars to protect the wines from dust. The cellar was found three years ago based on information from people living in the area. It was most likely used for centuries for wine storage. Terre Del Principe wines are aged and stored in this unusual cave. The large cave was hand dug in tofu, a volcanic rock. This historical cellar is 10 meters (33 feet) deep and covers an area of 100 square meters.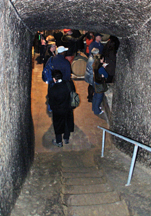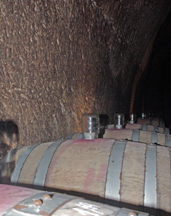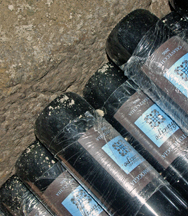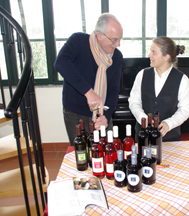 Tasting Room
Back on the bus, we went to the location of the tasting room. The tasting room is modern with a circular stairway at one end. The large area accommodates three long tables and two comfortable seating areas. Large windows provide views of the countryside including at the time of our visit snow tipped mountains. In addition to the wines, our group spied a long table of food. Most notably on the food table was cheese. This area of Campania is known for mozzarella cheese made from buffalo milk. During our recent visit we enjoy a wonderful lunch that included fresh mozzarella, fresh buffalo mozzarella and freshly baked pizza.
Terre Del Principe Wines
Terre Del Principe produces 25,000 bottles of wine and ships to several countries including Germany, Switzerland, Norway, Belgium, Canada, United States and Mexico.
Fontanavigna Pallagrello blanco 2010 offered an aroma and taste with notes of mineral and floral. The finish was crisp and minerally. Roseto del Volturno Pallagrello Nero was a red/orange color. The wine offered red berry and mineral notes while the finish was crisp. Ambruco Pallagrello Nero 2009 was a ruby color with dark fruit notes and mild tannins. Il Sasio di Riccardo Casavecchia, a dark ruby wine had red berry fruit notes and was slightly sweet. The wine had very mild tannins and a fruity finish. This wine was paired with lamb and milk cheese.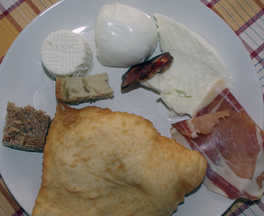 Food is an important part of Terre Del Principe. In addition to wine with food, the emphasis is on local food. While there is not an onsite restaurant, visitors on Sundays can enjoy a meal at The Prince's Table. Travelers who would like to eat while visiting the winery during the week need a reservation. When planning a visit to Terre Del Principe, consider staying at the Bed & Wine. Enjoy tasting wine varieties that have been brought back from near extinction and are now thriving in the Terre Del Principe vineyards.
Terre Del Principe
Via Mascioni, 81010, Castel Campagnano, Caserta, Italy
February 16, 2012
---
Visit these tour operators that partner with Wine Trail Traveler.
Spain and Portugal

SmoothRed
London, England, United Kingdom