Fondazione Villa Russiz
by
Kathy Sullivan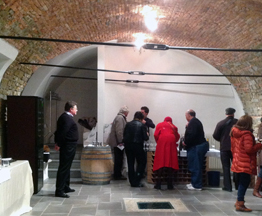 Summary: Villa Russiz story begins in 1868 with the land as a wedding gift. While striving to produce quality wines, the winery has supported a Children's Home for many decades. Villa Russiz is winery with charity at its heart.
We arrived at Villa Russiz where we enjoyed a wine tasting in a historic arched brick room. It was rather late when we arrived but we were able to see the outlines of the Villa Russiz reminding us of a well-kept castle. Vineyards covered the nearby rolling hills. With our wine tasting we had an assortment of Italian sausage, cheese and miniature bread sticks to nibble while we learned about the Villa Russiz wines and its support of the Children's Home.
History
In 1868 the land was given as a wedding gift to Elvine Ritter von Zahony and French Count, Theodore de La Tour. Prior to that time the Count had been interested in viticulture. Realizing the potential of this gift of land, he put his enthusiasm and knowledge into creating a thriving vineyard. He planted grapevines that would succeed in this terroir. At the same time Elvine was upset by the children she encountered who were in great need. Eventually a Children's Home was established and supported by Villa Russiz. Today a Board of Directors heads the Villa Russiz Foundation.
Tasting Room
The tasting room is located in the wine shop, a white building a few steps away from the cellar. The front of the building resembles a miniature castle. Wine is artfully displayed on wine boxes and in window alcoves.
The tasting room is open Monday through Saturday for small groups and individuals. Groups larger than six people should book an appointment.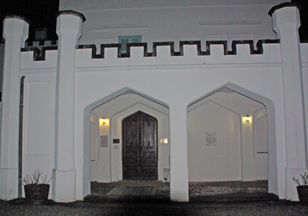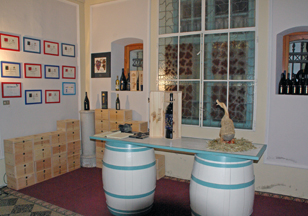 Vineyards
The 40 hectares (99 acres) of vineyards with hard rock soil and gravel are located midway between the sea and mountains, separated by 30 kilometers. Millions of years ago the sea covered this area. White varieties planted include Chardonnay, Friulano, Malvazija Istarska, Pinot Bianco, Pinot Grigio, Ribolla Gialla and Sauvignon Blanc. Red varietal grapes in the vineyards include Cabernet Sauvignon and Merlot.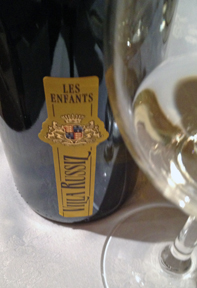 White Wines
Tastings were in the old wine cellar. All wines at Villa Russiz are designated Collio D.O.C. Some of the wines are named de La Tour in honor of Count de La Tour and his wife.
Les Enfants 2011 was a blend of Pinot Bianco, Pinot Gris, Ribolla Gialla, and Sauvignon Blanc. This light yellow wine offered an aroma and taste of citrus. The taste also had some tropical fruit notes. The finish was crisp and fruity with a perceived sweetness. Friulano 2011 was a pale yellow with yellow stone fruit. The fruit nuances yielded to mineral on the crisp finish. Pinot Bianco 2011 was a pale straw color. The aroma had floral and apple notes whiles the smooth taste had notes of apple and pear. The crisp finish was fruity with the fruit yielding to minerals on the aftertaste. Sauvignon de la Tour 2011, a straw color, offered an aroma of lemon grass and tropical fruits. The taste was lively with tropical fruits and citrus. The finish was crisp with fruit yielding to minerality. Ribolla Gialla 2011, a straw color, was produced with 100 percent Ribolla Gialla. The aroma was floral with acacia. The taste with citrus and floral also had hints of tropical fruit. The finish was crisp with minerality.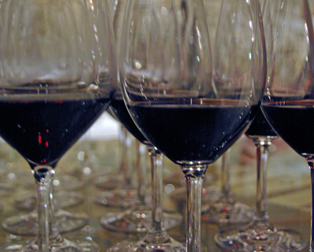 Red Wine

Graf de La Tour 2009 was a dark ruby to black color. This Merlot had an earthy with dark fruit notes. The taste was smooth, spicy and earthy with black cherries. The finish had bold tannins with spice and fruit. Cabernet Sauvignon 2008 was a dark ruby color. The aroma and taste offered dark fruits enveloped by spices. The finish had bold tannins.
When visiting Villa Russiz be sure to ask about the Children's Home. Wine enthusiasts and history lovers will enjoy visiting and learning about Villa Russiz wines, history and its continuing work to help children.
Fondazione Villa Russiz
Via Russiz, 4/6
34070 - Capriva del Friuli
Gorizia, Italy
Article written March 2013
---
Visit these tour operators that partner with Wine Trail Traveler.
Spain and Portugal

SmoothRed
London, England, United Kingdom