Abbadia Ardenga
by Mary Chaney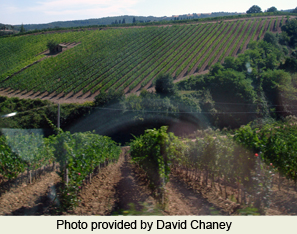 We visited Contina Museo di Montalcino, which had very historic buildings. In 990, the Archbishop of Canterbury, Sigericus, stopped in Montalcino after visiting the Pope. Travelers traveled this route between London and Rome named Via Francigena and stopped to enjoy the natural spring water and wine from Montalcino.
Today, "Societa Esecutori di Pie Disposizioni in Siena" owns the winery and vineyards located on 700 hectares in the hill town of Montalcino. Their grapes are produced directly at Abbadia Ardenga vineyards on the slopes of Montalcino hills overlooking Siena. The grapes are mostly Sangiovese.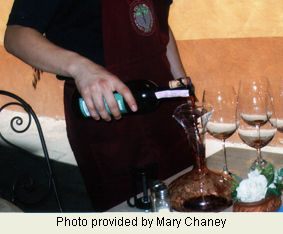 Our waiter demonstrated the proper opening and aeration needed for serving Brunello. The bottle was opened before it arrived at our table, some wine was poured into our glasses, then the waiter used a glass funnel, poured some wine into a wide-bottom decanter, swirled the wine, then poured the wine from the glasses back into the decanter before pouring it again for us to taste. It was (and is) the best wine we've tasted, and of course, given the DOCG designation. The aroma is rich, taste is dry, smooth and velvety. Other wines produced at this winery include two other DOC designated wines: Montalcino Red (dry, full-bodied) and Vinsanto Sant' Antimo (rich, smooth and velvety), plus two IGT wines: Abbadia Red (dry, smooth) and Abbadia white (dry, sharp).
Abbadia Ardenga
Via Romana 139 53024 Torrenieri (Montalcino Italy)
---
Visit these tour operators that partner with Wine Trail Traveler.
Spain and Portugal

SmoothRed
London, England, United Kingdom