Agricola Contucci
by Mary Chaney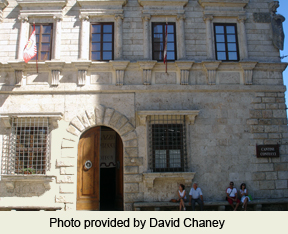 We visited tasting rooms (bars) in Tuscan hill towns and walled towns of: Montepulciano, Montalcino, San Gimignano, and Volterre where surrounding hills and lands grow grapes and wineries produce some of the best wine in the world. Their hot, dry conditions, soil and exposure produce quality grapes different from other grapes grown in other parts of the world.
Our favorite winery located in the center of the walled hill town of Montepulciano and in Palazzo Contucci was Agricola Contucci. This winery has so much history as well as some of the best red wine we tasted in Tuscany. The Contucci family is one of the oldest families in Montepulciano where they have lived since the 11th century and have grown grapes and produced wine for noble families. Contucci Cellars were constructed before the Contucci mansion was built for Pope Julius III and the Grand Duke Ferdinand I in the 17th century. Contucci wines matured in these ancient cellars. The Vino Nobile, one of our favorites, was among the first wine to be designated DOCG. Vino Nobile Di Montepulciano is a garnet red color with a dry, light tannic flavor, and violet aroma. It is aged at least two years in oak casks.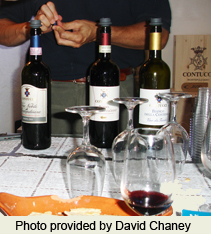 The recipe for Rosso di Montepulciano, a younger wine also very good, but less expensive, was found in the Contucci archives. Today, in the Cantina Contucci wine cellars, beneath the Palazzo Contucci, vinification occurs in stainless steel vats and the aging is done in French and Slavonian oak casks. Alcohol content ranges from 12% to 15%.
A testimonial to the Contucci family and their wine was in a picture that hung on the wall of the Contucci winery entrance – John Paul II visiting Monetepulciano and being presented a gift box of their wines.
CONTUCCI
Via del Teatro 1, 53045 Montepulciano (Siena)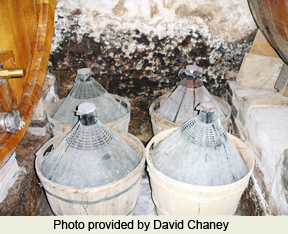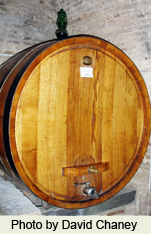 ---
Visit these tour operators that partner with Wine Trail Traveler.
Spain and Portugal

SmoothRed
London, England, United Kingdom