Castello di Bossi
by
KL Sullivan
Summary: Castello di Bossi is a splendid Italian winery to visit if you enjoy immersing yourself in centuries old buildings and Chianti Classico wines from the surrounding vineyards. Located on the second level of the main building is a large tasting room, which has numerous winery artifacts to browse.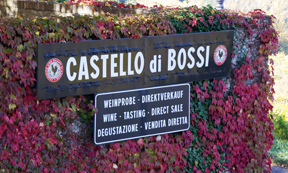 After journeying past Siena, on a winding country road with very little to no traffic, we arrived at Castello di Bossi where a large sign announced we had arrived at our destination. Later we learned that Bossi comes from bosulum a Roman name for tree. Parking is in the front of the building. The building is large and solid looking.
Upon entering a long passageway, we saw several plaques indicating previous families had lived here. One was dated 1608, another 1765. The passageway led to a large courtyard with greenery everywhere and two large planters of bright red geraniums. Arriving at the office, the first door on the left, we met Christa Stibinger for our tour.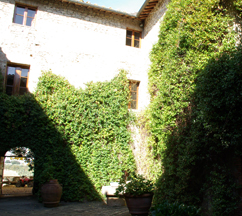 Castello di Bossi was built as a square with a center courtyard during the 15th century, although the oldest part of the building dates to 1099. Located in an area of continental climate, they seldom see snow. Wine has been produced on this property since the 15th century.
The soil that consists primarily of clay, stone and limestone is deep and helps maintain the amount of water needed by grapevines. Grapevine roots often grow to depths of two to three meters. In the back of the building, a large patio area offers wonderful views of the vineyards and countryside. Located on one side are lemon trees bearing fruit.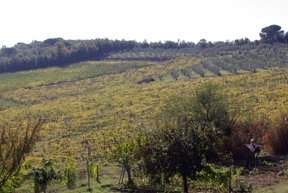 The property consists of 600 hectares (almost 1500 acres) with 124 hectares (306 acres) planted with wine grapes. Also on the property are 9,000 olive trees. The primary grapes planted at this winery are Sangiovese, with smaller amounts of Merlot and Cabernet Sauvignon. Today Castello di Bossi produces 300,000 to 400,000 bottles (25,000 – 33,000 cases) of wine each year. A 25-hectare hunting reserve is set aside for hunting wild boar in season. However, the winery has special permission to hunt wild boar out of season because of the destruction they cause in the vineyard.
Christa first showed us where a still was producing grappa. This grappa was the most flavorful of the ones we have tasted. This grappa has an alcohol level of 50 percent. Unfortunately for the consumer due to Italian law, the grappa at Castello di Bossi is only for their personal use. The grappa may not be sold.
Outside of the courtyard, we paused to look at the acres of vineyards and olive groves spread out over the hillsides. Christa pointed out areas of the vineyard where replanting of vineyards has taken place. The process takes place throughout the vineyard during different years. The centuries-old building is located in the center of the property.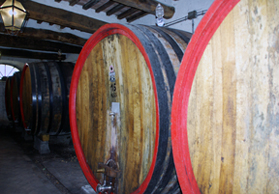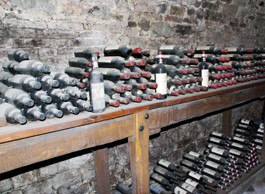 Christa guided us through the old wine cellar where large oak tanks and barrels are stored. Oak tanks vary in size but many hold 97 hectoliters (25,625 gallons) of wine. A small room to the right holds bottles of wine as old as 1961. Bottles lay on their side undisturbed, gathering dust.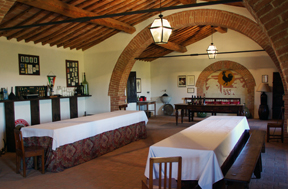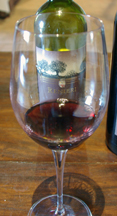 Following Christa, we walked from the wine cellar up a wooden staircase to the large tasting room. Several bottles of wine were set on a long wood table. The structure of the ceiling has large stripped logs supporting it. Before tasting the wines, we admired the vineyards below. The tasting room has numerous items used in bygone days in wineries. Also seen were black roosters made of iron.
Back at the tasting table, we sat down while Christa talked about wines as we tasted them. Tastings at Castello di Bossi are with traditional red wine stemware by Bormioli. We tasted a 2003 Chianti Classico and then a 2004 Chianti Classico. The same varietal but there was a definite difference between the flavor and aroma of the same wine made in two different years. The 2003 had a black cherries aroma and taste while the 2004 had black cherries and in addition was very crisp and cleansing. Merlot 2003 had a light red fruit on the nose, was crisp with tannins. We also tasted the Renieri 2004 from Brunello di Montalcino that had a black cherries aroma and taste. This wine was crisp and cleansing.
We enjoyed our wine tour and tasting at Castello di Bossi. The surrounding countryside is beautiful and the stone building is a sight to see. Visiting groups of all sizes are encouraged to visit Castello di Bossi.
GPS: N 43° 22.310 E 011° 27.006
---
Visit these tour operators that partner with Wine Trail Traveler.
Spain and Portugal

SmoothRed
London, England, United Kingdom