Castello della Sala Winery
by
Terry Sullivan

Summary: The winery is a specimen for the modern winemaking in Umbria. There are beautiful views with the castle near the top of the elevation, the era contrasting winery in the middle and the vineyards spreading out below. Unfortunately the winery is not open for visitors.
Location
Castello della Sala is located in the Umbrian Apennines on top of a rocky outcrop at about 534 meters (1750 feet) above sea level. The castle is about 18 km (11 miles) from the town of Orvieto.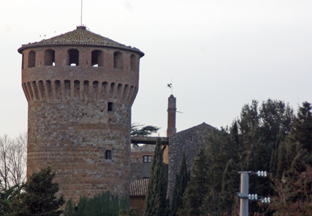 History
Marchese Niccolo Antinori purchased the castle and surrounding farms in 1940. He made improvements to the land including vineyards and olive grove and restored the 14-century medieval castle. Built in 1350 for Angelo Monaldeschi della Vipera, the castle has seen many owners throughout the centuries. The castle was restored in 1480 and by 1518 the property was given to the Opera del Duomo in Orvieto, and organization run by the Cathedral. When Italy became unified in 1861, the state seized all church properties. There were several owners during the ensuing decades but little maintenance was done on the property until bought by Antinori.

Vineyards
The Castello della Sala property covers 500 hectares (over 1200 acres). Of those, 160 hectares (395 acres) are planted with grapevines. Two traditional varietal grapes to this area include Procanico and Grechetto. There are also plantings of Chardonnay, Sauvignon Blanc and Pinot Nero (Pinot Noir).
There are between seven and eight hectares of olive trees on the property used to make extra virgin olive oil. The olive oil made is for the personal consumption and not sold to the public.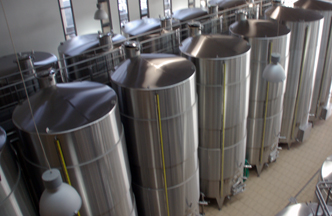 Winery
Our group was given a tour of the winery. This modern facility follows the slope of the land. As a result, grapes are handled by gravity flow. Depending on the wine made, white grape varieties may have skin contact for six to ten hours. The grapes begin fermentation in stainless steel tanks and once again depending on varieties may continue fermentation in wood barrels.
On the top level of of the winery, grapes are brought to the crush pad. After crushing the grapes and juice flow to the next level into presses. From pressing the juice flows to stainless steel tanks to ferment. Some of the fermenting wine is transferred to barrels to complete the fermentation process. Barrels age wine in the barrel room stacked no more than two barrels high.
We tasted one wine while at the winery. The Bramito was 100% Chardonnay with a light straw color. There were apples and caramel on the aroma and taste. The crisp finish had a hint of lemon.
The Castello della Sala winery is an example of the modern Italian winery. Perhaps in the future they will open to the public.
January 29, 2012
---
Visit these tour operators that partner with Wine Trail Traveler.
Spain and Portugal

SmoothRed
London, England, United Kingdom