Session 2.1
National Tasting Room Survey. By Miquel Lecuona from Wine Marketing Guide, LLC
Miguel Lecuona discussed the winery survey that his company developed. Winer personal completed the survey. Two hundred wineries responded. The survey was developed using survey monkey. Some of the findings include.
82% of the wineries that responded had production of less than 10,000 cases
78% wanted more of their wines in their portfolio tasted
54% indicated that the winery owner or winemaker is in the tasting room on a regular basis.
66% indicated that they have 9 to possibly more than 15 wines on the tasting menu
62% indicated that they charge $5 – $10 for a tasting
The majority of marketing is aimed at the general visitors
69% indicated limo or bus tours of 10 or more people is a problem
Session 2.1. Inter Vitis: The European &Cultural Brand of Wine Tourism
Presenter Phillippe Harant, Director of the Departmental Committee 
Inter Vitis is the European cultural. The organization has three goals: cultural objective,tourist target, and economic objective. The cultural objective promotes the country identity and heritage. The tourist target focuses on helping to meet the needs of tourists who to know about heritage. The last objective is about networking National and international destinations to promote local development.
Session 2.2
Creating a Luxury Wine Experience by Susan Lanier-Graham, CWAS from WanderWithWonder.com
Susan Lanier-Graham began her presentation defining luxury experience. She said creating luxury is tapping into dreams. A luxury wine tourist is a female with average age of 51, highly educated with a higher than average income. But this is not the only tourist that can be included in luxury wine tourism.
Wineries need to offer a luxury experience that the public can not access, such as a Riedel wine tasting with different  Riedel glasses. Another example is to offer tours and tasting done by the winemaker. Consider offering gastronomic elements to a luxury experience. Onto lysis a luxury experience exclusive, it is also a privilege. Offer chauffeured tours or tasting reserve wines. The third component of luxury experiences is authenticity. Family stories and traditions help create an authentic experience.
Session 2.2 How to Find Wine Travelers Online
Presenter: Nic Myers from Wine Tourist Advisor
Nic Myers began the session with:
•Who are your wine travelers?
•Where are your wine travelers?
•What do your wine travelers need?
He said to be sure to answer questions online this will create more people following you. Surprisingly he noted that our average online attention span is eight seconds.
Wine travelers do not want to see your wall of medals.
Session 2.3
Young Talents of Champagne by Elodie Bier from Comité Départmental du Tourisme de la Marne
Elodie Bier talked about the Young Talents of Champagne was created as a means to add a human element to wine growers. Criteria for applicants included is that the members must be under 50 years old, their activity has to be less than 10 years old. They must exhibit a now how of their business. The applicants are selected by a group. They then meet the public. The selection committee selects the laureates.
A tourism guide was created and website that would promotes those selected as young talents of Champagne. The program provides recognition by their peers, opens professional networks and there's support for their activity.
James  is a winemaker that treated a new tourist activity. He created a Eco guided tour of vineyards in an electric car. The tour ends with a tasting of three champagnes in James' house.
Session 2.3
How Can Wine Tourism Reinforce the Attractiveness of Jura
Presenter Laurence Cogan from Burgundy School of Business – School of Wine & Spirits Business
Jura is on the borders of being well known and bizarre. Varieties growing in the Jura include Chardonnay savigin poulsard and trousseau. In general Jura wines are very light red wines.
Existing wine tourism in the Jura is limited. The majority of wineries do not have English speaking skills. However, the region does offer several festivals which attract tourists.
Session 2.5
First-Time vs. Repeat Visitors: Different Types of Loyallyy by Natalia Velikova at Texas Tech University
Natalia Velikova talked about the consumer segments in the wine market. Two studies were examined. The first study was about wine festivals. At the Grape Day Wine Festival, 403 surveys were collected. Some of the data included
60% of visitors were female
65% repeat visitors drink more wine than first time visitors
The majority of first time visitors enjoy sweet while repeat visitors prefer dry
Repeat visitors are less knowledgeable about wine then repeat visitors
First time visitors consume less wine that repeat visitors.
The majority of first time visitors visit in a small group of 1 or 2 whereas repeat visitors often come in groups of five or more
The second study focused on tasting rooms. Gratuity tasting is more likely if there is not a tasting room fee.
Session 2.5 Bringing Visitors Back: Lessons Learned from Natural Disasters
Presented by Paul Wilke of Upright Position Communications
Paul Wilkes, a crisis tourism PR specialist was in the earthquake region near Napa last summer when the Napa earthquake occurred. He noted that when disaster strikes the first thing people think is "what is happening?"
Paul mentioned some statistics about Napa Valley that included that 80% of the visitors are interested in wine tasting.
Some of the things that can be learned from disasters like Napa's earthquake include that disasters can be temporary. In Napa Valley, there were only two stay away days, all but six restaurants reopened in 48 hours, within one week 90 percent of the wineries  were up and running.
When disaster strikes Paul recommends
•Communicate
•Be transparent
•Be honest
•Use effective channels, social media, email, website
Paul also said media can help or hurt so be prepared for an interview.
Use media on your terms be honest, insightful, pithy and short. Paint a visual picture. Leave out the negative. Tell the recovery story.
Press limits
•Ask questions
•Who are you
•What can you tell
•What's the format?
Session 2.6
Wine Tourism in Chile – A Growing Opportunity by Gail Thorton of Southbridge Wine Programs
Gail Thorton started the session offering the attendees a glass of Sauvignon Blanc from Chile. The yellow colored wine had an aroma of lemon grass. The floral taste offered grass and zesty lemon. The wine is from the Cassablanca Valley.
Gail mentioned that the world knows Chile for wine, but wine isn't not the main industry; copper is the number one industry. Chile has a diverse climate and land. Desserts are to the north and glaciers are to the south. Winemakers and growers discovered that the had vineyards of Carmenere in 1995. They now know how to grow and make wine with this old Bordeaux variety.
An earthquake measuring 8.8 occurred in 2010. Many wineries were damaged. Some of these are still being rebuilt. There are now fewer wineries to visit and more wine tourists, over 500,000. Chile offers a warm wine region to visit while the northern hemisphere is having winter.  During the hot season in the northern hemisphere, wine tourists can visit a Chile during their cooler season. Although Chile has large wineries they also have smaller wineries.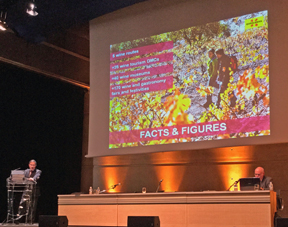 Session 2.7
Wine Country Catalonia by Xavier Espasa Añoveros, General Manager of the Catalonia Tourist Board
Xavier Espasa Añoveros talked about hosting the International Wine Tourism Conference in Barcelona, Catalonia, Spain. He spoke of the wine destinations in Catalonia. Catalonia had 25,000,000 visitors last year. Xavier offered seven reasons to visit Catalonia. Scenery, experience winemaking at 320 wineries, enjoying nature through wine, food and wine, everyone can enjoy the wine experience and multiple experiences in 12 DOs.
Cheers,
Terry