2014 IWINETC Round Table
Wineries can hold Twitter Wine Tasting Events. What can Tour Operators & other Wine Tourism Experience Providers do that may be similar?
Representatives of various companies in the wine tourism sector explain different ways of branding and marketing using online activities currently going on in the wine travel blogsphere. Participants will leave the session with a list of things that they can say "I can do that!"
Moderator: Terry Sulivan, Wine Trail Traveler
Panel: Melba Allen, The Wine Profilers,
Paul Bonarrigo Messina Hof Wine, Cellars,
Tom Plant, WINEormous,
Sarah May Grunwald, Antiqua Tours
Quick Links
Panel Discussion
Additional Questions
Resources
White Paper
Background
During the last several years from 2008 through 2013, wineries have slowly become acquainted with social media. Many have a website and a presence on Twitter and Facebook. Few wineries run a blog that has frequent posts. Some wineries send a monthly newsletter either in print or email. A scant number of wineries are conducting virtual wine tastings using Twitter with an assigned hashtag so people throughout the world can follow. As social media expands, wineries will tempt the waters. Some will embrace new ideas.
Social media can also be used by wine tour operators and wine tourism experience providers to enhance their Internet presence and attract customers. A round table session was offered at the 2014 International Wine Tourism Conference in Tbilisi, Georgia. Several questions were asked of a panel experienced in wine tourism and social media.
Many questions were generated that the panel did not have an opportunity to address because of time constraints. This paper will look at those questions and the answers from the round table group.
Questions Asked during the Round Table Discussion
Merril Bonarrigo captured the panel discussion during the conference. The following answers includes the post that Merril wrote. Terry added his comments.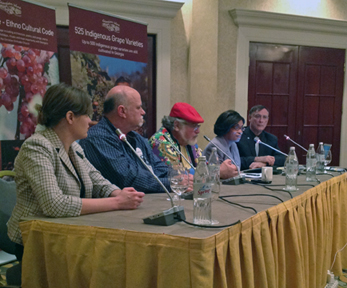 What are the benefits for having a blog for your business?

Sarah: A blog creates content that is connected to website and brings people with other keywords into her website.
Tom: Immediacy – update constantly. Blog is living and breathing; his blog is his website.
Paul: Exchange of information – you share and it opens the opportunity for communication, medium for expression
Melba: Is a good way to update info or if you do not have a website it is a mechanism to share info; blogs provide a library of references to see older content.
Terry: Blogs are personal accounts generally written in the first person and informally. Topics for blogs can cover a range and offer the author's opinions. Blogs are helpful in attracting readers. In order for blogs to reach a large following, there needs to be timely posts. I have seen a winery blog with only one post in five years. This is not attracting readers. On the other hand a blog with several posts a week will attract readers.
How can we use social media to collaborate with competitors?
Paul: Must convince competitors that together you can do more good than competing against each other. 1+1=3 In Texas, Texas wine sales are 3% in state = our competitor is California with 83%. Working together will yield better results.
Sarah: Collaborate with competitors that have as high a product quality as you have which sets you apart and can draw their customers to you. Competitors can refer to each other.
Tom: Definitely a win win situation. Get to know your competitors – Give them the overflow business and encourage reciprocation.
Is an event present on Twitter, Facebook, YouTube and LinkedIn helpful?
Tom: It is immediate, a mechanism to update, generate feedback, and engage; Maintains your presence – update, update, update
Sarah: Provides place to have conversation and draw people in. Events require social media. People are not even opening emails anymore. You can share and then other people can share – which yields more followers and other people can become part of the conversation.
Paul: Started his own YouTube show; Twitter is dynamic. 80% of all event business is generated by social media; he uses hoot suite to post multiple social media simultaneously.
Melba: Twitter, Facebook and CoverItLive tools are good for spontaneous results. Uses LinkedIn as professor and in business. It puts you in contact with those people in your profession, provides way to find interns, to hire, targets exactly the persons you seek.
Sarah: Important to share content of other people to build friendships and create conversations. Creates even broader audience.
In what ways can tour operators and wine tourism experience providers use Facebook?
Sarah: Great way for people to visual see what you say. Twitter impact is shorter, Facebook has longer visual connection. Problem is people using Facebook as a website. It is not professional. What are some of the limits that Facebook puts on you: a person would have to type the name of company to see page; only 10% followers can see content unless you pay.
Tom: Uses Facebook as the launch of his blogs which gets quicker response.
Should businesses create a newsletter?
Paul: Suggests weekly; tells customer what, when, where events are taking place, has photos, testimonials & updates on vineyard and wine. Feature key employees. Example: On a staff member that is outstanding, we did a personal story and customers loved it.
Sarah: Her collaborative has quarterly newsletter which includes information on tours, event releases.
Tom: Maintain touch with clients; if a new winery is opening – provides a stimulus to book a tour.
Do I really need to use different social media platforms or is website enough?
Sarah: Global market – need it. Cannot survive without. Trends are constantly changing and you need to be real-time. Creates more content for your website.
Melba: She has 2-3 websites linked together that are fairly static targeting professional market. The only thing that changes are prices. Social media can give it that freshness or new look. She gets new visitors to her site through the social media component.
Paul: Whenever you do a press release the best days to do them is on government holidays. 70% of media traffic is generated by government. #1 people are home #2 government is not flooding the newswire. When you look at social media we have 175 radio stations and on cable 1000 stations. It is cost prohibitive and reaches a smaller audience than social media.
Tom: Clients at beginning of his tours will go to his Facebook page and like it which in turn their friends see and creates more buzz.
Audience question: What are the costs of an online presence?
Terry: You can use social media sites for free at least for basic services. LinkedIn does charge for an upgrade of services that allows you to see and do more on their site. Facebook charges to promote your page. Do expect to pay for a complex website. At Wine Trail Traveler we pay less than $300/year for a website host and domain name. That price does allow us to have multiple websites, multiple email addresses, and a ton of software that I have no idea of how to use. One of the software applications is the professional version of WordPress. There is a free version of WordPress that many people use to post blogs. The professional version is more robust.
Questions not Asked during the Round Table Discussion
Wineries can lead wine tastings on Twitter, what can tour operators and wine tourism experience providers do to utilize Twitter?
Terry Sullivan: A few years ago a tour operator used Twitter for a discussion of best places to travel. There were people from around the world that tweeted their opinions and asked questions. I tweeted about several wine tourism destinations. Other participants also offered wine tourism destinations. The Twitter session was helpful in terms of gaining ideas of potential travel destinations.
What are your feelings about using Facebook or a blog as your business's only Internet presence?
Terry Sullivan: I believe the best Internet presence is to have multiple presences in different arenas. Your website is the best source for information about your business. People visiting a website expect to see contact information, a description of what your business does and a range of costs. Facebook, Twitter, LinkedIn, a blog and other social media arenas have different purposes.
How can tour operators and wine tourism experience providers use Pinterest?
Terry Sullivan: Pinterest is visual. Use it to create albums of wine tour destinations.
Is having a LinkedIn presence necessary?
Terry Sullivan: LinkedIn is a social media group designed for businesses. People who have linked in accounts often join LinkedIn groups. These groups have discussions and members can begin discussions and participate in discussions. During the summer of 2013, I began a discussion about whether wine tour operators should provide an itinerary for their clients prior to a tour. This became a lively discussion involving wine tour operators from around the world.
Will offering deals such as discounts, coupons and freebies matter to people that use social media sites?
Terry Sullivan: A winery in West Virginia had an event planned for the weekend. They offered a discount ticket to the event on Groupon. This was extremely successful for the winery.
What about encouraging a sharing button on your event page, helpful or waste of effort?