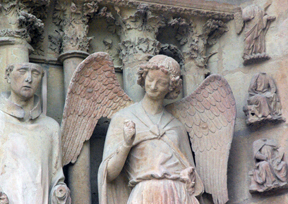 We are off to Reims in a couple days for the International Wine Tourism Conference. This will be a second trip to Reims. My first visit was during the summer of 2013. The group of winemakers and wine growers that Kathy and I were with visited four champagne producers. I feel much more prepared for my trip this year.
For the past several weeks I have been taking the Champagne Master level class through the French Wine Society. Although there are still a few weeks of the class left, it has vastly prepared me to visit the region. As far as the Champagne region, I have a better understanding of the land and its history. As we travel through the region on the media trip after the conference, I plan to note the villages we pass through. I'll also note the terrain and soils.
When it comes to champagnes, there are many more criteria that I plan to investigate than I did a few years back. I will continue to want to know the grape varieties in the champagnes, but additionally I want to know:
Malolactic fermentation or no malolactic fermentation
Oak or no oak
Where the champagne fits on the scale between reductive and oxidative styles
The amount of sugar in the dosage
For non-vintage champagnes:
How many years are in the blend
How many different wines are in the blends
I am amazed with all the criteria that can alter a champagne from one producer to another. I am fascinated with the blending of non-vintage champagnes. My blending experience is limited to creating a Pinot Noir from a blend of six different vineyards. The group that I was with had similar preferences. We eliminated two of the vineyards rather quickly. Since we had a favorite vineyard we went with that Pinot as a base. What I discovered was that just a touch of wine, one percent or less can alter the aroma and taste. When it comes to champagne, some cellar masters have hundreds of wines to choose for their blends. Fascinating!
Kathy and I will revisit one champagne house as well as the Cathedral in Reims. Everything else on our itinerary is new. I hope to bring home a few bottles of champagne as well as some biscuits roses de Reims. I learned to pair the biscuits with a demi-sec champagne. As far as champagnes to bring home, I'd like to focus on a non-vintage brut. I'd like to get one that has gone through malo and one that has not. That way I can try them side-by-side with food. I'd also like to try one that is higher on the oxidative scale and one that is closer to the reductive side of the scale. Kathy wants to focus on the type of champagne she likes the most. She'll have many opportunities at the conference to focus on different styles. Then we can look for some of those styles.
I am looking forward to this year's visit to Champagne.
Cheers,
Terry