Day 2 Conference Overview
by
Kathy Sullivan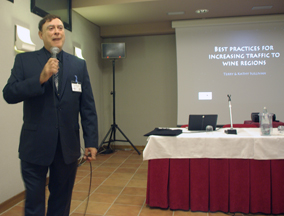 Day two of the International Wine Tourism Conference covered a variety of sessions plus a Croatia wine tasting.
Terry Sullivan, from Wine Trail Traveler, LLC, presented "Best Practices for Increasing Traffic to Wine Regions." The presentation included suggestions for wineries and tour operators to increase visitors to their tasting rooms and tours. One suggestion included having the information about hours, location and contact information on the first page of their website making it easy for potential travelers to get the information they need in seconds. Another suggestion included making visitors your ambassadors rather than just customers.
The first sessions were followed by a short coffee break that included a selection of Italian coffee, American coffee, pineapple juice, orange juice and small pastries. Movimento Turismo del Vino Italia provided all provisions.
One of the next sessions was "Adding the Human Touch" by speaker Tom Plant from WINEormous, USA. Tom's presentation provided inspiration as well as practical ideas to develop one's writing skills. Tom mentioned the equipment he uses and many websites that would be of value to writers. Tom offered numerous quotations from other writers indicating that travel writing is much more than writing down the facts. He also provided samples of good writing that paints a picture.
Before lunch, Paul and Merrill Bonarrigo from Messina Hof Winery & Resort offered "Connecting with Visitors and Turning Them into Long Term Customers." Paul and Merrill's winery and resort in Bryan, Texas provides a delightful day in the country. The Bonarrigos are on target with ideas on how to create long-term customers that they successfully implemented at their winery. Those who are interested, are educated about Messina Hof and its wines. They then help to spread the word and can help at festivals. Paul talked about events. Some events like Murder Mystery Dinners can get old and need to be reinvented. Wineries should also consider working with area universities. Some statistics were given about why customers stop being customers. Is it surprising that 68 percent quit because of rudeness or an indifference by the winery? Ninety-six percent of customers will not complain. It is important that the winery keep in touch with their customers.
Michael Wangbickler began his session, "Getting the Word Out – Marketing to the Millennials" by defining who are the "Millennials." For the most part Millennials are defined as being born after 1980. According to the statistics, Millennials appear to lend themselves to being the most attuned to wine. For instance Millennials have a higher income than the other three groups. Other statistics showed that Millennials have a strong connection to technology use including the Internet and cell phones. Forty-one percent of Millennials have a cell phone but no landline. Wangbickler then described what Millennials are looking for: authenticity, fast reliable service, honesty, personal touch, and convenience over price and glitzy advertisements do not impress them. They want wine knowledge through the use of stories that will be remembered. To paraphrase Michael, Millennials want to open a bottle and take a journey to a wonderful and interesting place.
Anthony Swift of Wine Pleasures, Spain, presented "Shut up! Let your wine tourists do the talking." The presentation involved a group activity, tasting sparkling wine, and the participants discussed the wine as Anthony recorded their responses. Anthony modeled the way tasting room staff can conduct a wine tasting through dialogue rather than monologue.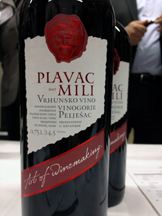 Late afternoon's "Vina Croatia Experience" was well organized by the delegation from Croatia. They prepared an excellent handout that included the name of the wine, produces, grape varieties and room to write notes. Participants could taste wines from Croatia and take notes about the wines if they wished. The session offered a preview of next years International Wine Tourism Conference.
February 6, 2012