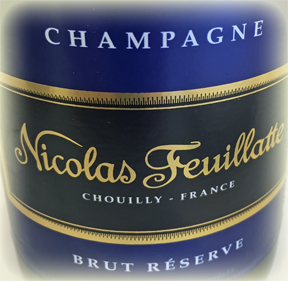 I have read so much lately about champagne and its use for celebrating. In a few days I'll attend the International Wine Tourism Conference, IWINETC,  in Reims, France. Several champagne producers will have exhibits in the exhibition area. Many of them also will have champagnes in the Grand Tasting event that ends the first day of the conference. Lunches at the conference will also feature champagnes. Both evenings of the conference the media group will visit champagne houses for tour, tasting and dinner.
For the next few hours, I am waiting at the airport for my flight. This time we decided to go to Europe with Iceland Air, in part because on the return trip we will spend a few days in Reykjavik. At Dulles International Airport, Iceland Air uses the Air France lounge. After entering, I ambled to the bar. If this lounge is operated by Air France, they must have a champagne. Why not start the celebration early? After an hour's drive to the airport long term parking and an equal hour to take a bus to the airport, check in and security passage, I was thirsty. Champagne would be a perfect thirst quencher. The lounge was pouring a Nicolas Feuillantte Brut Réserve. The champagne house is located in Chouilly only a bit southeast of Epernay. The Nicolas Feuillantte Brut Réserve will be served at the Grand Tasting at the IWINETC. The wine was a blend of Pinot Noir, Meunier, and Chardonnay. Aged for three years. The light yellow colored champagne had beads of bubbles streaming to the surface. The aroma reminds me of apples and pears. The taste was fresh and clean. The Brut Réserve was aged for a minimum of three years in the cellars. My second glass was from a bottle just opened. The taste was much stronger and it was easy to pick out the white fruit. There was a touch of freshly baked bread on the finish. I also noted what I consider minerality.
As a thirst quencher, it performed well. I would have liked to observe more bubbles, but was at the mercy of the lounge that served the champagne in a small glass not meant for champagnes. This detracted from the bubbles as well as the aroma. In the mouth, the champagne was alive and begged me to have more, perhaps with a touch of food. Luckily, I found a salmon sandwich. The champagne matched the delicateness of the salmon. Next I tried matching the champagne with blue cheese. I like blue cheese but it was a bit dominating. The champagne matched well with peanuts, but Kathy, who loves potato chips, was a bit disappointed with bar-b-cued chips  that over powered the champagne.
Cheers,
Terry