Although much smaller, the Vina Croatia seminar reminded me of the Texas Sommelier Conference we attended in 2007 after the first Drink Local Wine Conference in 2009. While the Sommelier Conference was an all day affair, the Vina Croatia was just a little over an hour long with nine wines.
The Vina Croatia event took place in a long room with two rows of curved tables stadium style centered in front of a cooking area with stainless steel appliances. At each place setting were six wine glasses with white wines and three with red wines.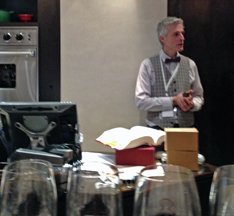 The guest speaker Cliff Rames was enthusiastic and shared his enthusiasm for Croatian wines. According to Rames, Croatia can be divided into four distinct regions that include the 1) Croatian uplands, 2) Istria and Kvarner, 3) Slavonia and Danube, and 4) Dalmatia. Rames noted that Croatia has 64 recognized indigenous grape varieties. The big three indigenous varieties are Graševina, Malvazija Istriana and Plavac Mali. Currently Croatian winemakers produce 60 million liters. He described the wineries as mostly small producers creating handcrafted boutique wines.
The first wine tasting began with Damjani? Malvazija 2011 produced with the grape variety Malvasia Istriana. The other Croatian wines fetured included:
Nada Žlahtina 2011: Grape variety: Žlahtina
Boškinac Gegi? 2011:  Grape variety: Gegi?
Kutjevo Graševina Vrhunska 2011: Grape variety: Graševina
Korta Katarina Pošip 2010:  Grape variety: Pošip
Matoševi? Antiqua 2008: Grape variety: Malvasia Istriana
Bibich R6 2009: Grape varieties Babi?, Lasina, Plavina
Babi?  Vrhunski 2009: Grape Variety: Babi?
Koziovi? Teran 2011: Grape variety: Teran
During the discussion of the wines, Cliff mentioned the spotlight on Croatian wines. Terry followed up mentioning that Zagreb will host the International Wine Tourism Conference on March 15th and 16th. After this delightful presentation, we are very enthusiastic about our visit to Croatia and learning more about their wines, meeting old acquaintances and making new friends.
Cheers,
Kathy