Day 3 Conference Overview
by
Terry and Kathy Sullivan

Insight Vacations: The Art of Touring in Style
It's easy to tell from his enthusiasm that David Lowe from Insight Vacations enjoys wine and tourism. David's presentation, Insight Vacations: The Art of Touring in Style began with a bar chart showing the relationship between tourism and various aspects of touring. Some of these aspects included places, hassle free price, features, reputation, fun, brochure, travel agent, internet website, no sign up and adventure. The most important aspects consumers consider are places, hassle free and price. Taking last place was adventure. Insight Vacations travels to Europe, United States, Eastern Europe and Britain. David noted that sometimes tour operators do not know much about wine but that they should educate themselves. David suggested that wineries might want to invite tour operators to visit and learn about a winery. He encouraged wineries to let people know how wine is made. Consider having blending and aroma sessions. Get the winery staff involved in the winemaking and they will be able to talk to visitors with first hand experience.
Wine Education and why Italy needs WSET
Speaking of wine education, Gillian Arthur started the session, Wine Education and why Italy needs WSET, by stating that there is a need in Italy for training front line wine staff. Gillian noted that Italy is a major tourist destination and a hugh wine producing and exporting nation. There is a lack of trained wine professionals. Gillian went on by explaining that Italian wine professionals are very good in covering wine varieties in Italy and wine and food training. However education is needed in varieties of grapes worldwide and the commercial wine scene. Since the international wine arena is in English, Gillian thinks wine courses should be taught in English. Gillian believes that anyone who is a wine professional including journalists should take the WSET (Wine and Spirits Education Trust) courses. Unfortunately Gillian was not endearing to the wine bloggers in attendance saying she doesn't read wine blogs because they are not up to her standards. Although admitting that WSET success is determined by the ability of their instructors, she pointed out that if one wants a good WSET instructor they should take the course in London. So, so for bringing WSET to Italy.
Wine Tourism in Germany – Chance for Income!
Wine Tourism in Germany by Thomas Schilde of Thomas Schilde Sport & Reisen provided a glimpse into the German wine industry. Germany has 13 winegrowing areas and in 2010 had 102,000 hectares. The majority of the presentation was spent on Germany's Pfalz area. There are not many tasting rooms but Thomas noted that in this area of Germany it is permissible for wine travelers to knock on small winery doors to ask for a wine tasting. Travelers will receive a friendly welcome. The Pfalz - Palatinate area is 75km from Frankfurt Airport and has 23,000 hectares of vineyards. There are 137 wine villages with 1,552 wine producers. In 2012 there are 186 wine festivals to take place. That averages out to be more than 3.7 wine festivals per week. In addition to tasting German wines, visitors can take time to enjoy museums, theaters, hiking, biking and festivals. Material handouts were all in German.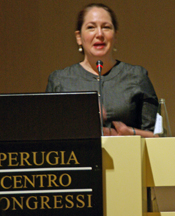 The Innocents Abroad
Diane Letulle used a humorous approach in her presentation, The Innocents Abroad, pointing out the differences between an American's experience of wine tasting in the United States and their experience in Europe. For example, in Europe you are expected to spend an hour or more at a winey. In Napa as well as many other American wine regions, people can visit four wineries in one hour. Diane recounted some of her experiences in winery travel in Europe. There was a range of experiences including visits without a wine tasting to visits spending hours with a wine maker drinking a bottle of his wine.
The Accidental Wine Tourist
Bill Eyer, Cuvée Corner Wine Blog, presented The Accidental Wine Tourist. Bill looked at wine tourists: who they are, the challenges, trends and benefits of wine tourism. Bill obviously enjoys Italy as he has traveled to Italy three times. Bill emphasized the difference between a tourist and a traveler. He quoted G.K. Chesterton, "The traveler sees what he sees, the tourist sees what he has come to see." Bill's presentation included what motivates the wine tourist, noting the need for exploration and the need to look behind the label. Strike while the iron is hot – convert tourists into travelers. Bill noted that in some wine regions there is a lack of tasting rooms for the public, many wineries do not have a website or use social media. Wineries also do not know their audience.
For wineries who want travelers to their winery, they need to remove the roadblocks. Let wine travelers know your location and cooperate with other wineries in the region. Use social media including live tweet-up events and a Facebook fan page. Use social media not to sell but to add value.
Wine tourism development in Chile - a wine route or not?
Jamie Verbraak in the session Wine tourism development in Chile - a wine route or not?, spoke about Chile and its wine regions. She then focused on one area that is just 4 km from the Pacific Ocean. The region quickly became know for its award winning Sauvignon Blancs. In this wine region there are 20 vineyards, and only two of the three wineries are open to visitors. Jamie spoke of the challenges in tourism in this area. Jamie suggested that the region create a wine center where people can learn and taste wines from the area. She also noted that local restaurants need to receive training and certification in wine. Other non-wine related activities can be added to winery itineraries such as horseback riding on the beach.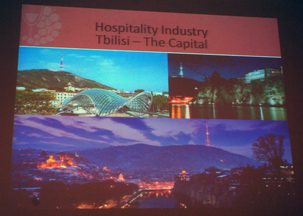 Wine Tourism in Georgia
Ia Tabagari in her session Wine Tourism in Georgia, stated that Georgia is a country with 525 grape varieties. Wine is a part of the Georgian culture, religion and lifestyle. There is a saying in Georgia, "Let's drink with wine to wine." The country is trying to position itself as a wine tourism destination. Georgia offers ancient manuscripts and architecture contrasting the modern era. There is a long cultural heritage that includes wine. Georgia is the birthplace for wine and wine travelers should consider visiting this beautiful area where on can taste wine that was made in kvevri that was made in the 6th century.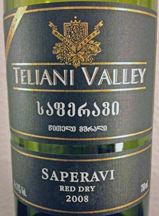 Late in the evening there was an opportunity to taste two Georgia wines. Tsinandali was a blend of Rkatsiteli and Mtsvani. The straw colored wine had a floral aroma with a floral and fruity taste. The finish was crisp. The 2008 Saperavi was a dark ruby colored wine that offered red fruit and mineral on the aroma and taste. There were tannins on the finish. Georgia would like the world to discover its rich wine heritage and perhaps host a future IWINETC.
February 7, 2012