Avenue de Champagne
by
Terry Sullivan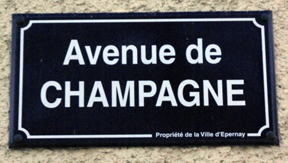 Our first visit to the Champagne region was in July of 2013. I recall our bus driving up and down Avenue de Champagne, but we never stopped to get out of the bus. That was remedied during our second visit in April 2015. We took a tour of the avenue with a guide that talked about the history and the champagne houses located along the street. Unfortunately, the walking tour did not include visits to the champagne houses.
The length of the avenue is 940 meters (about 0.6 Miles). Recent design changes to Avenue de Champagne widened the sidewalks for pedestrians and added more room for bike paths. Additional lighting was added. This is an avenue that tourists should walk and there was plenty of room four our bus group.
Avenue de Champagne was named in 1925, previously the road was called Trade Faubourg and was part of the route between Paris and Germany. Champagne producers began to build mansions along the highway to take advantage of the caves for storage of wines and to take advantage of the trade possibilities.
What makes Avenue de Champagne the most expensive avenue in the world? The champagne houses have extensive inventory of champagne in underground caves that extend for 110 kilometers (68 miles). The champagne inventory is more than 200 million bottles. The champagne houses themselves are mansions. When built, they had to meet the criteria of being residential, industrial and commercial.
Along the route
Hotel de ville is the city hall


Temple of love
Our guide stated that this is a favorite spot for the young of heart.

Moët and Chandon

Perrier Jouet 

Champagne Collard Picard

Pol Roger, the favorite champagne of Winston Churchill 

Esterlin 

De Venoge

Michel Gonet

Further down by the other traffic circle is Champagne Mercier. We did not walk quite that far though.


Article written April 2015
---
Visit these tour operators that partner with Wine Trail Traveler.
North America, Europe

SmoothRed
London, England, United Kingdom