Musée du Vin - Paris
by
Kathy and Terry Sullivan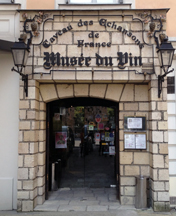 Summary: Wine enthusiasts who visit the Eiffel Tower in Paris may be interested in the leisurely stroll across the river Seine to visit the Musée du Vin. The wine museum was established in 1984 by the Council of Echansons France.
The Musée du Vin is located within walking distance of the Eiffel Tower. On a pleasant day one can take a leisurely walk across the Seine and under a bridge. After crossing a street the Musée du Vin is located about two more blocks up an incline. The area appears to be mostly residential.
The Musée du Vin is located in limestone caves that were quarried for the limestone needed to build the capital. The museum's galleries are in the old Lutetian limestone caves. Lutetia was the former name for Paris.
In the 16th and 17th centuries, three of the vaulted ceiling rooms were used by the Brothers of the Order of Minims Convent of Passy to store their wine. The Brothers crafted a claret that was a favorite of King Louis XIII. One of the dioramas shows a life-size scene of three Brothers tasting wine from a barrel. Another scene shows a Brother who brought into the press area a basket of grapes. Another Brother is seen with a quill pen recording the weight of the grapes.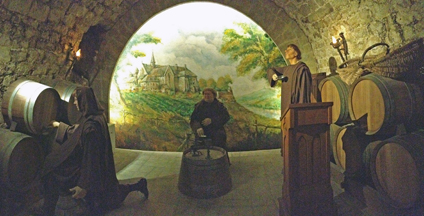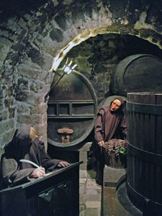 The Musée du Vin has much to offer wine enthusiasts and visitors including life-size scenes and a large array of winemaking and vineyard equipment representing different wine growing regions in France. However, anyone interested in the history of wine is likely to enjoy walking through the old 15th century caves lined with intriguing artifacts.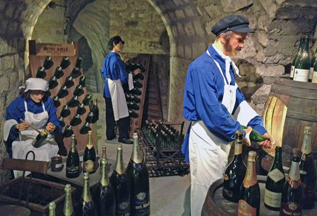 One of the first dioramas was a scene of the Council of Echansons France. We took our time ambling through the displays of artifacts and dioramas. One scene that caught our attention was a family producing Champagne in Reims. The scene of Champagne Henri Abelé depicted three workers. One worker was cleaning bottles after labeling while another worker was riddling bottles in a riddling rack. The third worker was disgorging a bottle into a barrel.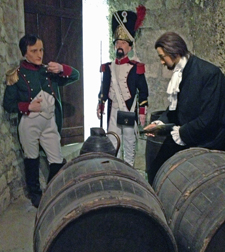 Another diorama depicts officers tasting wine. The scene depicts the wine Chambertin, a wine from Côte de Nuits in Burgundy. This wine was the favorite of Napoleon who had it served on the battlefield. Napoleon use to drink Chambertin cut with water.
Museum Information
Audio Guides: English, Russian, Chinese, Japanese, Spanish, Portuguese and German
Guided Tours: Available with advanced booking
Events at the Musée du Vin: seminars, dinners, cocktail evenings
Wine tasting courses: all levels
Les Echansons Restaurant open for lunch: traditional French cuisine
Wine Tasting: Inquire about a tasting of three wines. The museum has a selection of wines from throughout France.
Musée du Vin Paris
5, square Charles Dickens
75016 Paris, France
Article written January 2014
---
Visit these tour operators that partner with Wine Trail Traveler.
North America, Europe

SmoothRed
London, England, United Kingdom